DanceForPeace-Gili Nanggu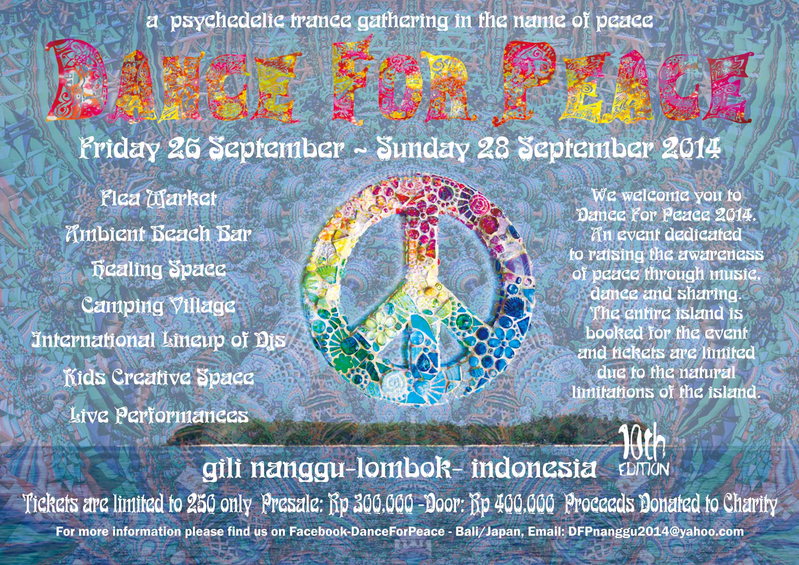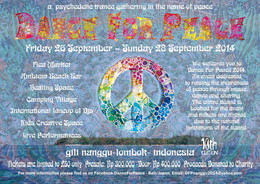 Line Up
Line Up
Dj CRISTRANCE-Antu Recs. Dj-HAM ABSTRACT-Purple Hexagon Recs. Dj PATRIZIO-Shaman-Bali. Dj SYMBIOSIS-Maharetta Recs. Dj GERRY-DFP-Bali Dj KG-DFP-Japan Dj GUCCI XAMASUTRA Dj CHIAKI-Moonjuice Dj KADEK-Sitaram Vision Dj SLAVA Dj NATALIYA-Triplanet Dj TAKESHI-Iji Japan Dj COSMIC SUN--Sitaram Vision, Dj ALEX RETOX, Dj ISSAM-Bali, Dj SAM, Dj TOM SHANTI, Dj LAURENT WINDERICKX ...more to come.

Visuals:

VJ - Slava
VJ - Pranaya

Big thank you to the many fire dancers, hula hoop dancers, jugglers and impromptu performers who will be entertaining us throughout the event!
Deco
Deco
GILI AIR-SPACEBAR TEAM & Friends.



Special thanks to SPACE TRIBE for sponsoring back drop canvases for Dance For Peace!

Special thanks to Ticket To The Moon for providing thri Hammocks and s special price for the event!
Info
DFP is an event dedicated to raising the awareness of peace through music, dance and sharing. First celebrated October 2002 in Nusa Lembogan, Bali then 2004 in Japan. This year we celebrate its 10th edition. Proceeds as always will benefit charitable organizations in Indonesia of good standing.
This beautiful island 12.5 ha in size is situated approximately 2km from Lombok, 40 km East of Bali is surrounded by white sand and emerald waters. Although the festival will be staged during the dry season, rain is rare but a possibility. The temperature will range between 25 to 33 Celsius with humidity in the low 70s. There are no motorized transportation on this island but then everywhere is reachable on foot.
ONSITE ACCOMMODATIONS
Dance For Peace 2014 is a camping event. Bring the necessary items to help make your camp comfortable.
Enjoy the free camping area under a canopy of trees a stone's throw from a pristine white sand beach. Hammocks are welcomed. Please refrain from damaging or defacing any trees or foliage.
FOOD AND BEVERAGE
The island has a restaurant serving Indonesian, Continental dishes and beverages. Fish is available but please give at least 4 to 6 hour notice to the restaurant.
The Ambient Bar will serve fresh juices and food. There will be a Coffee stand serving Italian Coffee and a Russian Tea Stall near the Healing Zone!
We strongly discourage people from bringing any form of hard liquor to the event. Beer can be purchased from the restaurant and the festival encourages responsible drinking.
Bottled Drinking water can be purchased from the restaurant.
DJs, VJs, PERFORMERS, MARKET STALL APPLICIATIONS
Please contact DFP via email:
dfpnanggu2014@yahoo.com
We'd love to hear from you!
GUIDELINES
• There are no ATMs or money changers on the Island all vendors transact in cash only and in the local currency.
• The restaurant will provide a charging station for your electrical appliances.
• Consumption of drugs or any other illegal substances at the event is prohibited. Indonesia has very strict laws against it.
• Any parties or individual involved in actions of violence or interference to the event will be ask to leave the island.
• A total ban on any open fire will be enforced throughout the festival. The dry season poses severe fire risk.
• Swimming in the ocean should be done with caution. We recommend you limit your interaction with the marine life with a "look but don't touch" policy.
• Camping, showers and toilets are provided free of charge, please be mindful of your water consumption and keep the facilities clean so others can enjoy them.
• Do not leave any rubbish behind your camp site. Trash deposit points for organic and non-organic waste will be available and clearly marked out for your use.
• Be sensible and safe with your belongings and things of value. The organizers will not be held responsible for any damage or lost of property.
• Please maintain the peace within in the camping grounds, no personal sound systems will be allowed unless used with headphones.
• Musical instruments are welcome if they do not pose a nuisance to your neighbors.
• Kids are welcomed but should remain supervised at all times. Please keep them safe! KidSpace is an activity area and NOT a childcare nursery. It will be open between 10:00 to 17:00hrs
• First Aid is available 24hrs at the Healing Space. Serious cases will be referred to doctors on the mainland on standby for the event. (Transit time is approximately 30 minutes)
• The entire island is secured for the event. Guests are requested to wear their official bracelets at all times.
• The organisers reserve the right to change the program without prior notice.
ECO-AWARENESS
• Respect the environment and Mother Nature. Gili Nanggu has a very finite and fragile infrastructure. Help us try achieve a zero foot print goal.
• Bring the minimum of non organic packaging.
• Please separate your trash from non organic and organic waste. Non organic waste will be recycled as much as possible and organic waste will be composted on the island
• Use the trash bins provided, personal ashtrays or bamboo ashtrays that will be provided in the main areas. Please do not litter..
Enjoy this beautiful place and let's Dance Together For Peace!
Location
GETTING THERE
From Bali to Gili Nanggu you have the following options:
Plane to Lombok (daily, 25 mins, from USD 45.00 Return) :
[garuda-indonesia.com]
– Phone: +62 370 642303
[co.id]
– Phone: +62 80 4177 8899
Taxi, Airport to Lembar Harbour (30 mins, approximately USD 15.00 each way)
Gili Nanggu Taxi Boat (40 mins, USD 5.00) between Lembar and Gili Nanggu will shuttle guest till Sunday 5pm. Private charters can be arranged with the Gili Nanggu office on the island. The office number is +62-370-623 783
Public Ferry from Padang Bay Harbour to Lembar Harbour (approximately 5 hours, USD 6.00)
Express Boat service from Padangbai to Gili Nanggu (Approximately one hour each way).
OCEAN STAR Sales Executive: Mr. GEDE 08123894774
Ms. Ani : 0361-927 1019
Rp 850,000/pax Both Ways (incl transfers)
Rp 450,000/pax One Way (incl transfer)
Note: All children below 3yrs of age - Free.
Local Boat from Lembar to Gili Nanggu Island (45 mns, USD 5.00)
The boat option is fixed for Friday 26 Sept with 2 pick up points. Ubud will be at the Main Market car park and the Kuta pick up will be at Nakula Square Starbucks at 8:00am sharp! The Boat will depart Padangbai at 10:00am and go directly to Gili Nanggu (1-1.5hrs). The company is Ocean Star (Sales Executive: Mr. Gede 08123894774) The price is return Rp 850,000/pax (incl transfers both ways) They will return you to the pickup points upon your return.
For the return, we have 2 departure dates. One on 28 Sept Sunday afternoon and on Monday 29 Sept same time. You may purchase only the return ticket for Rp 450,000/pax.
Please place your bookings directly with the company. The above service will run when they have a minimum of 30pax.
Other options are available and information is readily available online.
Entry
ENTRANCE FEE (Tickets are priced for 3 days only)
Available Online at:
[danceforpeacebali.com]
(PayPal)
300 000 Rp or 27.00 USD: Presale until 31 AUG 2014
350 000 Rp or 31.25 USD: Presale from 01 to 21 SEPT 2014
400 000 Rp or 35.70 USD : at the Gate
Free for Kids under 18 (adult supervision required)
Due to the size of the island and its small infrastructure, only 250 tickets will be sold. We strongly recommend purchasing your tickets in advance to avoid disappointment. Please check on availability of tickets with us before coming. We WILL have to refuse entry once we reach capacity.
Organizer
Organizer
DanceForPeace-Bali