DanceForPeace-11th Edition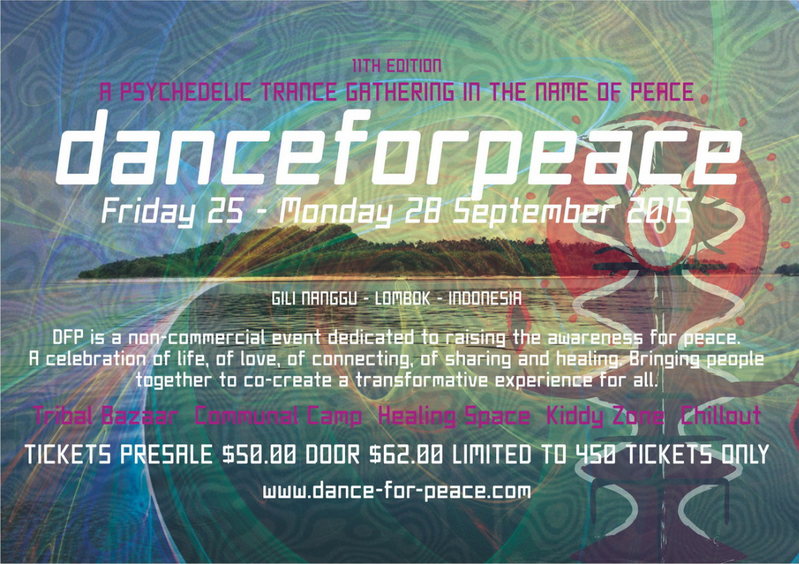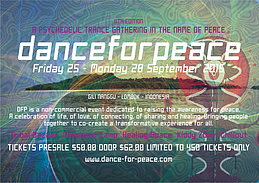 Line Up
Line Up
Dj Cristan-Antu Records (Chile), Dj Patrizio-Shaman Electro (Italy), Dj Gerry-DanceForPeace(Singapore), Dj Boots-Boogils(UK), Dj Ham Abstract-Purple Hexagon Records(Indonesia), Dj Mindtrixx(Singapore), Dj Maggie Mee-Purple Hexagon Records(Italy), Dj MTM (Germany), Dj Dreamstalker (Russia), Dj Leo Funny Vision (Russia), Dj Monotone (Russia), Dj Alex Tuatara-Trimuti Records (Belarus), Dj Surya-t-Sitaram Vision (Bali), Dj Wayan Ceri-DanceForPeace(France), Dj Sam Ross (Australia), Dj Metrognome(USA), Dj Leather Rocket-MooNoom(Switzerland), Dj Cymo (Australia), Dj Noli (Japan), Dj Tim-Nataraja Records (France), Dj Johnny Gilipsy (Russia), Dj Laurent Winderickx (Belgium), Dj Desthex (Switzerland)...more to be confirmed.

Featuring on the Chill Stage, a live performance with SURYA-d. Noli on Dijgerido + Jambe, Duo Misha on Hang Drum + Sitar, and Kade with a fire perfomance. Delivering an organic Electro Chill vibe. Be sure to check them out!

Fire Performances by: Yana, DMT, Adrien, Sara, Marge and more.

Visual Projection: Carmine
Deco
Deco
Maria UV Soma, Alexander Shipibovich, Gili Air Crew.
Info
Info
A psychedelic gathering in the name of peace. Staged on a secluded island off the coast of Lombok fringed with emerald waters and white sandy beaches, the entire island will be devoted for the event.

DFP is a non commercial event dedicated to raising the awareness for peace. A celebration of life, of love, of connecting, of sharing and healing. Bringing people together to co-create a transformative experience for all.

Dance For Peace in its 11th edition will gather for the second time on Gili Nanggu. The entire island will be transformed into a wonderland through psychedelic visuals, creative arts and music. Due to the huge response at our last event, we are working with the island's guardians to expand our capacity to admit a total of 450 people. So get your tickets early to support the event and to avoid disappointment. Proceeds will benefit an Indonesian charity or charities of good standing.

To those of you who have journeyed with us, welcome back and to those joining us for the first time welcome! There are no strangers here. We look forward to hugging and dancing with you soon!
Location
[google.com]
The island, is situated approximately 2km from Lombok Island and about 40 km East of Bali, surrounded by white sandy beaches and emerald waters.
From Bali to Gili Nanggu you have the following options:
Plane to Lombok (daily, 25 mins, from USD 40.00 Return) :
[garuda-indonesia.com]
– Phone: +62 370 642303
[co.id]
– Phone: +62 80 4177 8899
Early bookings will secure better prices in general.
Taxi, Airport to Lembar Harbour (30 mins, approximately USD 12.00 each way)
Public Ferry from Padang Bay Harbour to Lembar Harbour (approximately 4-5 hours, USD 6.00)
SEMAYA ONE Fast Cruises will depart on Friday 25 September 2015 at 9.30am from Sanur Beach, Jalan Hangtua.
The journey is expected to take one to one and a half hours. This via a comfortable air conditioned fast boat. The vessel is equipped with life jackets for adults and kids with the latest navigational and safety equipment to ensure a safe journey for all
The boat will depart on Monday 28 September 2015 at 2.00pm from Gili Nanggu for Bali Sanur.
The ticket will cost Rp 800,000 return. Children from ages 4 to 12 yrs of age pay Rp 700,000 return.
There will be 2 pick up points via air-conditioned buses.
For Kuta area it will be at Nakula Square in front of the Mc Donald's Restaurant. Bus will leave at 8.00am from there.
For Ubud the pick up point will be at Coco's Mart on Jalan Hanoman. Bus will leave at 7.30am from there.
Please be punctual so the boat can depart early to avoid rough sea conditions that are quite common later in the morning as the winds pick up.
Please make your bookings early so we can determine if we need to use a larger boat. It will be between a 75 seater or a 175 seater boat. Importantly, state all passenger names and your preferred pick up and drop off location as well.
Bookings: Please attention it to Thierry. Your payments are to be directed via bank transfer to Thierry Cayot Bank: BNI (Bank Nasional Indonesia) Renon Branch. Bank Account Number: 0156173293.
We will need to have your reservations and payment by 9 September 2015. We need to determine if we will charter the 75 pax boat or the 175 pax boat and will need to inform Semaya then. So PLEASE co-operate and have your payment and bookings in before then. The earlier the better. This is the easiest and fastest way to get there and back.
There will only be a charter departing for Gili Nanggu on Friday morning from Sanur Beach and one returning from Gili Nanggu on Monday 2.00pm to Saunr Beach Bali.
Ticketing will close one week before departure. Please book your tickets as early as possible so we are able to plan for your comfort.
Local Boat from Lembar harbor to Gili Nanggu Island (40mins) typically cost Rp200,000/boat for private charter but best to share the cost. Boat capacity is 6 pax. You may call Gili Nanggu to pre arrange a pick up at 08123797299 or 087864582020.
Entry
Tickets available online at
[dance-for-peace.com]
Presale Ticket Outlets:
BALI:
SHAMAN ELECTRO SHOP on Jalan Legian and also at DOWN TO EARTH outlets in Seminyak, Jalan Laksamana and Ubud, Jalan Goutama Selatan.
LOMBOK:
Gili Air - Shantidelic Space Bar & Lucky's Bar
JAPAN:
MEGA Stone Magic
2-20-8 SanarudaiI Nakaku Hamamatsu Shizuoka ZIP- 432-8021
TEL. +81 53-449-8808
EUROPEAN UNION:
Dieng Laras at
omgaruda@gmail.com
hp/viber/FaceTime (+34)636212778
SINGAPORE:
Ark Addy at
curlyqmo@yahoo.com
Rp 600 000 or 50.00 USD: Presale until 18 SEPT 2015
Rp 800 000 or 62.00 USD : at the Door
Free for Kids under 16 (adult supervision required)
Organizer
Organizer
Dance For Peace