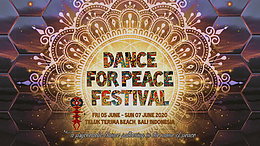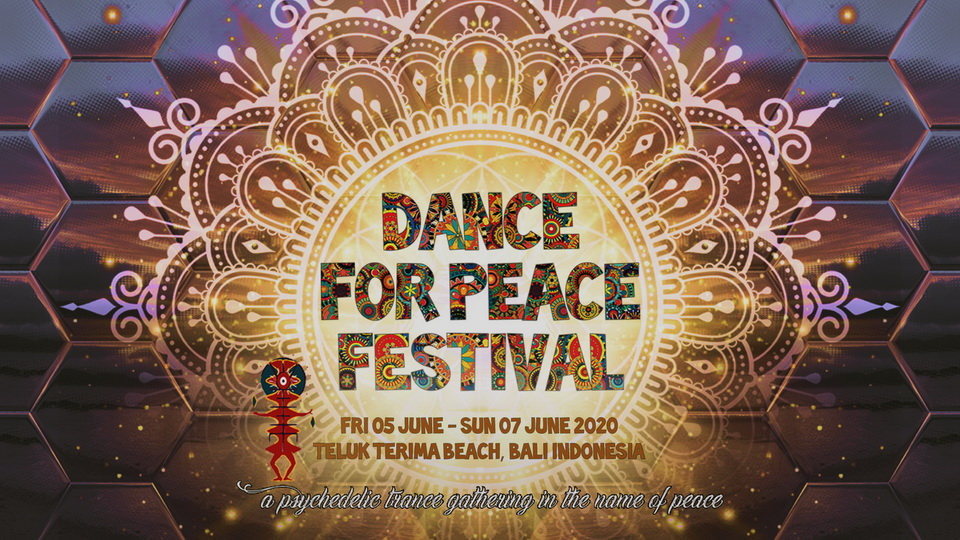 Line Up
LINEUP OF ARTISTES & PERFORMERS

Dj Astray - Bionicpiesounds, Germany
Dj Danu - DFP, Bali
Dj Cristrance - Antu Records, Chile
Dj Degupjagad - Psilo, Jakarta
Dj Gerry - DFP, Singapore
Dj Ham Abstract - Purple Hexagon Records, Lombok
Dj Johnny Gilipsy - Russia
Live Artist: Wayan Sam, Pissproject, Bali
Dj Takamitsu - DFP/High Life Japan
Dj Takeshi - Iji Tokyo, Japan
Dj Rudha - Psynopticz Records, Qatar
Dj Jun - DFP Japan
Live Set-Shivatrance - 604 Recordings, Japan
Dj Shashank - Rejuvenate, Nepal
Dj Spiritmoon - UK
Belly Dancer - Inti - Japan

Line up is still evolving and is subject to changes.
Info
Dawn is the creative union of light and earth's horizon. If you are attune to this simple daily connection, then you have realized it is an awakening of all life on earth. Every species on our planet is activated with this simple creative union. This year's Dance for Peace intention is about this creative union. From a single date point thirteen gatherings ago; to share peace with the celebrations of dance.
This year of 2020, we go deeper into the creative union; FROM sharing Balinese cosmology & cultural workshops that will harmonize our environment TO creative sacredness that inspires peace. We will gathered in Teluk Terima Bay in the north west of Bali on the Strawberry Full Moon of June 5th to the 7th, home of the Mangrove in North Pejarakan.
This year's symbol of union is the hexagon; also known as the honey comb, to inspire creative union and collaborations in sharing all form of creativity. Starting from a common point, Dance For Peace Festival is an electronic dance music arts festival; a nonprofit and non-commercial organization dedicated to raising the awareness for peace, celebrating love, life, sharing and wellness. Our events are designed to bring people together, to co-create a trans-formative and transcultural experience through music, art and dance. It also raises funds for organizations working towards creating a more compassionate and peaceful society. Here and now, we welcome your creative collaborations for CHANGE!
Please contact us if you feel you have skills that would be helpful towards the festival would like to participate as a volunteer. If you are an artist or performer and wish to be in our line up, please also contact us with information about your act and a link to your music or performance . Please note that as we are a non profit organisation, we will not be able to pay fees or passage. We will be able to provide tents and food only. Thank you and we look forward to hearing from you all. Peace Love & light.
ACCOMMODATIONS
⛺️: Bring your tents, hammocks and accommodations for all budgets are available about 15 mins from the venue
Here are just some choice accommodations available near the venue (15 to 20mins by car).
- Banana Leaf Hostel
- Banyuwedang Homestay
- The Local Menjangan
- Menjangan Hostel
- Menjangan View Homestay
- Mimpi Menjangan
And many more.
Mimpi Resort Menjangan is offering special DFP festival rates for their rooms and villas. (Quote DFP for your bookings)
TRANSPORTATION
We will be organising a shuttle service with pick up locations in Ubud and Kuta. Details and prices will follow soon.
TRIBAL BAZAAR
Please inquire with us if you would like to have a free stall at the festival.
🔮Healing zone
☕Tea space
🍵Chill out space
🍲 Food stalls
🎪 Flea market
🎨 Art space
🕺🏽Mainstage & Trance Floor
Stay tuned to this space and follow us on Instagram @ danceforpeacefestival for more information and further updates.
We look forward to having another amazing experience with you all!
This is a non-profit event as always. Proceeds will benefit the local community in Teluk Terima
Send us a DM if you want to share your unique talent and participate in this gathering in the name of peace.
Love . Sharing . Healing . Dancing . Good Vibes
This year's event visuals and graphics created by Marco Ahbimantra (
[facebook.com]
Location
THE VENUE
Accommodations for all budgets are available about 15 mins from the venue and for the adventurous, you can always camp at the venue itself. We have allocated a safe camp site with shaded areas specially constructed for your comfort. We will post information about tent rentals soon.
For those planning to stay longer to explore the beautiful reefs and nature reserve There is great snorkeling nearby with boats you can hire for about Rp 100,000 that will sit 6 pax.
There are warungs (Food Stalls) serving local food and Bintangs all night at friendly local prices. Ample safe parking for cars and bikes are available...yup, you can drive right up! For those who have been to trance parties 15 years ago in Bali the setting would be a walk down memory lane.
📍: Teluk Terima Beach, Gerokgak (
[goo.gl]
Entry fee
Entry fee
TICKETING
[co.id]
🎟: Entry Tickets: Donation/person towards cost of event
Door Price: Rp 500,000/pax
Advance Ticket: Rp 400,000/pax
Local Price: Rp 250,000/pax (Please produce KTP. Tickets available at the door or online)
Organizer
Organizer
Dance For Peace Collective
Added

2y 11m

· Update

2y 11m

·