Backend
Dance For Peace 20th Anniversary Gathering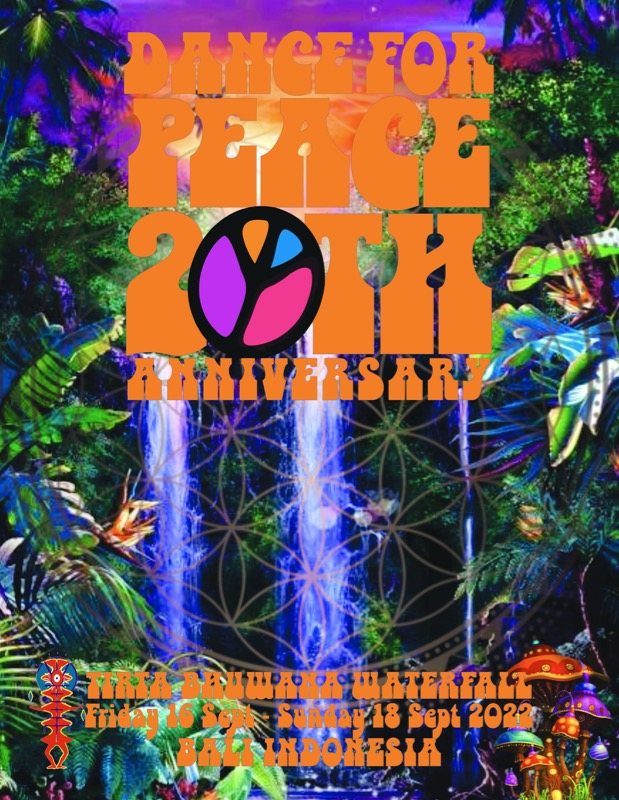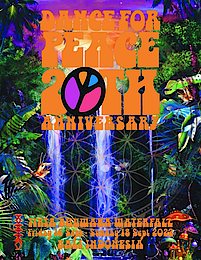 Info
DANCE FOR PEACE INVITES YOU TO OUR 20TH ANNIVERSARY GATHERING!
FRIDAY 16 SEPT TO SUNDAY 18 SEPT 2022
TIRTA BHUWANA WATERFALL – BULELENG, BALI
SPIRIT
We gather to raise awareness for Peace. Moving towards collaboration, contribution and away from competition.
Tirta Bhuwana Waterfall is a "Melukat (purification) Temple". Please be mindful of your thoughts and your actions in respect to this sacred place that we are honoured to be hosted in and privileged to enjoy.
LOCATION AND CLIMATE
Desa Pegadungan - Buleleng Regency.
[goo.gl]
The month of September puts us within the "dry" season with a temperature range between 19 degrees Celsius to 29 degrees Celsius. Tirta Bhuwana Waterfall is approximately 1,000m above sea level.
GETTING THERE
The journey takes approximately one and a half hours overland to the location in average traffic conditions from Kuta, Canggu or from Ubud. The drive takes you through some of the most breath-taking views of Bali. Roads are well paved, sign posted and easy to navigate.
Parking for cars and bikes are available nearby. Please follow the directions of the Pecalang (Local Security Personnel) so we are efficient as possible with the space and ensure the free movement of vehicles throughout the event and for emergency services if required.
CAMPING
DFP 2022 is a camping friendly event with beautiful camping grounds set on the slopes of a lush forest in a valley. The grounds have been enhanced with a bigger camping area and wider paths. Tents come without mattresses or sleeping bags which can be rented separately on location.
Make your camp comfortable and feel free to decorate your space in an eco-friendly way.
Book your tents with Dylan at 0812-3990-6565
Rental Fee: Rp 120,000 first night and Rp 100,000 for the following nights.
Rental tents will be pre-setup to speed up the process of housing you for the event. Allocations are on a first come first served basis, we ask for your kind understanding here.
FOOD AND BEVERAGE
The Local Resident Warung under the supervision of F&B specialist Creative Spoon will serve a variety of local food and treats. Enjoy the newly enlarged terrace at the resident vendor space now with more seating capacity!
Mattakara Bar will serve up ice cold beers and their amazing range of cocktails/mocktails and non-alcoholic fruit-based drinks. We encourage responsible drinking. Please support the local vendors and bar by not bringing any alcohol beverages to the gathering.
Dapoer Ethnic will feature an amazing grilled Tuna based menu!
Bottled water will not be sold during the event to reduce the use of plastic. Filtered spring drinking water will be provided free throughout the event and can be accessed via 6 water stations at various points on site (courtesy of Nazava). Please bring your own water flask or cup for use during the event. Dance For Peace will have special DFP 20th Anniversary water/thermos flasks available for purchase at the entry and bar.
THE FLOW
Friday 16 September:
1. GATE: Opens 12:00hrs
2. CHILLOUT STAGE: Opening of the Chillout stage. Music and performances will flow non-stop until Sunday 12:00hrs.
3. MAINSTAGE: 18:00hrs Silent Meditation Circle gathering on the main floor. Mainstage music begins after till Sunday 12:00hrs taking a break till 16:00hrs.
Saturday 17 September:
1. MAINSTAGE: Takes a break at 12:00hrs. Music resumes at 16.00hrs.
2. CHILLOUT STAGE: 12.00hrs - 16.00hrs Alternative Dance Music
Sunday 18 September:
1. MAINSTAGE: Closes at 12.00hrs
2. CHILLOUT STAGE: Downtempo Music continues till night.
3. Campers may choose to stay another night and chill with the tribe!
Monday 19 September:
1. Venue reopens to the public.
Every night a bonfire will be lit near the Chillout/Alternative Stage.
ENLIGHTENMENT
• Bring warm clothes, sun protection and keep yourself well hydrated at all times.
• Guests are requested to wear the official bracelets at all times.
• Kids & Pets are welcomed but should be supervised at all times. Keep them safe!
• Musical instruments are welcome if they do not pose a nuisance to your neighbors.
• Charging stations for your appliances will be provided at vendor stations.
• Newly built & designated male/female toilets with showers facilities are available free at the venue. Please help keep them clean so all may enjoy them too.
• We are all tribal, but do look after your personal belongings. The organizers will not be responsible for any damage or loss of property. A limited number of lockers are available. Please rent these at the warung (Food Vendor)
• Any open fires should not be left unattended. Any form of fireworks or pyrotechnics are strictly prohibited.
• Please maintain the peace within in the camping grounds, no personal sound systems will be allowed unless used with headphones.
• All vendors transact in cash only and in the local currency (Indonesian Rupiah).
• First Aid is available 24hrs at the entry. Serious cases will be referred to doctors at the nearest medical post 35 mins away.
• All attendees are deemed to have given their consent to photography, filming/sound recording during the festival. These may be used for promotional activities in the future. We will of course be discreet.
• Those coming in their own cars, space ships or bikes, please park at the designated areas only and follow the direction of the parking referees.
• The event reserves the right to cancel, replace or reschedule performance, prices of services and goods, or any other aspect of the organization of the event without prior notice.
• The event reserves the right to refuse entry at their discretion. No dangerous articles or nuclear weapons are allowed.
• Any parties or individuals involved in actions of violence or interference to the event will be removed from the venue and refused entry at future events.
DJs, PERFORMERS, FLEA MARKET STALL APPLCIATIONS
All Djs, Performers, Volunteers and Organizers work/perform without fees. Your time and talent is valued as your contribution towards building peace.
Connect with us at
danceforpeacefestival@gmail.com
if you like to share your talent and contribute towards our gatherings in any way.
ECO-AWARENESS
• Respect the environment and Mother Nature, help us leave a minimal foot print.
• Bring the minimum of non-organic packaging.
• Use the bins provided, personal ashtrays or bamboo ashtrays will be provided in the main areas. Please do not litter.
THE UNIVERSE IS HUMMING,
LET'S VIBE WITH IT AND DANCE FOR PEACE!
In the event of cancellation due to natural disaster i.e. earthquake, typhoon, volcanic eruption tickets will not be refunded. The organizers will not be held responsible for any loss of property, injuries or accidents.
We are all responsible for ourselves.
Entry
Entry
CONTRIBUTION

Dance For Peace organizes non-profit gatherings inspired by peace. Your contribution enables us to continue doing so.

Your contribution also supports the local community and Yayasan Bumi Sehat (www.bumisehat.org - "We believe that each individual is an essential societal component of peace. By caring for the smallest citizens of Earth – babies at birth – we are building peace: one mother, one child, one family at a time. Our mission is to improve the quality of life and to encourage peace."

Minimum Contribution at Entry - Rp 300,000/pax (WNA - Foreigners)
Minimum Contribution at Entry - Rp 200,000/pax (WNI - Indonesians)
Kids under 16 Free Entry (adult supervision required)
Organizer
Organizer
Dance For Peace Bali