Dance For Peace - 2016/12 Edition.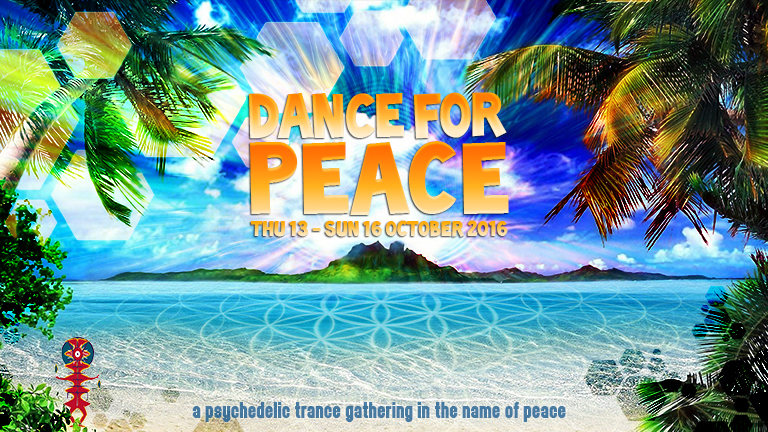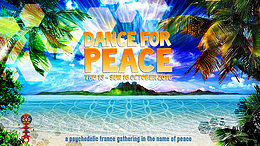 Line Up
- - - - - - - - - - - - - - - - - - - - - - - - - - - - - - - - - - - - - - - - - - - - - - -
MAIN STAGE
- - - - - - - - - - - - - - - - - - - - - - - - - - - - - - - - - - - - - - - - - - - - - - -
★★★ GROOVE ADDICT - Nano Records (US)
♫ → soundcloud.com/groove-addict
★★★ BRIAN SENTIENT - Zero One Music (US)
♫ → soundcloud.com/briansentient
★★★ NISHAN - Digital OM (Nepal)
♫ → soundcloud.com/nishanparadise
★★★ AMAZON - Peak Records (Switzeland)
♫ → soundcloud.com/fred-amazon
★★★ NELIO 1EYED - Hilltop Records (France/Goa)
♫ → soundcloud.com/1eyed
★★★ JO MOONTRIBE - Magic Phangan/Antu Record (Malta/Thailand)
♫ → mixcloud.com/jomoontribe
★★★ OSMAN GAYATREE - Blue Hour Sounds (Russia)
♫ → soundcloud.com/gayatree
★★★ HAM ABSTRACT - Purple Hexagon Records (Indonesia)
♫ → soundcloud.com/purple-hexagon-recds
★★★ RADZY - BMSS/Epic Tribe (Malaysia)
♫ → soundcloud.com/yzdar
★★★ M.U.T.E - Habehabe Tribe (Turkey)
♫ →
soundcloud
★★★ PSYONARA- Hallucination Generation (Russia)
♫ → soundcloud.com/denpsyonara
★★★ GYPSYDELICS-Quatum Digits Record (Turkey/Goa)
♫ → soundcloud.com/gypsydelico
★★★ GERRY - DFP (Singapore)
♫ → soundcloud.com/gerry-ong
★★★ CRISTRANCE- Antu Records (Chile)
♫ → soundcloud.com/djcristrance
★★★ ADITI TARUNA - Desert Dream/Dubai Crew (Earth)
♫ → mixcloud.com/Aditi_Taruna/my-blue-planet/
★★★ ZOOFIN -aka Noli (Japan)
♫ → mixcloud.com/ZOOFIN69
★★★ SPIRITMOON aka James Waller (UK)
♫ → soundcloud.com/djspiritmoon
★★★ SUDDHA - Purple Hexagon Records (UK)
♫ → soundcloud.com/dj-suddha
★★★ ALFA - GALATIC TRIBE (Russia)
♫ → soundcloud.com/psyalpha/space-traveler
★★★ RADIO DYNAMICA - Mudra Community (Russia)
♫ → soundcloud.com/radiodynamica
★★★ LATERAL aka Niko (Serbia)
♫ → mixcloud.com/L4T3R4L
★★★ MUSH Project (Spain)
♫ → mushproject.wix.com/mush
★★★ PATRIZIO - Shaman Electro Rec (Italy)
★★★ JOHN LEE - Lost In Paradise Festival (Thailand)
♫ → soundcloud.com/john-lee-lost-project/earth-fest-promo-mix
★★★ DAMNEDGE - Epic Tribe (Malaysia)
♫ → mixcloud.com/Damnedge
★★★ CYMO - Dragonfly Crew (Australia)
♫ → soundcloud.com/cymo
★★★ MARGEYE - Purple Hexagon Records (Italy)
♫ → soundcloud.com/margeye/sunset-brother-sister-hood
★★★ MTM aka Tom Shanti - Coco Loco Arambol (Germany)
★★★ JOHNNY GILIPSY - DFP (Russia)
★★★ CLAY OWL - AUH (United Arab Emirates)
♫ → soundcloud.com/zaid-oulberj
★★★ RADIO DYNAMICA & AZZIMICK (Russia & US)
♫ → soundcloud.com/radiodynamica
★★★ CHRONBRO aka Sam Ross - DFP (Australia)
♫ → soundcloud.com/shnoof/dance-for-peace-2015
★★★ SAIKOT - Epic Tribe
♫ → mixcloud.com/Saikot/groovie-movie-season-25/
★★★ COSMIC SUN - Bali (Russia)
- - - - - - - - - - - - - - - - -
AND MORE DJs TO BE ANNOUNCED SOON!
Deco
Deco
Shantidelic Crew, Shakti & Friendz
Info
DANCE FOR PEACE FESTIVAL 2016 GILI NANGGU
SPIRIT
Dance For Peace Festival is a psychedelic trance gathering dedicated to raising the awareness of peace.
Celebrating life, love, sharing and healing, bringing people together to co-create
a transformative experience through music, art and dance. In our 12 edition this year, we once again welcome you
This small secluded island fringed with emerald waters and white sand beaches
will host the festival for 4 days and 3 nights. There will be knowledge sharing workshops,
flea market, exotic tea stalls, play space and activities for kids,
loads of amazing people music and love.
VENUE
LOCATION AND CLIMATE
This little paradise island Gili Nanggu, all of 12.5 hectares, sits about 2 km from Lombok and 40 km East of Bali. It is surrounded by white sandy beaches and emerald waters. The average yearly temperature ranges from 25 to 33 Celsius so it is nice and sunny most of the time.
[google.com]
GETTING THERE
The following options are available from Bali to Gili Nanggu;
1. Plane : Bali to Lombok (daily, 25 mins, from USD 40.00 Return)
[garuda-indonesia.com]
– Phone: +62 361 227 825
[co.id]
– Phone: +62 361 765 183 Bali Airport Office
Early bookings will generally secure better prices and seats are normally fully booked out. It is best to purchase tickets a day or two beforehand.
2. Taxi: Airport to Lembar Harbour (30 mins, approximately USD 15.00 each way) From Lembar Harbour, take a shuttle boat to Gli Nanggu
.
3. Public Ferry: Bali, Padang Bai Harbour to Lombok, Lembar Harbour (approximately 4-5 hours, USD 6.00/pax each way) Ferry runs 24 hours every hour on the hour. Padangbai is about 1 hour 30 minutes from Kuta by car/taxi.
4. Local Shuttle Boat from Lembar Harbor to Gili Nanggu Island typically cost Rp 250,000/boat for private charter or you can pay Rp 50,000 and depart when boat reaches capacity. This service is available 6am to 6pm. Boats from the resort will be available ( Gili Nanggu Office Tel: +62-087864582020) or you can negotiate with private operators at Lembar Harbour. Average price is Rp 250,000 (USD 20.00) to charter the whole boat seating up to 6 pax each way. We advice you to share it with others to minimize cost.
5. Chartered High Speed Boat direct from Bali (Padangbai) to Gili Nanggu (Festival)
This is the most convenient way to the festival. No Location, a partner of DFP has kindly arranged this direct and speedy access to the festival venue Gili Nanggu. The safe and modern speed boat that will get you there in 1 hr and 40 mins approximately from Padangbai, Bali. Two way transfers in aircon mini buses will be provided from Kuta and Ubud. Pickup time is at 7.30 am sharp at the designated pick up points in Kuta and in Ubud on the departure date.
Pick Up Point Kuta: Nakula Square, in front of McDonald's Restaurant on Jalan Nakula.
Pick Up Point Ubud: Ubud Art Market car park.
Adults: USD 60.00/person Children (12yrs & below) : USD 55.00/child Both ways.
Contact Number: 081235551375 (Dea/No Location)
Departure from Padangbai, Bali to Gili Nanggu 13 October 9.00am.
Departure from Gili Nanggu to Bali, 16 October 2.30pm
CAMPING
Dance For Peace 2016 is a camping event. Enjoy the free camping area under a canopy of trees a white sandy beaches. Hammocks are welcomed with many trees to accommodate you.
Bring the necessary items to help make your camp comfortable and feel free to decorate your space in an eco friendly way.
Toilets and showers are available near the campsite.
We will have a limited number of tents for rental for Rp.50,000/night for a 2 man tent and Rp 200,000/night for a 4 man tent. Please book them at
info@danceforpeacefestival.org
. Availability is on a first come first serve basis.
TICKET TO THE MOON single and double hammocks will be on sale at the festival gate at a special festival price. Get them early as stocks are limited and they usually sell out fast!
SPACE TRIBE backdrops used at the festival will be available to sale after the festival at insanely low prices. Please book them at the festival office.
FOOD AND BEVERAGE
The island has a restaurant serving Snacks, Indonesian and Continental dishes and beverages.
Dance For Peace will have its own kitchen and bar at the camp site and will serve healthy food cocktails and beverages. Fresh Coconuts will be available at our Coco Bar in the same area.
We strongly discourage people from bringing any form of hard liquor to the event. Beer can be purchased from the restaurant and the festival encourages responsible drinking.
GUIDELINES
• Remember to bring sun protection and to keep yourself well hydrated at all times.
• Charging stations for your appliances will be provided at a few locations.
• There are no ATMs or money changers on the Island all vendors transact in cash only and in the local currency (Indonesian Rupiah).
• Any parties or individuals involved in actions of violence or interference to the event will be fed to the sharks.
• A total ban on any open fire is enforced throughout the festival. The dry season poses severe fire risk.
• Swimming in the ocean should be done with caution. We recommend you limit your interaction with the marine life with a "look but don't touch" policy. Swimming in the ocean is at your own risk.
• Camping area, showers and toilets are provided free of charge, please be mindful of your water consumption and keep the facilities clean so others may enjoy them.
• Do not leave any rubbish behind your camp site. Trash bags will be provided to all campers. Trash deposit points for organic and non-organic waste will also be available and clearly marked out for your use. Please separate your trash accordingly.
• Even if we are all one tribe, be careful and safe with your personal belongings. The organizers will not be held responsible for any damage or lost of property. Safety boxes are available at the island office for a small fee. Please enquire at the resort office.
• Kids are welcomed but should remain supervised at all times. Please keep them safe! Kid Space is an activity area and NOT a childcare nursery.
• Musical instruments are welcome if they do not pose a nuisance to your neighbors.
• Please maintain the peace within in the camping grounds, no personal sound systems will be allowed unless used with headphones.
• Consumption of drugs or any other illegal substances at the event is prohibited. Indonesia has very strict laws against it.
• First Aid is available 24hrs at the Healing Space. Serious cases will be referred to doctors on the mainland on standby for the event. (Transit time there is approximately 30 minutes)
• We reserve the right to search all bags upon entry for security reasons. No dangerous articles or nuclear weapons will be allowed on the island.
• Food and beverages will be on sale throughout the event, please do not bring any hard liquor into the event.
• The organizers reserve the right to change the program without prior notice and to refuse entry at their discretion.
• The organizers and the resort will not be held responsible for any lost of property, injuries or accidents. We are all responsible for ourselves.
ECO-AWARENESS
• Respect the environment and Mother Nature. Gili Nanggu has a very finite and fragile infrastructure. Help us try achieve a close to zero foot print goal.
• Bring the minimum of non organic packaging.
• Non organic waste will be recycled as much as possible and organic waste will be composted on the island
• Use the trash bags and bins provided. Personal ashtrays are welcome and bamboo ashtrays will be provided at the main areas. Please refrain from littering.
Enjoy this beautiful island and let's Dance together For Peace! Share love.
Main Stage
Chill Out Space
Circle Of Light (Crystal Ceremony by Luca)
Healing Zone
Sacred Fire
Experimental Electro-Acoustic Laboratory
Kiddy Space,
Knowledge Sharing Workshops
Flea Market
Healthy Food and Juice Stalls
Exotic Tea Stalls with Tea Masters
Free Camping, Toilet and Shower Facilities
All this surrounded by coconut trees, white sandy beaches and emerald waters.
Everything is designed to embrace you with an unforgettable experience !
Location
Location
[google.com]
The island, is situated approximately 2km from Lombok Island and about 40 km East of Bali, surrounded by white sandy beaches and emerald waters.
From Bali to Gili Nanggu you have the following options:
Plane to Lombok (daily, 25 mins, from USD 40.00 Return) :
[garuda-indonesia.com]
– Phone: +62 361 227825
[co.id]
- Phone: +62 361 765183
Entry
ENTRANCE FEE
Presale Phase One - USD 50.00 (until 30 August 2016)
Presale Phase Two - USD 65.00 (until 15 September 2016)
Link To Ticket Purchase:
[danceforpeacefestival.org]
Price at the Door USD 80.00
Free for Kids under 16 (adult supervision required)
Locals With KTP: Rp 500,000 Door Price (No Online Purchase Available)
Due to the size of the island and its small infrastructure; only 450 tickets will be sold. We strongly recommend purchasing your tickets in advance to avoid disappointment. Please check on availability of tickets on this website before coming. We will have to refuse entry once capacity is reached.
TICKETS ARE AVAILABLE ONLY AT
[DanceForPeaceFestival.org]
or by email:
tickets@dancforpeacefestival.org
THIS IS A NON-PROFIT EVENT
In the event of cancellation due to natural disaster i.e. earthquake, typhoon, volcanic eruption, tickets will not be refunded. The organizers and the resort will not be held responsible for any lost of property, injuries, accidents or if Donald Trump gets elected president.
Organizer
Organizer
Dance For Peace Festival