Backend
Dakini Festival 3rd Edition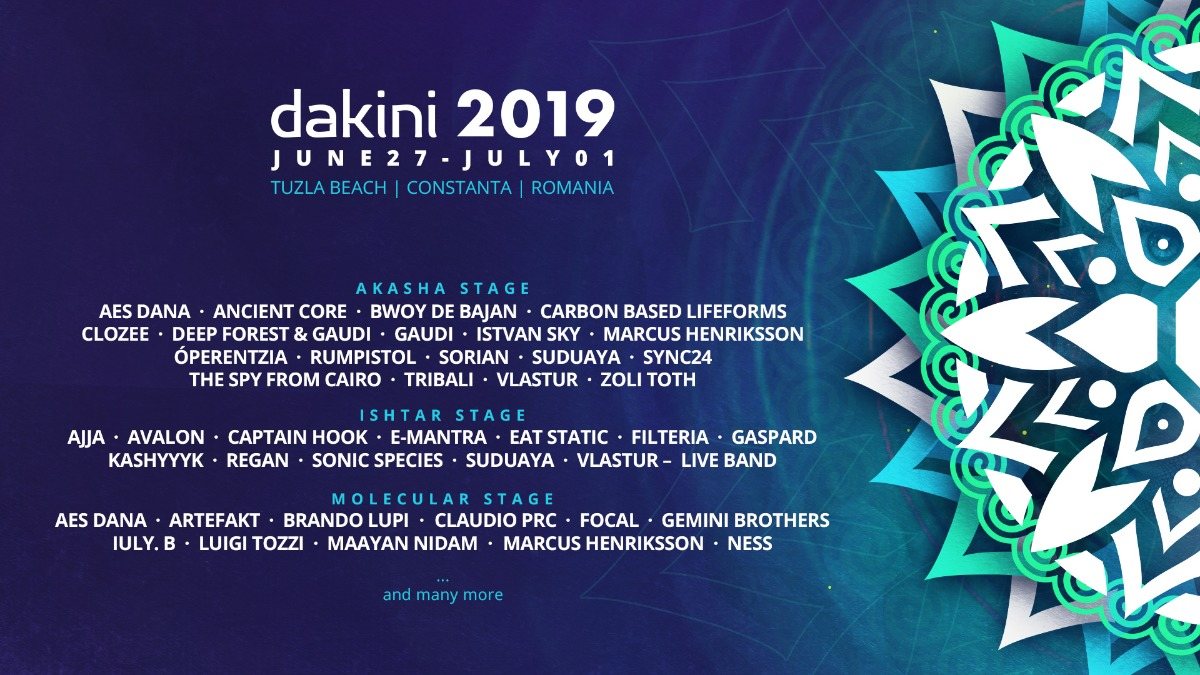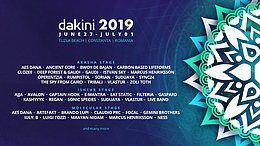 Line Up
Line Up
ISHTAR STAGE: Ajja, Avalon, Captain Hook, E-Mantra, Eat Static, Filteria, Gaspard, Kashyyyk, Regan, Sonic Species, Suduaya, Vlastur - Live Band, Ajna Vitamin, Aner Adras, Beyond vs Danger, Cesar Mimesis, Cromo Nova, Darkology, DJ P.B. DJ Svess, Dopamine, Etal, Imba, Latam, Oracol, Planul, Psyla, Thal, Trans Humantza, Tsubi, Vertical;

AKASHA STAGE: Aes Dana, Ancient Core, Aner Adras, Barbarossa, Bwoy de Bhajan, Carbon Based Lifeforms, Clozee, Deep Forest & Gaudi, Deep in Mind, E-Matra, Eat Static, Fatoumata Hari, Hand of Damaru, Gaudi, Innerstellar, Istavan Sky, Logical Elements, Madalina Paval, Madalay, Marcus Henrikkson, Naveia, Operentzia, Overder, Planul, Raman, Resonandu, Rumpistol, Saranankara, Sorian, Stepan Chistanov, Subhuman, Suduaya, Sync24, The Spy From Cairo, Tribali, Vlastur, Zoli Toth.

MOLECULAR STAGE: Aes Dana, Artefakt, Brando Lupi, Claudio PRC, Focal, Gemini Brothers, iuly B. Luigi Tozzi, Maayan Nidam, Marcus Henrikkson, Ness, Brad, Dragos Rusu, Haokah, JB, Lurre, Moduler, Onyk, Pavlov, Raman, Saboar, Tone Tavi, Vlad Bold, Zgirie Disc.
Deco
Main Stage Deco by Mimesis – Psychedelic Art
Info
The first time was experimental, the second time was full of magical adventures.
The third time is going to be… Outstanding!

Dakini is coming back with the third chapter of the story that started in 2017. Between 27 June and 1 July 2019, we are writing the new tale by lighting up the flame of friendship on the shores of the Black Sea, at Tuzla. Be ready to experience three stages with PSY, Chill and Techno Music, the biggest yoga village from Easter Europe and the beautiful virgin shores of the Black Sea.

The festival also hosts an Arts and Crafts Village, has special areas for kids, a food court with vegan and non-vegan food, and also a big, nice camping place.

The festival ticket includes:

- Access to all the festival events the 4 days and nights of music, dance, yoga classes and workshops
- Free parking, camping and drinking water
- Free access for kids under 12 years accompanied by a parent
- Free shuttle bus from Tuzla center to the festival gate