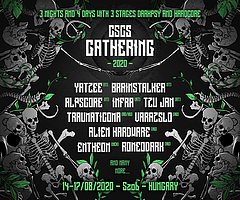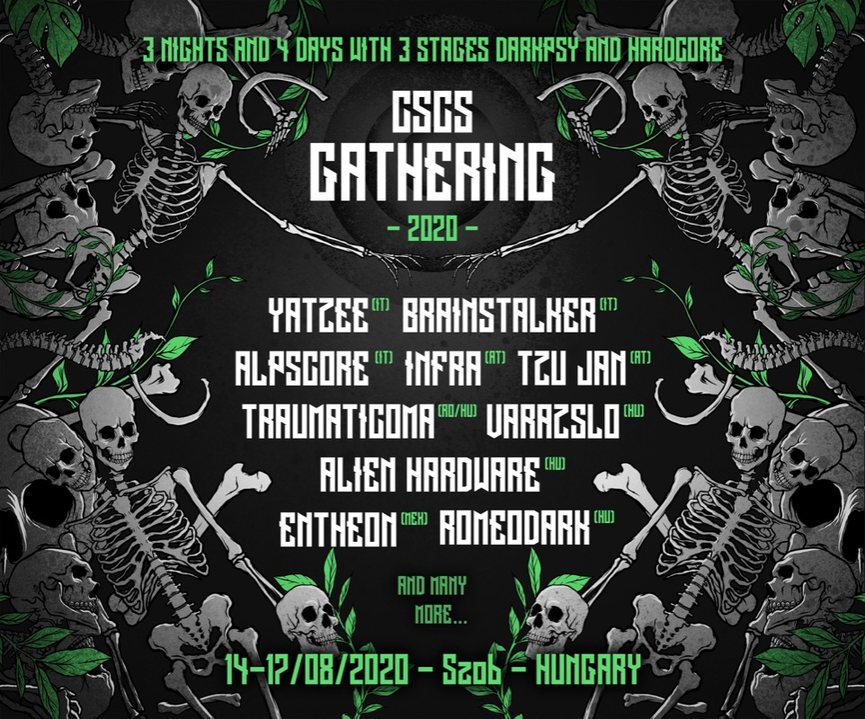 Line Up
■ Yatzee (IT) ■
soundcloud
■ Brainstalker (IT) ■
NutriaDance Records, Creative Jungle Records, Notimeforsilense Records, Masters of Puppets Records, Dopetec Records
soundcloud
■ Infra (AT) ■
Interaural Records, Sacred Sound, Hyprid Records, Anomalistic Records, Psychoscillation Records
soundcloud
■ Alpscore (IT) ■
Alice-D Productions
soundcloud
■ Tzu Jan (AT) ■
Interaural Records, Sacred Sound, Hyprid Records, Anomalistic Records, Psychoscillation Records
[click here]
■ Alien Hardware ■
Lunatic Alien Records, CSCS CREW
soundcloud
■ Varazslo ■
Sacred Sound Records
soundcloud
■ Romeodark ■
Jellyfish Frequency Records, Splatterkore Records
soundcloud
■ Traumaticoma (HU/RO) ■
Sacred Sound Records
soundcloud
■ Spákum Hupákum ■
Sacred Sound Records
soundcloud
■ Napra ■
Hyprid Records, Triangle, CSCS CREW
soundcloud
■ Osiris ■
Sacred Sound Records, CSCS CREW
soundcloud
■ Nasgul ■
Burning Trip Records
soundcloud
■ Absurdus ■
soundcloud
■ Rizomorf ■
D noir Records , Agya Sound, Anarchic Freakuency Records
soundcloud
■ Pollux ■
World People Production
soundcloud
■ Zegotha ■
Brahmasutra Records
soundcloud
■ Greedo (aka. Marduk) ■
CSCS CREW, Jungle Goa Crew
soundcloud
■ Rōnin ■
Col:lab
soundcloud
■ DJ NINth ■
CSCS CREW, FLTH, Col:lab
[click here]
■ Kunpsy ■
CSCS CREW, Col:lab
[facebook.com]
■ Absolute 0 ■
[click here]
■ Entheon (MX) ■
soundcloud
More artists TBA soon...
Info
Info
Get ready for 3 nights of the biggest CSCS Gathering so far. International artists, 3 stages, daytime activities, great vibes, and amazing people.

This year the festival will be located in Szob, at the Hungarian-Slovakian border, near the shore of the Danube. For 4 days and 3 nights you can enjoy the chakra-twisting vibrations of the PSY STAGE, the energy-pumping beats of the RAVE STAGE, and for the first time the relaxing melodies of the daytime CHILL STAGE.
During the day there will be multiple workshops, and exhibitions for you to enjoy, as well as the cooling waves of the Danube if you want to swim away the heat.

We hope to see you all soon!
Location
Malomvölgyi Tábor és Kemping
Szob, Malomvölgy telep 1, 2628
Added

3y 23d

· Update

3y 23d

· 1