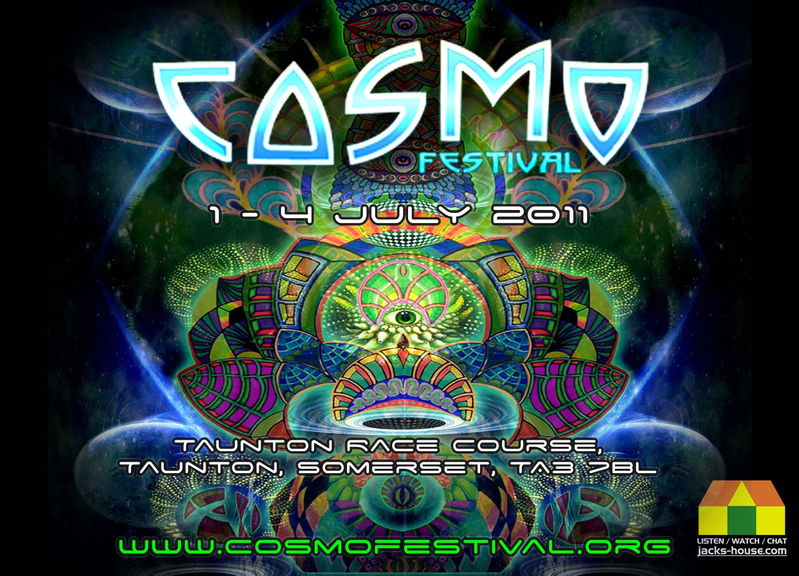 GIUSEPPE (Parvati Records) Denmark / Italy
[myspace.com]
ZOOLOG (Parvati Rec.) Denmark
[myspace.com]
ANKUR (Seres Music) Germany
[myspace.com]
HAWAIIK (Chillum Tribe / Cosmo Festival) Estonia
soundcloud
FORDY (Brainwaves / Cosmo Festival) UK
[myspace.com]
MORGO (Unsigned) Hungary
PURPLE WIZARD (Autonomous Collective) U.K.
Deco
DECOR ::
SPACE BABYLON :: VISIONARY ART & VISUAL DECO INSTALLATIONS
[spacebabylon.com]
ILLUMINAUGHTY :: brilliant in their visual approach of transforming spaces : great architects
[co.uk]
OZMALI : ATMOSPHERIC 3D DECORATION
[ozmali.com]
VISUALS ::
VJ CRISTOBAL(Yggdrasil Records,Norway)
[vjcristobal.com]
[cristobalistic.com]
+ More to be announced
- UV ARTISTIC SPACE DECORS
Info
Inspired by the sense of community and warmth Cosmo Festival will be back to celebrate our 2nd anniversary from 1st - 4th JULY 2011. Featuring a top line-up of DJs, live music and multimedia artists to keep you fully entertained into the festival. Some amazing decor artists and installation crews are collaborating a theme this - building a small playground of fun. Other than the obvious, the event will also include workshops, healing area, market, restaurants/ bar for all food lovers & a lot of performances to keep you entertained and thrilled.
********** 2 STAGES ********* featuring music :: Psytrance :: Progressive :: World Music :: Minimal Techno :: IDM :: Electro Breaks :: Chillout :: Acoustic :: Drums Circle
Attractions On Offer :
FREE CAMPING
CARAVAN AREA
LICENCED BAR
RESTAURANTS
CHAISHOPS
HEALING AREA
CINEMA SPACE
JUGGLERS/ PERFORMERS / FIRESHOWS ::: GET IN TOUCH IF YOU HAVE SOME EXPERIENCE IN ANY OF THE ABOVE -
info@cosmofestival.org
FLEA MARKET/ STALLS / TRADERS ::Traders Applications will uploaded on the website SOON.....
Monthly Newsletter & Updates
Website :
[cosmofestival.org]
Facebook :
Event Page -
[facebook.com]
Group Page -
[facebook.com]
Thank to all who have helped spread the word and we can feel the excitement & vibrations amongst people anticipating COSMO FESTIVAL 2011... in many accounts we already have taken upon making it even a grand experience than last year.. We hoping that we gather a large audience to come and witness this amazing gathering.. full of colours and amazing vibes.
Location
Location
TAUNTON RACE COURSE, Orchard Portman, Taunton, Somerset. TA3 7BL
Entry fee
TICKETS AVAILABLE @ Access All Areas
website :
[accessallareas.org]
EARLY BIRD TICKET - £55 (Including Booking Fees) - SOLD OUT
PHASE 1 TICKET - £66 (Including Booking Fees) - SOLD OUT
PHASE 2 TICKET - £77 (Including Booking Fees) - Till Gates Open
Buy your tickets from :
[onlinestall.com]
AT THE GATE - £85
CAMPER VAN PASS : £40
CAR PARK PASS : £15 (Available at the gate only)
DAY TICKETS :
SATURDAY + SUNDAY + MONDAY - £55
From : 0800hrs Saturday, 2nd JULY 2011
SUNDAY + MONDAY - £30
From : 0800hrs Sunday, 3rd JULY 2011
DAY TICKETS WILL ONLY BE AVAILABLE AT THE FESTIVAL GATE
TICKETS AVAILABLE @ Access All Areas :
[accessallareas.org]
Tel: +44 (0)20 7267 8320 or +44 (0)20 7267 6148
2nd Floor, 30c Camden Lock Place, London, NW1 8AL, United Kingdom
Opening hours: Mon - Wed 12pm - 7pm / Thur - Sat 12pm - 8pm
Added

8y 2m

· Update

7y 10m

· 4 Parties ·

/ 1