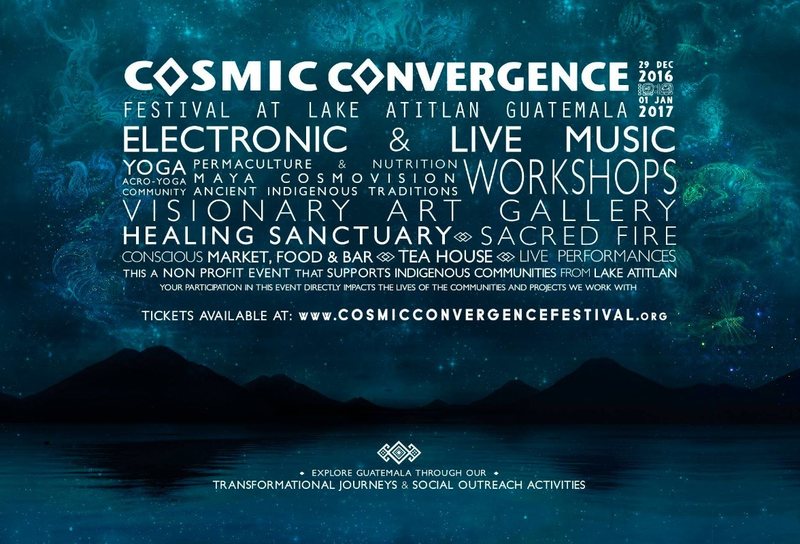 Line Up
Trance
Psysex (Israel)
Mubali (USA)
Vimana (Mexico)
DJ Digo (Guatemala)
House
Jossie Telch (Mexico)
Downtempo & Global
Kaya Project DJ Set (UK)
Many more artists to be confirmed throughout September!
Facebook Event Page with up to date lineup:
[facebook.com]
Info
Info
Cosmic Convergence incorporates art, music, education for conscious living, and Mayan culture & traditions. We cultivate connections and relationships between cultures, individuals, and projects, forming a resilient network for those wishing to learn, explore and transition into regenerative lifestyles and ways of being. Cosmic Convergence now features three stages of electronic and live music, two workshop areas focused on holistic well-being, sustainable living and traditional Mayan survival skills, an art gallery, a sacred fire, and numerous open-source projects developed by our community.

Imagine Cosmic Convergence as a portal of entry to step into an emerging planetary culture that reconnects with indigenous ways of being in relation to the earth, and the self. Through converging, individuals from diverse cultures will be exposed to new and ancient ways of being. We are modeling how arts can serve to raise money and other resources to benefit local community projects. We are demonstrating a more regenerative way of life, while pioneering templates and blueprints for a festival designed to leave a positive local impact.
Location
Location
Bahia del Lago is just ten minutes outside Santiago Atitlan, located on Lake Atitlan, Guatemala.
You can get to Bahia del Lago from Santiago by requesting a tuk tuk taxi to take you to "La bahia" or "el festival".
Entry fee
Entry fee
$50-$200 (depending on nationality, and early bird/door price)
Organizer
Organizer
Cosmic Convergence Festival
Santiago Atitlan, Guatemala
From
Moksha Manifiesta ·
3,164