Connexion New Years 2019/20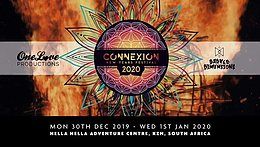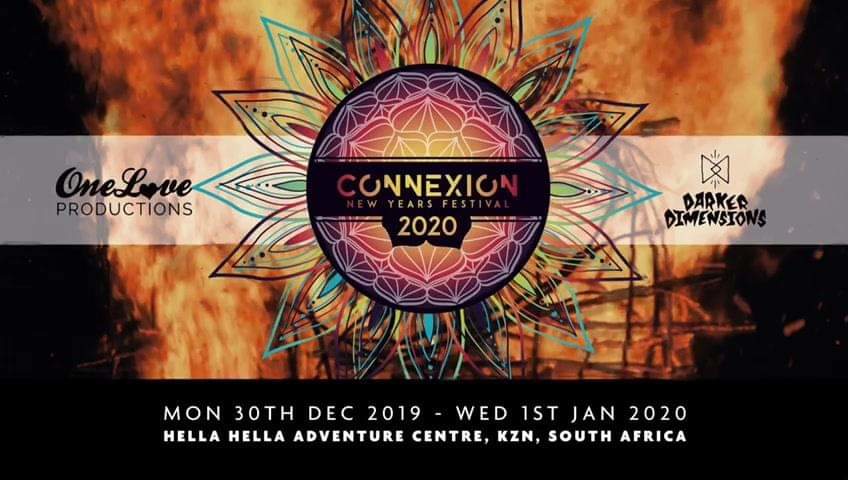 Line Up
🎧 LINE-UP:

❤️ONELOVE PRODUCTIONS FLOOR❤️:

Dj Bernz - Blacklite Records - CT
Dj Bruce - Blacklite Records - CT
Psydewise - Occulta Records & Our Minds - GR
Dan scot - Nexus Media - CT
Alien Natives - Our Minds - CT
Solara - Uroboros Records - JHB
Dj AmodKiT - PsynOpticz Records - PE
Grimm SA - PE
Plusminus - Mike Mike Mike - CT
Jahmanji psy - Mansion Records - JHB
Thorne - ZuluTunes - JHB
Nexon - CT
Kaos Kontrol - Mansion Records - JHB
Boogie Monsta - Department Lounge - JHB
Grayscal3 - Mansion Records - JHB
Ecoteric - Technophobia Records - JHB
A Geoffrey - OneLove Productions - KZN
Disco-Whiskey - Amadeadly Productions - KZN
Team BadAss - KZN
Dannyboy / Swag Monster - OneLove Productions - KZN
Chemikult - Amadeadly - KZN
Psynapse ॐ - Mansion Records - JHB
Symbiosis - KZN
Quasimodo - OneLove Productions - KZN
DriVa - Psyforia - KZN
Savage koala / Nic Best - OneLove Produtions - KZN
Dj Budhu - OneLove Productions - KZN

❤️TECH TEMPLE❤️:

DeFuse - CT
Senjo - Teknotribe - JHB
DJ Thalia - Teknotribe - KZN
Chris Palmer - Mansion Records - JHB
Gavo - Mansion Records - JHB
The Hoova MachineKit - KZN
Michael Grey - Mike Mike Mike - CT
Dub'Defect - Noisy Nose Record - JHB
Nia BlaQ - Subtatic - JHB
Stefan De Beer - Psyclical - JHB
Ecoteric - Technophobia Records - JHB
Savage Koala - OneLove Productions - KZN
Doisenbra - OneLove Productions - KZN/CT
Nowaan - KZN
Dj Budhu - OneLove Productions - KZN
Chemikult - Amadeadly - KZN
Swag Monster - OneLove Productions - KZN
Archemedes - OneLove Productions - KZN
Dripson - KZN
Tubeless - KZN
Light Changes - OneLove Productions - KZN
Daunya - OneLove Productions - KZN
The Vet - KZN
Void - JHB

❤️DARKER DIMENSIONS FLOOR❤️:

Pastor JOHN - ZuluTunes - JHB
Fright Rate - Kamino Records - CT
Anubis Freak Records - CT
Psydewise - Purple Hexagon Records - GR
Dugguh ZT - ZuluTunes - JHB
Ruckus - ZuluTunes - JHB
Dreadlokk Warrior - ZuluTunes - JHB
Digital Dream - ZuluTunes - KZN
Thorne - ZuluTunes - JHB
Chris Palmer - JHB
Filtiarn - JHB
Hunta - Darker Dimensions - KZN
Han Psylo - KZN
Sativanoid - KZN
BottleWash - KZN
PsyOdyssey - KZN
Dodgey Roger - KZN
Info
Connexion New Years ticket includes camping for the 30th-1st January. Please note that the campsites do not have power points.
In the event you don't have a tent, not to worry Hella Hella have additional accommodation in the form of 6 x 16 Sleeper Dorms available to be booked directly with OneLove Productions:
EMAIL:
oneloveproductionssa@gmail.com
CELL: +27608204519 ( Danny )
R100 pp/per night.
This accommodation has hot showers and toilets available as well as to the public.
There is also more private accommodation on the neighbouring estate at Highover Wildlife Sanctuary. ( 2min away )
To be booked directly with them.
Website:
[co.za]
Number : 082 826 0760 Email:
highoverws@gmail.com
NB: WATER IS NOT DRINKABLE!!
Please bring lots of your own drinking water. There will however be bottled water being sold at the festival. There is also a central hydration station available with clean drinking water.
NB: Majority of the camping is on an open field. Trees and shade are scarce, so please do try to bring a means of covering your tent area. Obviously there are some trees and shaded area around. You have to be there first to grab them.
NB: Gates will open as of 7am Monday morning 30/12/2019
Any persons wishing to check in the day before, are more than welcome to do so. Naturally, there will be crew on site finishing set up. The extra night's accommodation ( camping R80pp ), will be at an additional cost. This cost must be sorted out with OneLove Productions directly. In the event you have a dorm/bed booked for yourself, this extra night would also be at an additional coast of R100pp..
🎈FESTIVAL FACILITIES ️🎈
4 Shaded dance-floors ( with some areas being waterproof ), lush camping, chill zone, swimming, food stalls, bar, medical facilities, strong and friendly security, craft & clothing market, clean toilets and hot showers, fishing, hiking, canoeing and zip-line.
⛔ ENQUIRIES ⛔
General Enquiries to be forwarded to
oneloveproductionssa@gmail.com
🔥 STRICTLY NO OPEN FIRES 🔥 ( gas cookers allowed )
🚫 STRICTLY NO 🚫
Glass bottles ( this will be enforced ), under 18's ( ID on request ), fires, domestic animals, independent sound systems, illegal substances or bad attitudes
The organisers accept no responsibility whatsoever for injury, death, loss or damage of any nature to persons, vehicles, and belongings. This applies even to negligence by the organisers of any kind. Entry is entirely at your own risk. Right of admission is reserved.
❤️LEAVE NO TRACE❤️
See you on the dancefloor......
ONELOVE ❤️
Entry fee
🎫 TICKET INFO 🎫
Early bird - R300 until 1st September
Phase 1 - R350 until 1st October
Phase 2 - R400 until 1st November
Phase 3 - R450 until 29th December
Gate tickets - R550 ( Monday 30th )
Tuesday( 31st ) & Wed Funday Pass ( 1st ) - R450 ( From 7am )
Wednesday Funday ( 1st ) - R200 ( From 7am )
[co.za]