CONNECTION 2013 ●●•٠• Psychedelic GOA Gathering
San Nicolas del Puerto (Sevilla) ·
Spain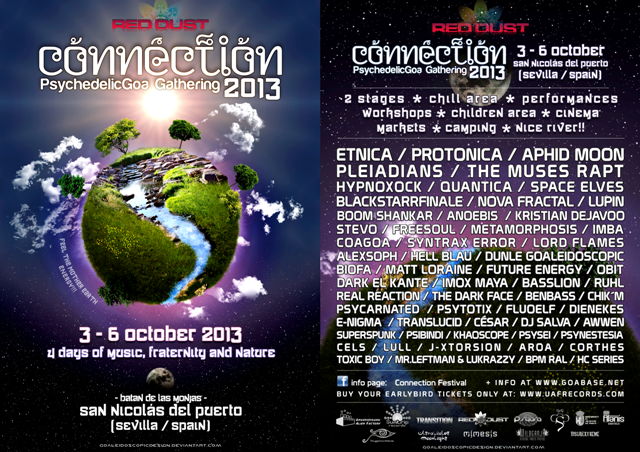 Line Up
We are very happy to finally present the Red Dust warriors for the 2013 edition:

APHID MOON (Aphid Records) United Kingdom
AWWEN (Zero Gravity Records) Spain
BLACKSTARRFINALE (NeoGoa Netlabel) United Kingdom
CELS (Mimesis) Spain
ETNICA (Maurizio Begotti /Etnicanet Records/sfsibiza)
FUTURE ENERGY (Zero Gravity Records)Spain
HYPNOXOCK. (Sindar Productios)Spain
IMOX MAYA (Sumeria Records/Ibiza) Guatemala
LUPIN (Ovnimoon Records)Spain
NOVA FRACTAL (Ovnimoon Records) Croatia
PLEIADIANS (Maurizio Begotti - Etnicanet Records/sfsibiza)
PROTONICA (Iono Music) Germany
QUANTICA (Fliying Spores Records/IBIZA)Argentina
SPACE ELVES (Suntrip Records/) Bosnia&Serbia
THE MUSES RAPT Aka JUAN VERDERA ( Spain)
THE DARK FACE (Zero Gravity Records) Spain
AROA (Spelelen Records/ Red Dust) Spain
ALEXSOPH (BMSS Records) Germany
ANOEBIS (Suntrip Records) Belgium
BASSLION (Sumeria Records Ibiza) Spain
BENBASS (Psyara)Spain
BIOFA (Namaha Recs / Sinergia)
BOOM SHANKAR ( BMSS Records) Germany
CÉSAR (Red Dust & Familiäria) Spain
CHIK'M (Glitchy Tonic Rec) Spain
CORTHES ( Zero Gravity & Red Dust)
DARK EL KANTE (6-D Sound - Random Rec )Spain
DIENEKES (Sinergia) Spain
DJ SALVA (Old School Goa Trance Dj Set 100 x 100 Vinyls) Spain
DUNLE GOALEIDOSCOPIC (UAFR) Spain
ENIGMA(Psyara)
FLUOEF (Transition) Spain
FREE SOUL (Transition) Germany
HC Series (Psynestetic) Spain
HELL BLAU (BMMS/Transition) Spain
J-XTORSION (Dropland Recordings) Spain
KHAOSCOPE (Zero Gravity Rercords) Spain
KRISTIAN DEJAVOO (Dacru Records) United Kingdom
LORD FLAMES (Suntrip Records)Spain
LULL (Psylocibe)Spain
MATT LORAINE ( Psyco / Red Dust) United Kingdom
METAMORPHOSIS (Sita Records / Dimensional Records)Belgium
MRIKOBEAT (Inner lotus Rec./Ultravision Rec./GSG)
MR.LEFTMAN & LUKRAZZY (Red Dust) Spain
OBIT ( Zero Gravity & Red Dust) Spain
PSIBINDI (Aphid Records)
PSYNESTESIA (Red Dust)
PSYSEI (La Roda)
PSYTOTIX (Dropland Recordings) Spain
RAL BMP ( Red Dust) Spain
REAL REACTION ( Sumeria Records Ibiza) Spain
RUHL(Sinergia)
STEVO (Suntrip Records) Croatia
SYNTRAX ERROR ( Biomechanix Records / Active Meditation Music) Belgium
SUPERSPUNK(Espelelen Records/Red Dust) Spain
TOXIK BOY(Fullmoongui )Spain
TRANSLUCID(Zero Gravity & Red Dust) Spain
Deco
Deco Team:
★Ganesha Space Garden (GSG)
★Mimesis

Visuales Team:

★Hipnotica el arte de lo efimero



*** *** *** *** *** *** *** *** *** *** *** *** *** *** *
Info
Red Dust is involved since almost three years in a project in which we are thrown into the dream of music and the union of all souls who can reach to gather at the same point, hypnotized under the influence of the psychedelic culture. We love and support psychedelic trance, trance, Goa trance and psygressive, without losing contact with other dimensions of the same culture, like darkpsy, psybreaks or hitech.
With all our experiences "Connection" born last year. The last open air festival of the season and the celebration of the anniversary of Red Dust as a collective of Trance. A festival dedicated to the two greatest feelings that make the world go round: love and music. Merging bodies and souls through the sounds you love. These magical encounters make us to live a thousand adventures and experimenting infinity of feelings that will remain in our memories forever … Meet people from different places in the world and enjoy your music in a deep connection. WE WILL BE ONE dancing, surrounded by nature in an incomparable landscape over more than two days.
Music, respect, peace, nature and connection are our pillars. Our guides will be djs and musicians from all Andalusia, the rest of Spain and several points of Europe, supporting our love and admiration for trance music and setting free our minds and spirits. We will say good bye to summer and give our welcome to autumn with an unforgettable meeting.
Workshops, visuals, chill-out, main floor and a wide range of activities will be performed through these magical days of connection. Share your ideas and become a part of this adventure, your adventure, because all the people who love this music and the way to feel it: WE ARE ONE.
Location:
This year the meeting will be again magical in Southern Spain, the first weekend of October (4 to 6) and take you to another point of Andalusia, as we want the connection does not remain just a point of southern Europe. We will bring that energy created from the dance, the connection of souls and new experiences, as a roaming spreading light ... (Soon more info…)
Participants:
You are an essential part in order to achieve the connection in this magical gathering. Remember that all is organized and conceived for your enjoyment, that´s why we would be grateful if you respect and take care of the elements that are part of the festival: decoration, animals, nature, throwing up rubbish in the bins, taking care of the other participants, being careful with the toilets and other facilities.
Organization: Red Dust
It was born in Seville as a collective in November of 2010 with the intention of spreading psychedelic trance and Goa trance in its artistic and musical dimension.
Nowadays, Red Dust has their own musicians and djs from Seville, Madrid, Barcelona, Badajoz, London as well as decorators involved in the collective. Red Dust is a Cultural Association which expects to make known our artistic, social and philosophical work. We want to create awareness of our events in Andalusia, the rest of Spain and London. Our name Red Dust, it´s a tribute to the land we are standing on, which protects and sustains us.
Workshops and flea market:
We are opened to any suggestion if you are interested in setting up your stand, send us an email to explain us your activity, the products you would like to sell and an approximate measurement of your stand.
If you impart any knowledge, and you would like to share it with the audience in an altruistic way, send us an email and write us about that. The audience will be grateful and it will be a beautiful experience!!
.::CONTACT::..
reddust@uafrecords.com
CONNECTION 2013
En Red Dust llevamos ya casi tres años con un proyecto volcado en la ilusión, la música y la unión de todas las almas que pueden llegar a congregarse en un mismo punto, hipnotizados bajo el influjo de la cultura psicodélica.
Con todas esas experiencias nació el año pasado el "Connection", el último festival de la temporada de verano y celebración de nuestro aniversario como colectivo. Dedicado a los 2 sentimientos más grandes que mueven el mundo: el amor y la música. Fundiendo cuerpos y espíritus, a través de los sonidos que amas. Estos mágicos encuentros, hacen que vivamos mil aventuras y experimentas infinidad de sentimientos que quedarán en nuestros recuerdos para siempre....conocer gente de distintos puntos de la tierra y disfrutar y disfrutar tu música en plena conexión. SEREMOS UNO bailando en plena naturaleza en un paraje inigualable durante mas de 2 días.
La música, el respeto, la paz, la naturaleza y la conexión son nuestros pilares. Nuestros guías serán dj´s y músicos venidos de toda Andalucía, el resto de España y diversos puntos de Europa apoyando nuestro amor y admiración por la música y liberando nuestras mentes y espíritus. Diremos adiós al verano y daremos la bienvenida al otoño con un encuentro q será inolvidable.
Talleres, visuales, chill_out, mainfloor y diversas actividades se llevarán a cabo en estos mágicos días de conexión. Aporta tus ideas y forma parte de esta aventura, tu aventura, porque todos los q amamos esta música y la forma de sentirla SOMOS UNO.
Localización:
Este año la mágica reunión será igualmente en el Sur de España, el primer fin de semana de Octubre (4 al 6). Y lo llevaremos a otro punto de la geografía andaluza, ya que queremos que la Conexión no se quede sólo en un punto del sur de Europa, si no que llevemos esa energía creada a partir de la danza, la conexión de las almas y las experiencias nuevas, de manera itinerante repartiendo luz… (Más información muy pronto…)
Participantes:
Eres una parte esencial para que la conexión se consiga en esta mágica reunión. Recuerda que todo está organizado y pensado para tu disfrute, por lo que agradecemos el respeto y especial cuidado hacia los elementos que lo componen: decoración, animales, compañeros, basura, naturaleza, servicios.
Organiza: Red Dust
Nace en Sevilla como colectivo en noviembre de 2010, con la intención de difundir el psychedelic trance y goatrance en su vertiente musical y artística. Y cultural . Red Dust es una Asociación Cultural que pretende dar a conocer nuestra labor artística, filosófica y social. Nuestro nombre Red Dust, significa tierra o polvo rojo en honor a la tierra que pisamos, nos sostiene y protege.
Talleres y mercadillos:
Estamos abiertos a cualquier propuesta si estas interesado en montar tu stand mándanos un correo explicándonos tu actividad, productos de venta, y dimensión aproximada del stand .
Si impartes algún conocimiento y quieres compartirlo de forma totalmente altruista con los asistentes ponte en contacto con nosotros vía email y cuéntanos, el publico te lo agradecerá y será una bonita experiencia!! .
.:: CONTACTO::..
reddust@uafrecords.com
Location
Location
Cazalla de la Sierra (Sevilla) Spain
Entry fee
Entry fee
We are closer to the Connection day by day.
And we began the second phase of the sale of the advanced tickets for only 30 €. Come on and feel the Connection!!!
Phase 3 (50 Early Bird Tickets) @ 35 € !!!
...via
[uafrecords.com]
*** *** *** *** *** *** *** *** *** *** *** *** *** *** *