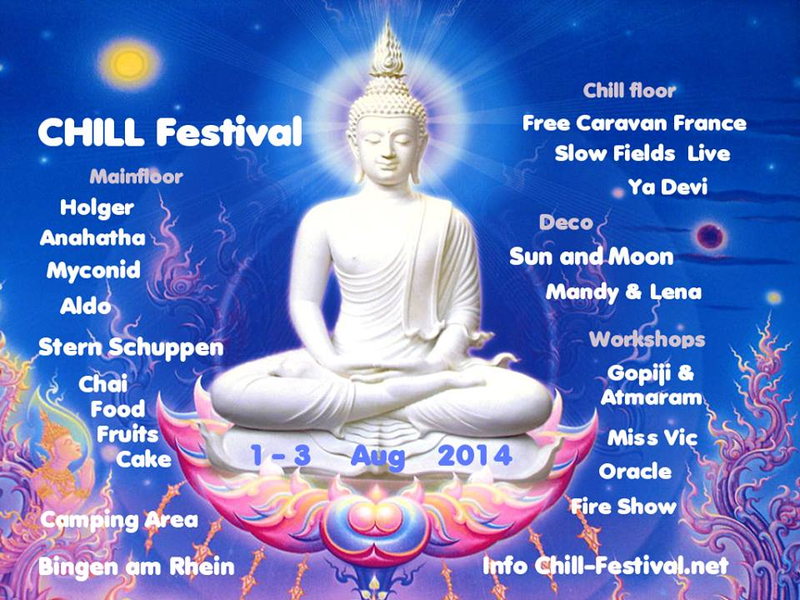 Line Up
ARTISTS
° Free Caravane
La caravane des espace libre
Nomad Spirit Octupus Project
Video Art, Theatre & more
( France )
youtube
[blogspot.fr]
Main Floor
° Sun and Moon
DJs
° Holger
° Anahatha - Dreambody
youtube
° Myconid - Klangkollektiv
° Aldo
youtube
Chill Floor
youtube
° Octopus Project / France
DJs
° Slow Fields - Live & Dj Set
youtube
. Psy Ambient - Dortmund / Germany
° Ya Devi Sarvabhutesu
youtube
° CINEMAD: a chill-out and daydream area
with visual art screenings. Come relax! ( Fracne )
Deco
° Sun and Moon (Köln)
[facebook.com]
° Free Caravan Visual Art - Deco and °Theatre (France)
° Lena
° Fireshow
Workshops for free
° YOGA Course Sa 19:00 with Gopiji & Atmaram
[yoga-vidya.de]
Yoga Villa °Gesingen - Germany
° HOOPUS: a meditative hula hoop workshop. Shake your chakras!
° L'IMAGINARIUM: Craft your own bohemian jewelry and watch with Miss Vic's
. .cosmic show "Who are we?". You'll feel like a cosmic charm
° MINUS CIRCUS: our crazy photo booth! (Fr)
° ORACLE (Medium) Messages from Heaven
° CHILL DATING connect new People
° STERN SCHUPPEN - CHAI & VEG FOOD
Michael Artgerecht
Goslar · Germany

Here since 7y 3m · 141 Posts
[facebook.com]
- DREADLOCKS by Gabriele
[gabriele-hecker.de]
- HIPPY MARKET alternative Kleidung vom Bodensee und aus Köln
Info
Namaste. Wir freuen uns für euch das zweite Chill Festival gestalten
zu dürfen. In diesem Jahr mit intertnationalen Künstlern aus Frankreich,
der Gruppe Free Caravan und ihrem Octopus Pojekt, Chill Zelt, Kino und
Workshops von Miss Vic. Die Deko macht wieder Sun and Moon aus Köln.

Der Freitag und Samstag ist von der Musik chillig und spirituell.
Es haben sich viele mit Kindern angemeldet was wir begrüßen. Der
Rochusberg liegt sehr schön und bietet Aussicht über das Rheintal.

Einen kleinen alternativen Markt gibt es mit Hippiekleider aus Köln
und vom Bodensee sowie handgearbeiteten Dingen aus Frankreich.

Für das leibliche Wohl umsorgen euch Stern Schnuppen mit veget.
Köstlichkeiten, Frühstück, Mittagstisch, und allem drum und dran.

Am Samstag Abend gegen 19:00 gibt es ein Yoga Kurs mit Asanas,
Gesang und Meditation, von Gopiji und Atmaran,, den wir wärmstens
empfehlen die machen das sehr gut und bilden u. A. auch Yogalehrer
aus. (Yoga Yidya - Yoga Villa Gensingen, Mainz usw.)

Das Orakel (Medium) gibt Antwort zu Fragen über Spiritualität und das Leben
allgemein und öffnet Lebenswege für gutes neues Gutes, es ist Wegbereiter.
Freitags sind noch Termine frei, am Samstag auf gut Glück. Die Workshops
und das Medium sind kostenfrei. Das Medium heilt auch.

Der Dancefloor startet am Samstag Abend und spielt nach
elektronischem Opening, mit warmen Sounds, ab 03:00 bis
mindestens mittags soften morning, psy, prog Trance mit
Melodie für das Herz und die Seele.

Camping freitag bis montags mit Schatten, Bäumen, Wiese, angenehm ruhig
gelegen. Wohnmobile können den Rosengarten Weg bis zum Camping Platz,
der PKW frei ist, hoch fahren. PKWs ALLE :) unten am Bauernhof parken
und den Rosengarten Weg zu Fuß auf den Berg hoch gehen!

Im Chill Zelt kann übernachtet werden, weiter gibt am Campingplatz
ein Steinhäuschen das zur Übernachtung zur Verfügung steht. Decken
mitbringen. Von Bingen erreicht man den Rochusberg angenehm zu Fuß.

Music:
Friday Psybient - Saturday Psybient - Saturday Night Dance Performance / Party
Sunday morning 03:00 - 12:00 ethno Dance, morning psy prog Trance max 138
bpm with Melody for the Heart and the Soul.


SAVE THE NATURE = Abfall in dien grünen Sack
Kippern in den Aschenbecher !! Liebe Grüße. ...

Leben Wahrheit Liebe
Location
Location
Fotos Infos Plan
[Chill-Festival.net]
Open Air Area Rochusberg / Wood and Grassland
55411 Bingen am Rhein - Wegbeschreibung siehe
oben unter - Bilder - dort findest du sie.
Entry fee
Entry fee
Fr Sa So 12.-
Sa + So 10.-
Camping 3.-
Organizer
Organizer
CHILL Festival Network