Backend
ॐ@ CHAKRA VIEW FESTIVAL @ॐ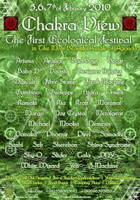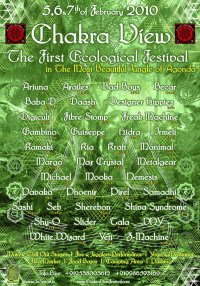 Live
Line Up
CHAKRA VIEW FESTIVAL 2010 :

THE FIRST ECOLOGICAL FESTIVAL IN THE MOST BEAUTIFUL JUNGLE OF AGONDA.

3 DAYS of LIFE IN THE MOST BASIC FORM OF EARTH:

By the stream, with treehouses, organic farm,birds,flowers,Fruits and all nature : Truely a HAVEN!!!
DAY LINE UP:


Z-MACHINE (Israel)

PIXEL (Israel)

SLIDER (Israel)

BAD BOYS (Israel)

DIGICULT ( Belgium)

NEMESIS ( Belgium)

KIA (Iran)

IRMELI (Russia)

SASHI (Russia)

MICHAEL ( Italy)

GAMBINO (GOA)

YETI (Russia)

BANXY ( U. K)

DESIGNER HIPPIES (India)

FIBRE STOMP (India)

PHOENIX (India)

FREAK MACHINE (India)




NIGHT LINE UP :


ARJUNA (Italy)

GIUSEPPE (Italy)

MORGO (Hungary)

SEB (France)

TALA ( France)

KRAFT (Russia)

SAMADHI (Russia)

DAASH (India)

WHITE WIZARD (India)

BABA D (Belgium)

MAX CRYSTAL (Russia)

BECAR (Russia)

METALGEAR (Russia)

MOOKA (Russia)

& MORE

(Final Line up with Time slots in 10 Days)
HIDRA ( Canada)

AXAILES (Belgium)

SHY-O (France)

MANIMAL (India)

PAVAKA (India)

VNY (India)

KAMAKI (India)
Info
Festival Campus:
Main Stage:@ Hat Hill
Chill out Stage: @ the Valley
Yoga & Meditation Centre : @ The Banyan Tree
Flea Market & Food Shops: around the Organic Farm
Performance Stage: Fire Players & Jugglers
Camping Area: @ The Ashram
2 Whl & 4 Whl Parking: With Security
Toilets & Shower: Basic
Comodities Store, Tobacco Shop & Chai Mama
NATURE: Flowing Stream, TreeHouses, Organic Farm, Colorful Birds, Flowers & some of the most beautiful Nature.
The Mystical power of CHAKRA VIEW:
Enter, Evolve, Illuminate & Exit .
ENTER: Dare to Explore the Unknown
EVOLVE: To the High Above with the Wisdom from Within.
ILLUMINATE : Detach from Maya and Swim in the Ocean of Awareness & Bliss.
EXIT: MOKSHA : Unite with the divine.
******************* ********************
The CHAKRA VIEW FESTIVAL (Art , Music & Culture) - INDIA - Feb 2010
DATES: 5, 6 & 7th of FEBRUARY 2010
THE FESTIVAL WILL BE A HUGE GATHERING AND EXCHANGE OF CULTURE, MUSIC, ART, KNOWLEDGE, YOGA, MARKET ..Etc
THE VENUE DETAILS WILL BE RESTRICTED TO THE INVITEES OF THE FESTIVAL, IN ORDER TO GUARD THE PRIVACY AND EXCLUSIVITY OF THE FESTIVAL BY FILTERING THE RIGHT PEOPLE AND ENERGY.
THE CONTACT DETAILS TO BOOK YOUR INVITES :
+91-9538003612/+91-9986593169/ +91-9880630696
FOR DETAILS YOU CAN ALSO MAIL US AT:
inspirals@live.com
ARTISTS, MUSIC Producers, Djs & Festival Workers in INDIA during this Time, contact us with your Profile at:
inspirals@live.com
you can also visit us at:
[inspirals.in]