Backend
Boom Tribe Festival Bolivia 2022 - "Sonidos de la Montania"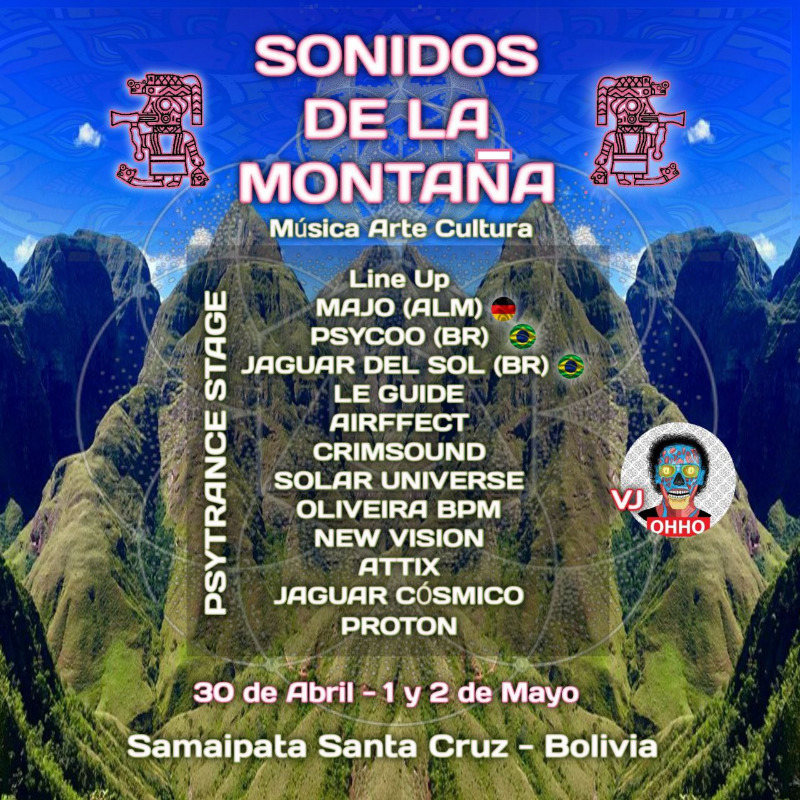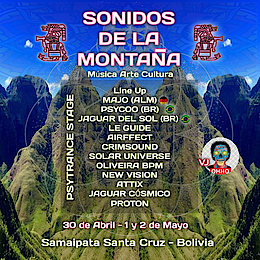 Line Up
MAIN STAGE:
PRIMERA NOCHE:
20:00 – XINO
21:00 – PROTON
22:00 – SUNDARI
23:00 – ATTIX
24:00 – SOLAR UNIVERSE
1:00- CRIMSOUND
2:00 - AIRFFECT
3:00 –LE GUIDE
4:30 - MAJO
5:30 - PROTOS REACTION
6:30 -7:30 – OLIVEIRA BPM

SEGUNDA NOCHE:
20:00 – OLIVEIRA BPM
21:00 – SUNDARI
22:00 –
23:00 – ATTIX
24:00 – PROTOS REACTION
1:00 – AIRFFECT
2:00 – SOLAR UNIVERSE
3:00 – CRIMSOUND
4:00 –PROTON
5:00 - 7:00 MAJO


LINE UP ESCENARIO ALTERNATIVO:
DURANTE EL DIA¡!!!! 

PRIMER DIA ESCENARIO ALTERNATIVO:

12:00 –ILLA UMA
13:00 – OPERADOR
14:00 – KANNA BEATZ
15:00 –OLIVEIRA BPM
16:00 – JEAN BEATS
17 :00 – MOOG B2B KOALA
18: 00 – SANSAU
19: 00 - TURBION DE LA CUMBIA (BANDA)
20:00 – FIN

SEGUNDO DIA ESCENARIO ALTERNATIVO

7:00 – WOZNIAK (BANDA)
8:00 – MEDICINA WABI SABI
9:00 –OPERADOR
10: 00 – BICHO DE MONTE (BANDA)
11: 30 – MAJO
13: 00 – DJUROVIC
15: 00 –MARCEL SOUX
16: 30 – LES OTROS (BANDA)
18:00 –TRANCETERAPIA (BANDA)
19: 30 - DEEPSOUND
20:30 - FIN
-

TERCER DIA ESCENARIO ALTERNATIVO

7:00 – MEDICINA WABI SABI
8:00 – ILLA UMA
9:00 – PROGARK
10:00 – DJUROVIC
11:00 - SANSAU
12:00 – MARCEL SOUX
13:00 – KANNABEATZ
14:00 - …
Info
English:

The festival "Sonidos de la montaña 2022" calls you to an unforgettable dance in the mountains of Samaipata.

You are welcome from April 30th to May 2nd.
Bring your friends, family and children!

In this beautiful, unique place in nature, we want to celebrate the meaning of life together with you for 3 days and 3 nights.

Be joyful,
Feel free,
Be devoted,
Love life,
Enjoy the connection.

The Tanzarea offers you from 5 o'clock in the afternoon until the early morning hours the best Psytrance music from international DJs for powerful dancing.
Send your energy out into the starry sky.

The Chillarea invites you to just relax, enjoy your food, rest, dream or have lively conversations.
Our DJs will accompany you here with quiet deep rave music.

In the morning, whoever wants to, can gather for yoga together. Breathe in nature, turn your focus inward and embark on a journey.

Be free, let your mind wander, dive into your expanded consciousness.

Numerous small food stalls will take care of your physical well-being.
Here you can provide yourself with healthy, energy-giving food and drink.
Food is not included in the entrance fee. You are welcome to bring your own food.
You will also be enchanted by the handicrafts offered here. Maybe you will find a treasure you have been longing for.

You can sleep under the stars or create your own private retreat with your own tent. The camping area is available for this purpose.

Please be mindful and collect your trash in the designated areas. Pacha Mama will thank you.
Also, campfires will only burn in designated areas.

Respectful interaction with each other should be a matter of course.


German:

Das Festival "Sonidos de la montaña 2022" ruft euch zu einem unvergesslichen Tanz in die Berge Samaipatas.

Ihr seid herzlich Willkommen vom 30.April - 2. Mai.
Bringt eure Freunde, Familie und Kinder mit!

An diesem wunderschönen, einzigartigen Ort in der Natur, wollen wir mit euch gemeinsam 3 Tage und 3 Nächte den Sinn des Lebens zelebrieren.

Seid freudig,
Fühlt euch frei,
Seid hingebungsvoll,
Liebt das Leben,
Genießt die Verbundenheit.

Die Tanzarea bietet euch von 5 Uhr nachmittags bis in die frühen Morgenstunden beste Psytrance Musik von internationalen DJs zum kraftvollen Tanzen.
Schickt eure Energie hinaus in den Sternenhimmel.

Die Chillarea lädt euch ein, einfach mal die Seele baumeln zu lassen, euer Essen zu genießen, zu ruhen, träumen oder angeregte Gespräche führen.
Unsere DJs begleiten euch hier mit ruhiger Deep Rave Musik.

Am Vormittag kann sich, wer möchte, zum gemeinsamen Yoga versammeln. Die Natur einatmen, den Fokus nach innen richten und sich auf eine Reise begeben.

Seid frei, lasst euren Geist wandern, taucht ein in euer erweitertes Bewusstsein.

Für euer leibliches Wohl sorgen zahlreiche kleine Essensstände.
Hier könnt ihr euch mit gesundem, energielieferndem Essen und Trinken versorgen.
Das Essen ist nicht im Eintritt inkludiert. Gerne könnt ihr euer eigenes Essen mitbringen.
Auch die hier angebotene Handwerkskunst wird euch verzaubern. Vielleicht findet ihr einen lang ersehnten Schatz.

Ihr könnt unter den Sternen schlafen, oder euch mit eurem eigenen Zelt einen privaten Rückzugsort schaffen. Dafür steht euch der Camping Bereich zur Verfügung.

Bitte seid achtsam und sammelt euren Müll an den dafür vorgesehenen Stellen. Pacha Mama wird es euch danken.
Auch Lagerfeuer brennen nur in dafür vorgesehenen Bereichen.

Ein respektvoller Umgang untereinander sollte selbstverständlich sein.


Spanish:

El festival "Sonidos de la montaña 2022" te convoca a una danza inolvidable en las montañas de Samaipata.

Será bienvenido del 30 de abril al 2 de mayo.
Traiga a sus amigos, a su familia y a sus hijos.

En este hermoso y único lugar en la naturaleza, queremos celebrar el sentido de la vida junto a ti durante 3 días y 3 noches.

Sé alegre,
Siéntase libre,
Sé devoto,
La vida amorosa,
Disfruta de la conexión.

La Tanzarea te ofrece la mejor música psytrance de la mano de DJs internacionales para que bailes con fuerza desde las 5 de la tarde hasta la madrugada.
Envía tu energía al cielo estrellado.

La Chillarea le invita a desconectar, a disfrutar de su comida, a descansar, a soñar o a entablar una animada conversación.
Nuestros DJs te acompañarán aquí con música rave tranquila y profunda.

Por la mañana, puedes reunirte para una sesión de yoga. Respirar la naturaleza, centrarse en el interior y emprender un viaje.

Sé libre, deja que tu mente divague, sumérgete en tu conciencia expandida.

Numerosos pequeños puestos de comida se encargarán de su bienestar físico.
Aquí podrá obtener alimentos y bebidas saludables y energéticos.
La comida no está incluida en el precio de la entrada. Puedes traer tu propia comida.
También le encantará la artesanía que se ofrece aquí. Tal vez encuentres un tesoro que has estado anhelando.

Puede dormir bajo las estrellas o crear su propio refugio privado con su propia tienda de campaña. La zona de acampada está disponible para este fin.

Por favor, sea consciente y recoja su basura en las zonas designadas. Pacha Mama te lo agradecerá.
Las hogueras sólo deben encenderse en las zonas designadas.

El comportamiento respetuoso con los demás debe ser una cuestión de rutina.
Location
Location
Bolivia, Samaipata, Projecto Hermanos Verde
Entry
Entry
Singel Dayticket 50 BOB, Ticket For 3 Days 150 BOB
Organizer
Organizer
Majo Boom Tribe, Robert Duran (CHINO), Bolivia, Samaipata, Hermanos Verde