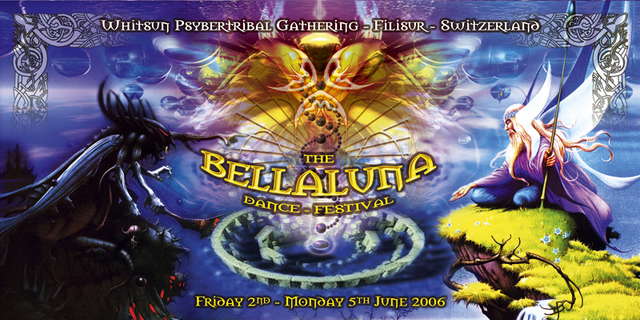 Line Up
Wrecked Machines
Michele Adamson
ManMadeMan
S>Range
Eskimo
Dali
Bon
Goma
Arsenic
Freakulizer
Mauaadidga
Saafi Brothers
Liquid Sunshine
Peaking Goddess Collective

.
NEW: !!! TSUYOSHI SUZUKI !!!
John Phantasm
Mat Mushroom
Tsunamix
Jackomo
Gaby
l'Elf
Q.E.D
Blixbuller
Woodman
Animatekk
Vaporisator
Liquidfreak
Bug & Rauni
Markus & Tasilli
Master Margherita
Michael Kohlbecker
Ambassa & Anacsa
Gelfling & Fidimohnius

.
Deco
Phoenix Firedancers (Fire-& Blacklightshow) Austria

VJ Lunalima (Waldfrieden) Germany
VJ's Bildstoerung (Psyclopetribe) CH

Fluorobotanics (Lyserdelic Deco) Czechia
Psychedelicsys (String Research) Italy
Jamin Murphy, USA
Mythos Crew, CH
Galaxy, CH

.
Info
Info
First Whitsun Psybertribal Gathering

Gate opens Friday 4pm. Sound starts 6pm. Live Intro. Daydream Concerts Saturday & Sunday. Magic Light- and Visual Impact. Fire- and Blacklight Shows. Tipi Resort. Amazing Soundsystem. Covered Dancefloor. Big Heated Tent. Huge Chill Area. Camping Side and Caravan Park.

.
Location
Location
From North: Highway A3 / A13 till Chur. E43 direction San Bernardino, exit Thusis.
From South: A2 / E9 Exit Bellinzona. E43 direction Chur, exit Thusis.

Exit Thusis / Sils direction St.Moritz. in Tiefencastel direction Albula. Watch out for signs in Filisur.

>>Arrival by Train
Intercity Zurich-Chur. In Chur take the Regio-Train to Filisur (Gate 10), every hour from 7am till 8pm. Shuttle from station Filisur.

.
Entry fee
>>Presale Festival Pass
February / March: SFr. 40.- // Euro 26,-
April // Mai: SFr. 45.- // Euro 30,-
[trancecard.de]
(25% reduced with trancecard)
[starticket.ch]
>>Ticket at Party:
SFr. 60.- // 50.- // 40.-
Euro 40,- // 33,- // 26,-
.
Organizer
Organizer
Colourful Sounds, Mythos & Primate
Added

14y 5m

· Update

14y 5d

· 9 Parties ·

/ 29