Back to Nature Festival 2016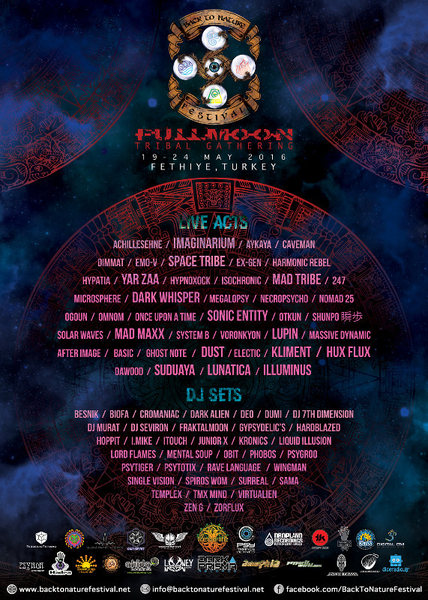 Deco
Deco
Decoration by TK PROJECT Concept Decor & UV LAB
Info
After 3 years of break, the Mind Manifest Project returns to you with Back to Nature Fullmoon Festival.

Summer's first festival "Back to Nature" is getting ready to give you a unique experience in one of the most exclusive beaches of Turkey, Fethiye Katranci Beach, with a special lineup between 19-24 May.

Back to Nature has been done 3 times between 2009-2010-2011 and this year it will last for 5 days as well. The 4th version, we're planning to receive a global mass in our country with a global advertisement by throwing pre-event parties all around the world throughout the winter.

Come and meet us and enjoy a special lineup while the first sun of the summer heats up the sand.

Don't miss out the after party by the end of the festival in a spectacular dreamy place which is 10 km's away, surrounded by lakes and waterfalls in the heart of the nature.

Our organization is limited with 1000 people. This organization has no profit interest and the ticket price range is set according to that.
Location
Location
Katranci Beach bit.ly/1n2L0l6
Entry fee
Entry fee
1st Round presales : 50euro – SOLD OUT
2nd Round presales : 70euro – TILL 15 APRIL
3rd Round Presales : 85euro – Out Soon
Price at the door: 100euro
BUY NOW:
[bit.ly]
Organizer
Organizer
Mind Manifest Project & Psyfiles & Psytrance Activity
From
Back to Nature Festival ·
6,102