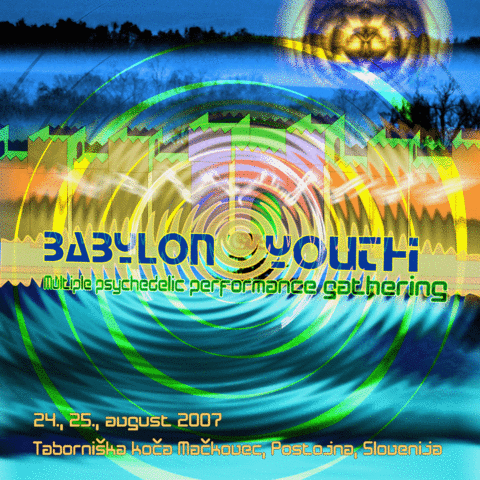 Live
Line Up
ETNICA ( EtnicaNet / ITA)
CONCEPT ( 3D VISION / FRA)
PHATMATIX ( Yabai Records / FRA)
RANDOM ( VaporVent, Geomagnetic.tv / USA)
AODIOIBOA ( Night Oracle Rec. / GER)
KALA ( Lunatica Tribe / MK)
DOSAGE ( Glowing Flame / MK)
Naveen (LabsOfPerception / Audiodevlish / SI )
Cuich (Audiodevlish / DigitalAsylum / SI )
Magica (DigitalAsylum / SI )
AliShanti (Freelancer / IRA )
Damec (100% Mizzart / SI )
Krištof (Akrobatik / Audiostudio 98 / SI )
Tommy Wonder (Spirit of the Moon / SI )
Mirko (Soundantisistem / Akrobatik / ITA )
Psynthex (Melancholic Rec. / SI )
ID (Akrobatik / Audiostudio 98 / SI )
Kilgore Trout (Black Milk / SI )
Kaleman (Chapati groove / SI )
CombiNations (Groove Criminals Rec. / Boof Ctrl./ ParadoX / ISR-AUT )
plus extra floor:
Friday Night Jungle Earthquake(powered by illegal kru):
Parano.ID (X-intex)
Hedon (X-intex)
Smooth (Soulless)
PlankTon (Illegal)
Tsunami (Illegal)
Markoman (Illegal)
info:
ILLEGAL kru is Slovenian jungle drum and bass (JDB) collective, founded in 1998 in city of Maribor by DJ and producer Markoman. Until today the kru has hosted more than 50 eminent JDB names from all around the globe on more than 100 parties and has pushed the Slovenian JDB scene to a new level. Kru (on stage presented by DJ's & producers Markoman, Tsunami, Hose and PlankTon) has also been invited to many venues and festivals from London and Berlin to EXIT festival. Still exploring the borders and pushing the limits Markoman and Tsunami have produced one of the hottest tracks of the season Plutonium 3 (coming out on Conflicted rec.) and present the dancefloor killers combination of deep, dark and hard JDB.
web:
[illegalkru.com]
Kris Kylven
Aodioiboa
Sabi
Medium
Cuchakra
Skokni Pa Lokni
Deep see
ListVvetru
Kaleman
Didi Poka
Info
"Witness the psychedelic fusion between nature & man,
the sights & the sounds,
the natural language of the tribes of Babylon,
the dance."


FACILITIES:

- 2 music stages
- MartinAudio soundsystem
- intelligent light system
- 3D visuals
- light structures
- paintings
- free camping in the forest
- full toilet facilities
- homegrown kitchen
- chaishop
- masage therapy
- full bar services / fresh fruits & juises
- place is protected with private security
- first aid
:
Dont forget to bring some warm clothes, flashlights
and tents for camping, and pozitive energy ofcourse 8)
:
visit Babylon's homepage for direction to festival location.
Location
Location
koca na Mackovcu (same location as it was, just with diffrent name)
Organizer
Organizer
DigitalAsylum & AudioDevlish