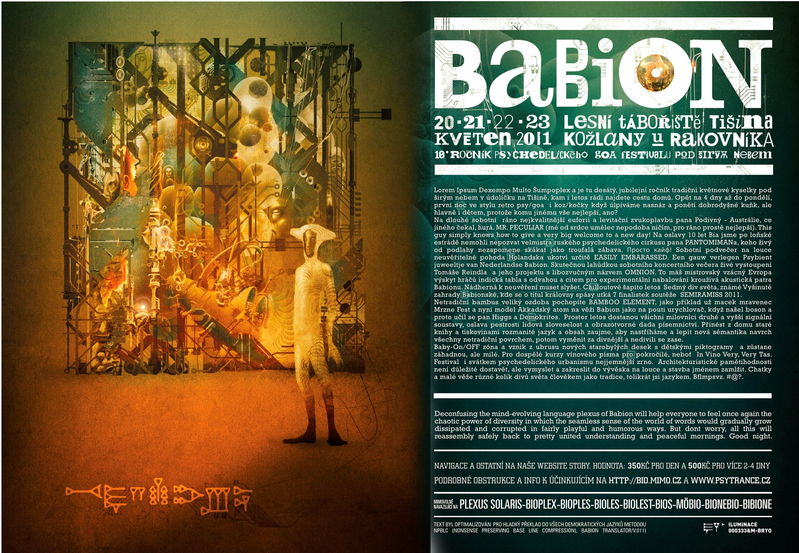 Line Up
Mr. PECULIAR / Australia (Hadra rec., Saturday morning from 6 am)
PANTOMIMAN / Russia (Saturday night)
EASILY EMBARASSED / Holland (Saturday early evening)
OMNION / CZ (tabla live, Saturday evening)
MYTHEMATICA / CZ (SaturDAY)
GappeQ / CZ (Parvati rec., Saturday night)
Sousedi / CZ (Saturday evening)
Sukulent / CZ (Saturday evening)
Deshi / CZ (Sunday evening)
Gem Reflection + Benki LIVE
Ambientium + Fatcat LIVE
RetroAGAR (Russia)
Psyrix Hedonix
Darjeel
Mim
Plech
Transformer
Kerray
Alien Delon
Psyla
Schwa (Beefcourtains records:)
On von OnOff, etc. etc.
Chill
Peky, Darjeel, Stanzim, Sedloň, Nika77, Moravian Cheers Drummers, Halluciano Pavarotti und Acido Domingo classics, ShantiBOY metaclassic, Kashmir, InkFlo, Dr.Eduza (F2J crew), Gramec, etc. etc.
Deco
Deco
BIO gadget Team, Elemental, Cyreal, Kredenc (<a class="odkaz" href="http://www.bambooelement.cz/" target="_blank">Bamboo Element</a>), VKČ, AMANITA choreografica etc. etc.
videotrip by Perplex, Mimo-TV, Siggy, Kashmir&Alisa, Koza, Nomm, Anarchitect etc etc
Info
Info
10th year of traditional May gathering of all Czech and fine mixture of international psychedelic crowd amidst the deep forests between Prague and Pilsen.
The whole event would draw hints to the the ancient Babylon with its mixture of cultures and chillout area in the form of Hanging gardens of goddess Semiramis and other Wonders of the World:)
Don't miss this festival if you are serious nicely not enough, albeit ready to face this opportunity with a decent spice of your own inventive creativity. All you will need is laugh:)
youtube
Deconfusing the mind evolving language plexus of Babion will help everyone to feel once again the chaotic power of diversity in which the seemless sense of the world of words would gradually grow dissipated and corrupted in fairly playful and humorous ways.... untill Machine wrapped with butter that can easily orange bucket of molten geriatric plaster giddy 35 millimeter rainbow band aid fireworks rubber cat:)
But dont worry, all this will recompose safely back to pretty united understanding and peaceful mornings. Good night.
---------------------
Freshly posted photos from last year are now at
[psytrance.cz]
. Check some photos also at
[psytrance.cz]
or medley videoreport at
youtube
Flyer has not yet flown in but hangs out somewhere in the air already...
Location
Location
GPS/Loc: 50° 0' 20.3" N, 13° 33' 12.82" E
The same place as last year, e.g. the forest camping site near Kožlany village, located between Rakovník and Kralovice, about 70km west from Prague and 30km north of PILSEN.
Driving: from Prague drive west dir. Karlovy Vary and turn left to Rakovnik after about 40 kms, from Rakovnik take the southern exit onto Pilsen and in Kožlany (after about 25km) take the right turn to Hradecko, after few bends turn right just before the simple railway crossing and follow white signs "Tisina" for another 3 kms mainly through the forest.
Coming by train please go to Rakovnik and change to one going to Kralovice and get off at the small stationamidst forest called "Strachovice". Cross the rails and go down following the foot path crossing the brook from where the route will be distintively sign posted with OBIO signs.
From Pilsen drive north to Kralovice and turn left in the following village (Kožlany-Hradecko). Then you will see the signs just next to the railway crossing amidst the yellow mustard fields.
Entry fee
Entry fee
20 EUR/weekend, 15 EUR/day
Organizer
Organizer
Perplex and friends
Added

9y 11m

· Update

9y 9m

· 5 Parties ·

/ 15