AZTLAN EQUINOCCIO FESTIVAL
L´Alcudia (Valencia) ·
Spain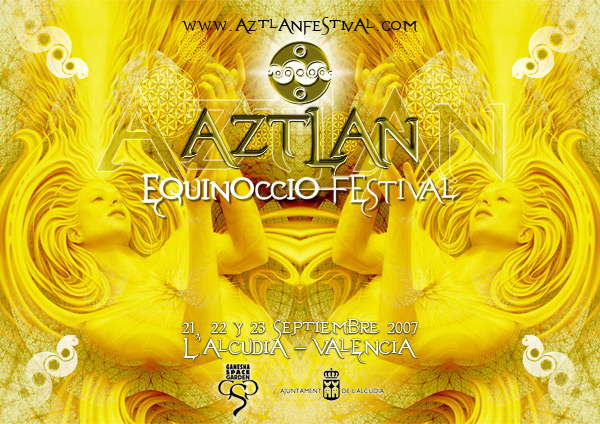 Line Up
ALCHEMIX (SINERGIA) Gr
ANTAGON (INTERZONE PA) Ger
BASIC NOVA (XILOCIBE) Mex
BRAINWASH (CENTRAL DOGMA/SHIVA SPACE JAPAN/ HAPPY MINDS) Pt
D.N.I.(MOONSUN REC/ G.S.G) Br
FRAKTAL NOISE (DISCO VALLEY REC) Sp
HYPNOXOCK (SINDAR / MATERIA REC.)Sp
IX LAMAT (IBOGA REC) Mex
KALI (COSMICTRANCE/MATERIA REC.) Sp
NIZEL (IBOGA REC) Mex
PSYCHOABSTRACT (UNLOGIC/ USTA RECS) Sp
QUANTICA (G.S.G) Sp
SKI-FI (IBOGA REC) Mex
SURIA (HYPERGATE REC/ VR TRIBE) Pt

and more to be confirmed...
ADEENE (G.S.G) Arg
BIOFA (G.S.G / NAMASTE) Br
BRAIN HUNTERS (SPECTRAL/ACIDANCE REC) Mex
CARLOS (A.K.A BIOGENESIS/NUTEK REC) Mex
CIPRI (IBIZA CREW)Sp
CORACOIDEUS (PSY T.F./PSYCIRCLE) Ger
CRISPOD (DRAGONHUNTERS) Fr
CRYSTAL META (AMAR) Sp
CHIK'M (SINDAR) Sp
FABIO (A.K.A FRAKTAL NOISE/DISCO VALLEY REC) Sp
FELIPE (UNITED TRIBES)Sp
FLOW ( G.S.G/AZTLAN FESTIVAL) Arg
JUGGLER (CRYSTAL MATRIX REC/CHAISHOP.COM) Pt
MAHAKAL (BLUPS) Ger
MANIK (FURTHUR) Sp
MIKROBE (G.S.G/ToF/AZTLAN FESTIVAL) Arg
MOZKATT (BELGICA)
MR'DIGITAL (VR TRIBE) Pt
NATZAN (PHAR PSYDE RECS./TRIBE OF FROG) Uk
PAKUA (AIAMPROJECT) Sp
PREHNITA (G.S.G) Sp
PSYLENO ( G.S.G/AZTLAN FESTIVAL) Sp
RUHL ( SINERGIA) Sp
RODDY ALIEN ( G.S.G/SPECTRAL REC.) Br
SUM SINDHU (AIAMPROJECT) Sp
STU ( AJUCA RECS / ToF) Uk
TARUHM (FUNKSTROM) Ger
TOXIC (COSMIC TRANCE/MATERIA REC) Sp
YARZA (KINKI ALIENS/ToF) Sp
XANTA (G.S.G) Arg

and more to be confirmed...
Live Acts:
AKOO (IBIZA) Sp
CHILLI BABA (WALK IN THE SUN RECS) Fr
GREG HUNTER (SPECTRALIFE/DUBSAHARA/THEORB) Uk
KEEMIYO (AIAMPROJECT) Sp

Djs
ALYEN NRG (PSYLOVE) Sp
AURALvsTAKEDROP (Los Panditos Colorados)Aus/Jap
DANIEL CABRERA (SINERGIA) Sp
DELIX (ToF) Sp
DUBOLICK (G.S.G) It
ELECTRA (BLUE STORM) Sp
LISERCHILL (ToF) Sp
JOSE (ToF) Sp
JL VAZQUEZ (UNITED TRIBE) Sp
JM DELLANO (G.S.G) Sp
MANIK (FURTHUR) Sp
OTTO (FUTURISTIC) Fl
RAJA RANA (ToF) Uk
RIECHELIU PROJECT (MAKANA) Sp
ZIOM (KELY) Sp
Deco
DREAM COLORS (Sp)
GANSEDOLINE (Arg)
PSYCO DIMENSIONS (Sp)
OPTICAL ILLUSIONS (sp)
TRIBE OF FROG (Sp)

and more to be confirmed...

Vjs:
FRACTAL TRIBE. Arg
VISUAL DROIDE ( A-GUA-K-T) Ger
ORANGE CORPORATION.Sp

and more to be confirmed...
Info
CONFERENCIAS y MESA REDONDA:
Ecologistas en acció, con exposición permanente
La editorial La Liebre de Marzo y la revista Ulises, con la participación de Juan Carlos Usó nos ofrecerán unos momentos interesantes, con debates abiertos y stand informativo durante el fin de semana.

TALLERES:
Creación de mandalas en la Tierra, y sus aplicaciones.
Reiki
Meditación
Automasaje

MINIFLOOR
Actividades para niños
Talleres educativos sobre medioambiente
Malabares y circo

PERFORMANCE:
HOLCATTES (fire and light) Arg,Sp
MACRAME CIRCUS (clown, jugling, magic and acrobatics) Sp
SPACE JUMP (aerobatics) Arg,Sp
WENDY TRYP COLOURS (psychedelic experince) Sp
LA BURBUJA CIRCO. Arg

ÁREAS:
MINIFLOOR, WORKSHOPS, INTERACTIVE AREA, CINEMA, RESTAURANT, SHOPS, CAMPING, PARKING, SHOWERS, W.C

A las personas interesadas en poner un puesto, dar un taller, hacer un espectáculo, o lo que sea que quiera aportar, ponerse en contacto por E mail o Tlf.

To the people interested in deploying a point, giving a factory, to make a spectacle, or what is that wants to contribute, to put itself in contact by and mail or Tlf.


*+*+*+*+*+*+*+*+*+*+*+*+*+*+*+*+*+*+*+*+*+*+*+*+*+*+*

Desde épocas ancestrales la unión entre el hombre y la naturaleza ha quedado de manifiesto cuando las tribus se juntan a celebrar aquellos momentos que marcan los ciclos naturales.
Estamos viviendo momentos cruciales donde debemos tomar conciencia de lo que hacemos a nuestro planeta. Por lo tanto, Aztlan es un llamado a celebrar el equinoccio de otoño, entrando en el respeto por los ciclos naturales y conmemorando la paz que debe existir entre los hombres, a través de la unión de artistas de todas las índoles; escultura, pintura, performances, música, danza...
Este será un momento para que la tribu de esta época se reúna como antaño y festeje en conciencia el ser hijos de la tierra.

*+*+*+*+*+*+*+*+*+*+*+*+*+*+*+*+*+*+*+*+*+*+*+*+*+*+*

From ancestral times the union between the man and the nature has been of manifesto when the tribes join themselves to celebrate those moments that mark the natural cycles.
We are living crucial moments where we must become aware of what we do to our planet. Therefore, Aztlan is a call to celebrate the autumn equinox, entering the respect by the natural cycles and commemorating the peace that must exist among humans, through the union of artists of all kind; sculpture, painting, performances, music, dance…
This will be a moment for the tribe of this time to gather like old times and celebrate in conscience that we are all Earth children.
Location
L`Alcúdia (del Carlet) - Valencia
Tambien podeis llegar hasta L'Alcudia de Carlet en metro Linea 1 dirección Villanueva de Castellón, desde la parada de angel guimerá es directo. Aunque después es media hora caminando, atravesando el pueblo hasta el festival.
Por la A7(por interior) desde Valencia dirección Alicante, salida L'Alcudia, pasáis la primera rotonda dirección L'Alcudia y al llegar a la segunda rotonda cogéis la primera a la derecha por un camino de tierra dejando una fabrica antigua a vuestra mano derecha. Seguid 500 metros.
Si venis desde Alicante por la A7, tendréis que atravesar L'Alcudia direccion Valencia, entonces la primera rotonda al salir del pueblo vereis la antigua fábrica, haceis la rotonda y pillais la 2º a la derecha por el camino de tierra
You can also get to L'Alcudia in the subway (metro) Linea 1 heading to Villanueva de Castellon. After that is 30 min walking crossing the town.
Take de A7 (por el interior) from Valencia to Alicante, then take exit to L'Alcudia, you'll find a first roundabout, continue to L'Alcudia until next (2º) roundabout. Then take a right taking care of keeping the old factory at your right hand. Keep going for 500 meters.
If you come on the A7 (por interior) from Alicante instead than from Valencia, you´ll need to cross the whole town heading to Valencia, then take the first roundabout leaving the town, and take the second right in that roundabout where the old factory is.
Mirad la ruta en la Web:
Check route on Web site:
.::. AZTLAN .::.
[aztlanfestival.com]
Organizer
Organizer
GANESHA SPACE GARDEN
Hotline
0034 626 216731/ 0034 660 567095/ 0034 606025273