Backend
Aura Plexus Open Air Festival 2021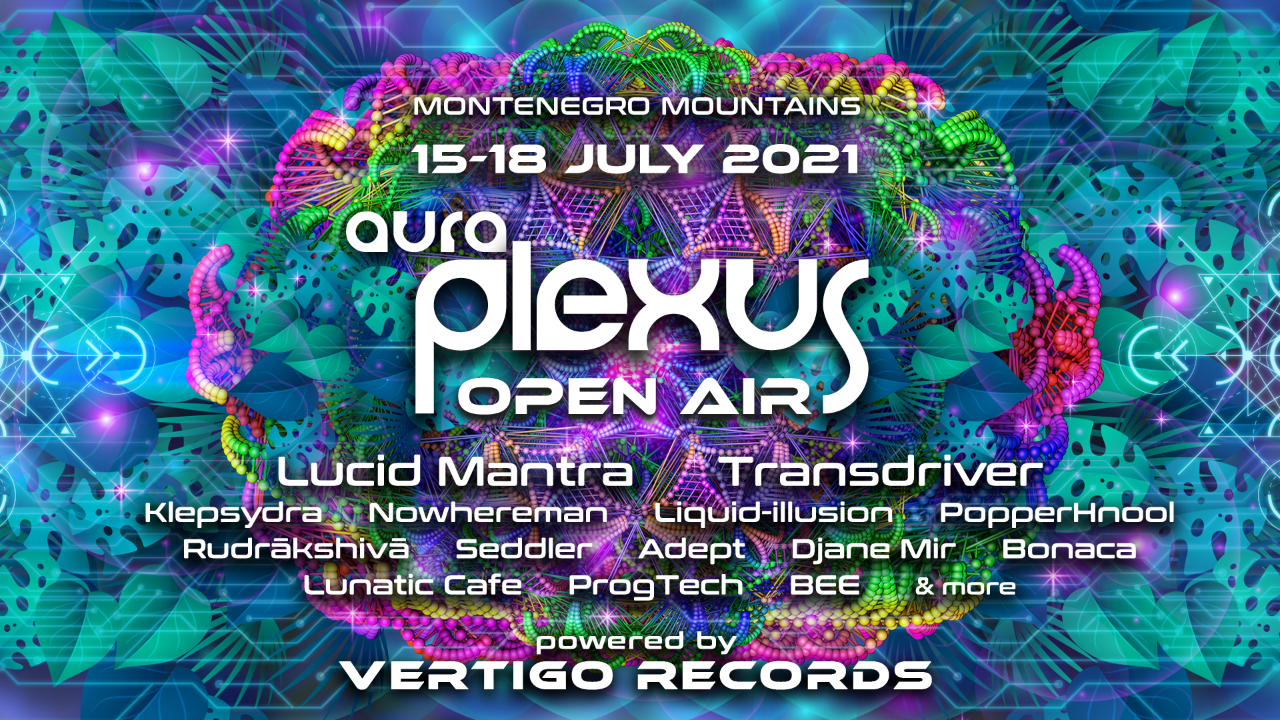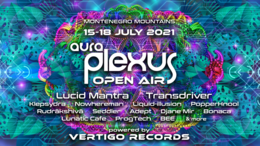 Line Up
♫♫ AURA PLEXUS Open Air Festival ♫♫
15-18 July Tara Springs Park, Mojkovac, Montenegro
AURA PLEXUS is the event, provided by Vertigo records, which is made for each and every, who prefer the beauty of wild nature to the hustle and bustle of hectic city life. For those, who would rather intertwine their auras with incredible PLEXUS of the mountain and canyon nature with its creeks, rivers, and waterfalls and sound of the best modern aural researchers and tribal rhythms specialists, then participate in everlasting urban rat-race. Be there or be square!
▬▬▬▬▬▬▬ LINE UP ▬▬▬▬▬▬▬
♫ Lucid Mantra ♫ (BE, IN)
soundcloud
♫ Transdriver ♫ (RU)
soundcloud
♫ Rudrākshivā ♫ (BE, IN)
soundcloud
♫ klePSYdra ♫ (UA)
soundcloud
♫ Nowhereman ♫ (RU)
soundcloud
♫ Liquid-ILLuSion ♫ (MKD)
soundcloud
♫ PopperHnool ♫ (RU)
soundcloud
♫ SEDDLER ♫ (UA)
soundcloud
♫ Adept ♫ (RU, Global Sect)
soundcloud
♫ Djane Mir ♫ (SRB, Global Sect)
[click here]
♫ Bonaca ♫ (MNE)
♫ ProgTech ♫ (UA)
♫ Lunatic Cafe ♫ (UA)
♫ BEE ♫ (MNE)
AND MORE…
DECO MAPPING INSTALLATION
Neuro Surfers (UA)
[facebook.com]
Global Sect (RU)
[facebook.com]
Nice and cozy hotel with unforgettable outlooks along with the restaurant, bar, kids playground, camp zone with facilities, swimming in a mountain creek and, on top of it all, two dance floors with the most modern artists and dj's will definitely make the memories of this vocation standing out for the rest of your lives!
FESTIVAL PLACES
- INFO POINT
- CAMP ZONE or HOTEL (equipped with showers and toilets)
- KINDER ZONE
- DELICIOUS KITCHEN, TEA, BAR
- QUALITY POWERFUL SOUND
- MOUNTAIN RIVER AND WATERFALLS (Chill area)
CAMP ZONE
- Camping, equipped with showers and toilets.
- Tents for rent at affordable prices will be available at the site
We remind you that the number of visitors is strictly limited by the Government of MONTENEGRO. Do not forget about wearing masks and keeping the social distance.
We recommend you buy tickets in advance to avoid any mishaps!:
------------------------------
Tickets:
50 euro presale
60 euros at the entrance
The number of tickets is limited!
Free admission for children under 12.
Payment for tickets only to the site
[auraplexus.space]
------------------------------
This page will keep you updated as well as if you have any questions, you can apply directly to us.
Vertigo Records crew.
Info
Info
This time Vertigo records summon you to the most beautiful, spectacular place among picturesque mountains and waterfalls. If you want to join us with your own stand, exhibition or volunteering...don't hesitate to contact us and share your idea or proposal. thank you 🙏 Vertigo Records team ❤
Location
Hotel Ravnjak - Tara Springs Park, Mojkovac, Montenegro
Organizer
Organizer
Vertigo records !!!