AUM New Year's Eve Festival 2020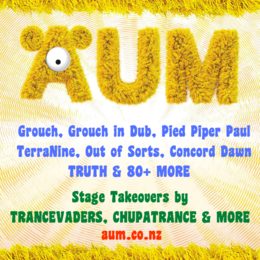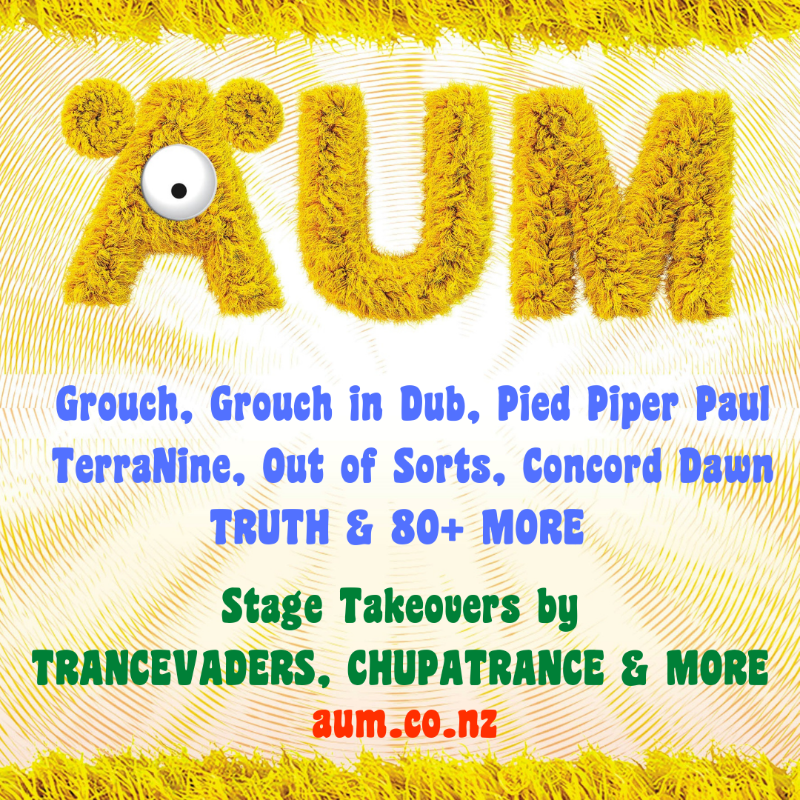 Line Up
FIRST LINE UP RELEASE - MUSIC
TOPP TWINS
ANIKA MOA
GROUCH
CONCORD DAWN
LABRETTA SUEDE AND THE MOTEL 6
PADDY FREE
KITA
GREG CHURCHILL
RACHAEL SABIN
RACING
SKILAA
THE BUTLERS
JESSY AND THE VOLUNTEERS
PAIGE JULIA
ANGE
TRUTH
FRED
C-MATIC
ZUKE
RAVENHAWK
MAKESHIFT PARACHUTES
PIED PIPER PAUL
SHARKRA
ROGER PERRY
HAYDZ
TERRANINE
DONNA-MARIE
REI
CAMO MC
OUT OF SORTS
MATT DRAKE
OSEY
LOGAN BAKER
HEYLADY
TINA MAIRI
WATTSSON
CYRIL ORSON
+ 80 MORE TO BE RELEASED
Info
You've found the Rainbow connection
AUM Festival ॐ 2020
New Year's Eve
Three-Day Family Paradise Adventure
Music, art and camping festival
FINAL RELEASE tickets on sale now
Auckland family holiday adventure needed? Aum Festival 2020 is the largest truly family-focused camping music & art festival in New Zealand held over the new years period. This year we have over 100 artists across 5 stages plus a schedule of activities and workshops to keep you entertained for days. Our camping grounds are among the most beautiful you'll experience in NZ. Fresh water, showers, camping and parking at no extra cost. More info at
[co.nz]
What does AUM feel like?
Dearest most beautiful friends and family we would again like to humbly welcome you all back to our paradise, to join us for another epic holiday adventure. An adventure of love, sharing, sustainability, music, art, colour, technical wizardry, healing, imagination, laughter and joy. A family adventure where we will write our own story as we immerse ourselves in the stories of the past, the present and the future. A truly inclusive adventure for everyone, young and old. Please bring your friends, your family and your children and join together as one to celebrate this New Year's Eve at this specially designed `Family-Focused' AUM camping, music and arts festival... held on the most beautiful, spacious, lush, well-appointed festival campgrounds in the country, just 1 hr from the city.
One of New Zealand's safest, friendliest, most inclusive, conscious, and environmentally considerate events.
WHAT'S ON OFFER:
3 days and nights doing as you please on the most beautiful festival camp grounds in the country - 400 hectares of free roaming dear farm // The friendliest most inclusive festival vibe and culture // 4 incredible music stages with the finest sound quality in the country // Fully themed fancy dress Family event (300+ children on site last year with very happy parents) // Workshops// Healing // Yoga // Rongoā Maori // Chill spaces // Installation art // Glow and fire // Circus acts and gala show // Live art // Markets // Delicious food // Wandering Adventures // Children's club // Movies // Astronomy // Sustainable culture // Incredible lighting and projection art // Stunning event decor and stage design // more than 80 bands, djs, solo musicians, live electronic artists and drummers from all around the world and Aotearoa and so much more.
WHERE:
1 hour from Auckland CBD.
Expect even more refinement, colour, fun, excitement and general awesomeness on last years festival.
Thank you for being so beautiful.
As always, massive love and respect to you all
Team AUM
THIS IS AN ALL-WEATHER EVENT
ALL AGES - *18 & under must be accompanied by guardian
COVID-19 POSTPONEMENT CLAUSE
Engage Events Limited (AUM) reserve the right to schedule postponement dates for this show in case of forced lock down or NZ Govt alert level changes which prevent this event from running, due to the covid19 situation. All tickets purchased will be honoured at any future postponement dates. In the event that we are unable to secure a premium weekend date (Friday or Saturday) we reserve the right to run the event on another week day as required.
Location
Auckland
320 Wilson road, south head, auckland