ATMOSPHERE-FESTIVAL 2011 Edition 10 !!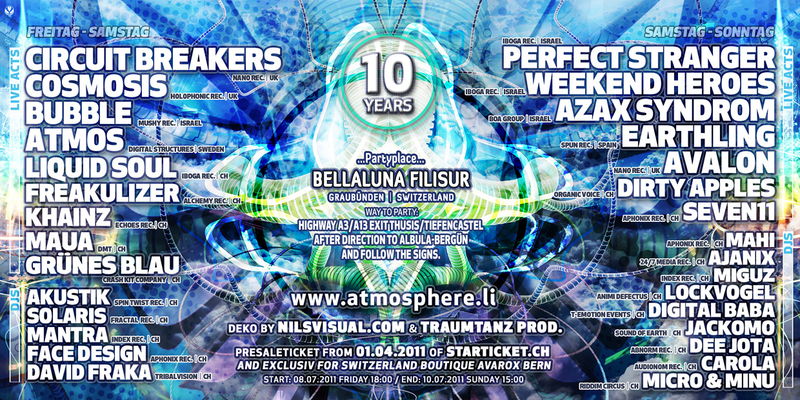 Line Up
With proud we present you a fine selected lineup

Friday 08.07.2011

Live

Circuit Breakers / Nano Rec. Bra & UK
Gustavo (Burn in Noise) and Dickster (Green Nuns of the Revolution) is behind this project.

Cosmosis / Holophonic Rec. UK
Bill Halsey, the producer of Cosmosis is a former professional session guitarist from London. During the last 12 years of touring he played "Cosmosis" music to ecstatic crowds in such diverse places of this world.

Bubble / Mushy Rec. Israel
Karen Bagdasarov present the new album "Coldsun"

Atmos / Digital Structures Sweden
Tomasz we persent fresh music and new unreleased tracks.

Liquid Soul
Iboga Rec.

Freakulizer
Alchemy Rec.

Khainz
Echoes Rec.

MauA
DMT

Grünesblau
Crash Kid Company

DJ's

Akustik
Spin Twist Rec.

Solaris
Fractal Rec.

Mantra
Index Rec.

Face Design
Aphonix Rec.

David Fraka
Tribal Vision


Saturday 09.07.2011

Live

Perfect Stranger / Iboga Rec. Israel
Yuli Fershtat play fresh Psychedelic Progressive in a totally new and exciting presentation and composition.

Weekend Heroes / Iboga Rec. Israel
Felix Nagorsky (TIMELOCK) and Eli Baltsan (DJ ZOMBI) is behind this project.

Azax Syndrom / BOA Group Israel
Regev Azaria we present the new album "Azax Syndrom vs. Bliss - Round 1"

Earthling / Spun Rec. Spain
The solo project of DJ Celli is one of the upstarter and bringing his unique style of psychedelic trance to all four corners of the globe.

Avalon / Nano Rec. UK
Leon Avalon is currently one of the biggest up and coming names on the international psytrance circuit.

Dirty Apples
Organic Voice

Seven11
Aphonix Rec.


DJ's

Mahi
Aphonix Rec.

Ajanix
24/7 Media Rec.

Miguz
Index Rec.

Lockvogel
Animi Defectus

Digital Baba
T-Emotion Events

Jackomo
Sound of Earth

Dee Jota
Abnorm Rec.

Carola
Audionom Rec.

Micro & Minu
Riddim Circus
Deco
Deco
Deko by
Nilsvisuals.com & Traumtanz Prod.
Info
Info
Camping Area, Foodstands, Trainstation near, simply to find.
Location
Location
Bellaluna Filisur Graubünden Switzerland
Organizer
Organizer
Atmosphere-Festival