Backend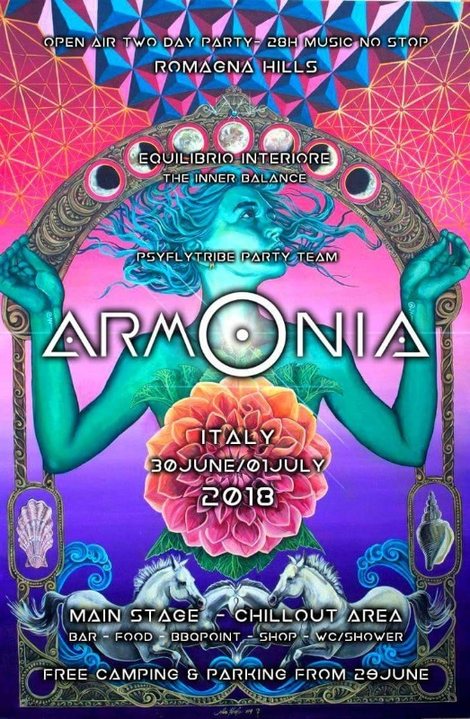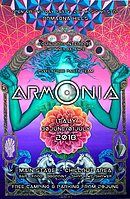 Line Up
Welcome to Armonia 2018
Tutta la nostra esistenza per essere in Armonia, deve ruotare intorno a due grandi poli: "La mente e il corpo. Il biologico e il tecnologico. Il femminile e il maschile. La natura e il prodotto creato dall'uomo. La voglia di pace e la capacità di forza. Il dubbio e l'azione. La cultura e l'eccitazione. Il senso di responsabilità e il senso del gioco. L'ambiente in cui cresciamo e il nostro codice genetico. La condivisione con gli altri e il senso di sé. L'apertura accogliente e la durezza contro chi vuole infrangere i valori"...
La superiore Armonia è il risultato tanto di elettive simbiosi quanto di scontri!
Per due giorni vogliamo ricreare uno spazio in cui tanti di noi, di opposti ma simili caratteri e animo, possano trovare l'armonia tra di loro e con se stessi, uno spazio libero da giudizi, scandito dal ritmo della musica e dal potere dei nostri sorrisi.
Siamo lieti di presentarvi gli artisti che si esibiranno in questi 2 giorni di musica, pieni di suoni psichedelici e visioni create per condurvi nella seconda dimensione...
∆∆∆ Instrument live act chillout ∆∆∆
Shantifax (SarnarSchourtRecords-Live Organic Trance)
∆∆∆ LIVE ACT ∆∆∆
Aesis alien (polena rec)
soundcloud
Avengers (evilcorp-xm7)
[facebook.com]
Creative (tranceinvasion-psyflytribe)
[facebook.com]
[facebook.com]
Dayalix(greentreerec-quarion tribe)
[facebook.com]
Elfo (nbrrec)
soundcloud
SPECIAL GUEST: MESSICO
LESS IS MORE(catalyst-profound rec)(dacrurec.)
[facebook.com]
soundcloud
Spec3 (catalyst rec)
soundcloud
Sonik (crush in goa)
[facebook.com]
Tskun (quarion tribe)
soundcloud
∆∆∆ DJ SET ∆∆∆
Achos (crush in goa)
[facebook.com]
Aizak (crush in goa/artrance)
[facebook.com]
Ale&Baldu (indipendent)
[facebook.com]
Ale-rt(resistrance)
[facebook.com]
Blanches (psyflytribe)
[facebook.com]
Betuk (goodvibetribe)
[facebook.com]
Cat (crush in goa)
[facebook.com]
Conan (psyflytribe)
[facebook.com]
Kam (psyflytribe)
[facebook.com]
Dario (psyflytribe)
[facebook.com]
Dodo3 (quariontribe )
[facebook.com]
Flo vs shammy Psywave (DifferentReality)(psyflytribe)
soundcloud
Gallaudio (psyflytribe)
[facebook.com]
Gheda (psyconauti-goodvibe)
[facebook.com]
Master (psyflytribe)
[facebook.com]
Mark (psyflytribe)
[facebook.com]
Mezzo (quariontribe)(d-noirrec)
[facebook.com]
Sagra vs feel (psyflytribegoodvibe)
[facebook.com]
Sir (differentReality)
[facebook.com]
Prez (otturbatoidi)
[facebook.com]
Tintifax (SarnarSchourtR)
soundcloud
∆∆∆VISUAL VJ∆∆∆
Psykiry (psyfly)
[facebook.com]
La line up e chiusa !!!!...
Line up is closed!!!!...
∆∆∆PHOTO E VIDEO∆∆∆
Alessandro bianchi
[facebook.com]
∆∆∆ Bar e Food Area ∆∆∆
Bar con prezzi economici e Ristorante completamente vegetariano con diversi tipi di cibi: pizza, pasta, riso...
∆∆∆ Chai shop & Café ∆∆∆
saranno servite bevande calde come thè, caffé, chai veg, succhi di frutta e cibi dolci
∆∆∆ Suond Sistem ∆∆∆
15 kw db technologies
∆∆∆ Deco ∆∆∆
X questo evento presenteremo il nostro lavoro che ci ha richiesto mesi di sforzi .. psyflytribe....
∆∆∆area massaggi∆∆∆
Maggaggistori professionisti
∆∆∆ Chillout & Spettacoli ∆∆∆
MORGAN
- hand pan hoplon pan miscelando ritmiche hip hop,drum n bass e tribal
ARIANNA DRUDI
- Medicina del Suono dei Canti Sciamanici
- Consulenze di Tarocchi
- Artigianato rituale
ISABELLA GATTI
- Massaggio Ayurvedico
- Meditative-Touch
- Rebalancing Massage
Possibilitá durante l evento di prenotare la propia ora di massaggio!..
-------
Per questa edizione abbiamo deciso che nella chillout area non sará suonata musica elettronica, ma potranno esibirsi artisti dal vivo; contattateci in privato e la vostra richiesta sará valutata dallo stuff!
SI ACCETTANO RICHIESTE X ESIBIRSI!!!...saranno accetti solo strumenti dal vivo.
Contattateci anche per spettacoli e workshop di giocoleria, yoga, ecc...
∆∆∆ Spettacoli di Giocoleria ∆∆∆
Siamo lieti di presentarvi gli artisti che si esibiranno a questa edizione 2018:
(FRAtds)
(Jom contact)
∆∆∆ Shoping Area ∆∆∆
Chiunque sia interessato a portare gratuitamente il suo shop lo puo fare contattandoci privatamente
NO CIBI-NO BEVANDE!
RICORDIAMO A TUTTI CHE PER GLI ESPOSITORI SARÁ FREE,NO COSTI AGGIUNTIVI OLTRE AL TICKET D'ENTRATA....
(mezza_ubner@libero.it)
∆∆∆ Camping Area ∆∆∆
Il camping aprirá il 29 giugno alle 19 e chiuderà il 2 giugno alle 12
in modo che le persone che verranno alla festa, avranno la possibilita di godersi sia il giorno prima, sia il giorno dopo, in un luogo incontaminato.
Molto Importante non accendere fuochi, cè una Bbq area!
NON SONO AMMESSI CANI LIBERI
lasciare il posto pulito come lo si trova..
∆∆∆ Bagni e Docce ∆∆∆
Nei pressi della struttura ci saranno bagni e docce, troverete facili indicazioni o potrete chiedere con il personale.
∆∆∆kids area∆∆∆
Area attrezzata con giochi per bimbi...
∆∆∆ Parcheggio ∆∆∆
Il parcheggio auto è completamente gratuito, è incluso nel prezzo del'ingresso, non è possibile campeggiare nel parcheggio, Rispetta le indicazioni del parcheggiatore, non parcheggiare in aree non delimitate e fuori dalla propieta.
*x camper è gradita il contatto prima(mezza_ubner@libero.it)
∆∆∆ Informazioni Generali ∆∆∆
Le porte apriranno il 29 giugno alle 19 con possibilita di campeggiare, bar e ristorante saranno gia attivi, la musica inizierá alle 13 di sabato, partirá un concerto live strumentale, per poi iniziare con il programma psy trance senza mai stop fino alle 16 del 1 luglio, avrete la possibilitá di fermarvi nel area camping fino al 02 luglio alle 12.
*saremo in un agriturismo,massimo rispetto x lo staff.
*Vietato accendere fuochi!cè un area attrezzata (free)dove puoi cuocere i tuoi cibi!
*Vietato introdurre vetro dal esterno!
*Cani solo al guinzaglio!
*EVENTO PRIVATO: non invitare gente che non conosci!
*Potrai accedere alla festa solo se invitato da amici che gia appartengono al gruppo!
*Rispetta l'ambiente che ti circonda, non lasciare immondizia in giro!
*Vietato l'ingresso ai -18anni se non accompagnati da un genitore!
*Rispetta le regole generali della vita di gruppo, pace, uguaglianza, amicizia.
ENGLISH VERSION
∆∆∆ Bar e Food Area ∆∆∆
Bar: economic - with cheap n cheerful prices!! Restaurant: completely vegetarian with a variety of delicious different food, pizza; pasta; rice... etc
∆∆∆ Chai shop & Café ∆∆∆
Hot drinks will be served such as tea; coffee; veggy chai... to name a few Plus fruit juices and not forgetting cakes, buns and biscuits for those with a sweet tooth!!
∆∆∆ Chillout & Shows ∆∆∆
For this edition we have decided that in the Chillout area there will NOT be electronic music, therefore giving space for LIVE ARTISTS to perform. Contact us in private if you wish to participate
WE ACCEPT ARTISTS WISHING TO PLAY...those with live instruments only please.
Also contact us for proposed shows and various workshops - juggling, yoga etc...
∆∆∆ Juggling Shows ∆∆∆
Jom conctact
∆∆∆ Shopping Area ∆∆∆
For those wishing to set-up their shop for free can do so by contacting us privately.
PLEASE NO FOOD AND DRINK THOUGH!(mezza_ubner@libero.it)
∆∆∆ Camping Area ∆∆∆
The Camping Area will open from 29th June at 7pm (19.00) until 2nd July at 12pm (12.00 - midday). This gives people the chance to come and enjoy.... both a day before and after the Festival.... in an uncontaminated spot.
VERY IMPORTANT: DO NOT LIGHT FIRES, there is a BBQ area for that!!!
DOGS WITHOUT A LEAD WILL NOT BE ADMITTED
Leave the sight clean, just as you found it. LEAVE NO TRACE!!
∆∆∆ Toilets and Showers ∆∆∆
Toilets and Showers are provided, you will find easy instructions as to how to operate them or you can ask one of the Staff.
∆∆∆kids area∆∆∆
∆∆∆ Parking ∆∆∆
Parking your CAR is completely FREE (it's included in the price of the entry- ticket). It is NOT POSSIBLE to camp in the Car Park. Please respect indications given by Parking Staff and DO NOT park outside of the designated parking area. Campers/ Vans please could you contact us beforehand (mezza_ubner@libero.it)
∆∆∆ General Information ∆∆∆
Doors will open on Fri 29th June at 7pm (19.00) where you are welcome to set-up camp, the bar and restaurant will be open and running too. Music will start on Sat at 1pm (13.00) with a live instrumental concert.... to be followed by the non-stop Psy-Trance-Programme until 4pm (16.00) on 1st July!!! It's possible to stay on in the Camping Area until 2nd July at 12pm (12.00).
*We will be staying at a Farmhouse/ Guesthouse so DO show maximum respect and curtesy for the Staff.
*DO NOT light fires! DO use the FREE BBQ area for you to easily cook your food!
*DO NOT bring GLASS into the Festival area!
*Dogs MUST be kept on a lead!
*PRIVATE EVENT: DO NOT invite people you don't know!
*WELCOME ONLY those people who have been INVITED BY FRIENDS or who are already PART OF THE GROUP.
*RESPECT the environment and DO NOT leave rubbish around. LEAVE NO TRACE !
*Under 18s MUST BE accompanied by an ADULT!
*RESPECT for ALL group members, PEACE, EQUALITY and FRIENDSHIP. 🙌 💕
Thanks for your collaboration
Grazie x la collaborazione a:
*crush in goa
*polena records
*catalyst records
*evil corp
*goodvibetribe
*nbr rec
*different reality
*otturbatoidi
*sarnarschourt rec)
Deco
Special decoration from india

+

Psyflytribe
Info
Info
Contattateci nella email x piu info....

Contact as in email please...
Location
Vicino alla via lattea

Contattateci in pvt
From
dariopsyflytribe thay stile ·
943