Armageddon Festival: Insomnia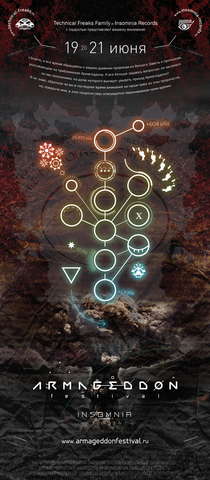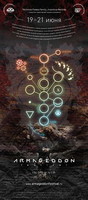 Line Up
AJJA (Peak Records / Switzerland)
CALAMAR AUDIO (Antiscarp Records / Finland)
FURIOUS (Technical Freaks Records / Russia)
GORUMP PEYYA (Technical Freaks Records / Macedonia)
IRGUM BURGUM (Psybaba Records / Hungary)
KINDZADZA (Osom Music / Russia)
OCELOT (Zaikadelic Records / Portugal)
ORESTIS (Tantrumm Records / Greece)
TRIPPYHIPPIES (Psybaba Records / Hungary)
YAB-YUM (Peak Records / Switzerland)
ZIK MATUTERO aka HORROR PLACE (Insomnia Records / Greece)
ALREADY MAGED (Insomnia Records / Ukraine)
BECAR (Insomnia Records / Russia)
COSMO (Noise Poison Records / Slovakia)
FLUCTURION (Insomnia Records / Russia)
HIGHCOSMOS (Noise Poison Records / World)
HIGHKO (Noise Poison Records / Germany)
JESUS FREAK (Technical Freaks Records / Russia)
KRAFT (Organic Alchemy Records / Russia)
MEGALOPSY (Dark Prisma Records / Argentina)
METALGEAR (Insomnia Records / Russia)
SELECT PROJECT (Tantrumm Records / Russia)
SUNSHINE (Technical Freaks Records / Russia)
TEXAS FAGGOTT (Exogenic Records / Finland)
Chill Stage Live acts:
AQUASCAPE (Sunline Records, Russia)
CJ CATALIZER (Ajana Records / Russia)
JEANS61 (Underground dj / Russia)
KHOOMAN (Ajana Records / Russia)
MINDEX (Mindwaves Music / Russia)
PLANETARIUM (Elpamusic.lv Records / Russia)
RAPAPAM (Dub Division / Russia)
SPECTRUM VISION (Sentimony Records / Russia)
TIMOOON (Vertigo Records / Russia)



Chill Stage Dj sets
AGNI (Insomnia Records / Russia))
ATMIK (Sentimony Records / Russia))
ATOMSK (Insomnia Records / Russia)
BAUER (BK Freakz / Russia)
COSMOS (LavCommunity / Russia)
GRESHNIKY (Ethno Shop / Russia)
FLUCTURION (Insomnia Records / Russia)
KALIFLOWER (Kdd Family / Russia)
KAP6UK (BK Family / Russia)
MTTLIVE (Outsiders / Russia)
PERLOS (Lovely Lab / Russia)
PIKA-PIKA (Outsiders / Russia)
RA (IDM Group / Russia)
RPM (Outsiders / Russia)
STEALTH (Sonic Chakras / Russia)
THE WATT (Underground dj / Russia)
UPSARA (Insomnia Records / Russia)
Deco
Deco
FREE TRANCE FORM (Russia)
MAGIC GROUP (Russia)
SPECIAL ART (Russia)
TECHNICAL FREAKS (Russia)
Info
concept:
«You know, ancient prophets of the Old Testament and the signs that point to the approaching Armageddon have captured my imagination for a long while. I ask myself the same question every now and then: Do we belong to the generation that is destined to witness the Armageddon advent? It is not to my knowledge whether you have paid your attention to anything related to such prophecy, but you can trust me, that prophecy describes the time we are living through»


Insomnia Records and Technical Freaks Records are happy to present a unique extravaganza on the Russian trance scene psychedelic gathering «ARMAGEDDON FESTIVAL: INSOMNIA». The Festival is dedicated to the big celebration of the 8th anniversary of a leading dark trance label Insomnia Records. Live performances and DJ sets offered by outstanding creative personalities will be major attractions for the guests. The best musicians will gather from around the world for the occasion! And, certainly, Russian psy heads, well-known globally for setting the night trance sound trends, will be there for you to enjoy. The event of such a caliber is organized for the first time ever in Russia and it is totally unprecedented! It has already evoked a tremendous response from the public all over the world, and hopefully, will add a vivid page in the European trance festival history.


Contact:
If you have any queries concerning the festival, do not hesitate to contact us:
main (at) armageddonfestival.ru

If you are a musician and consider yourself eligible and willing to participate in our festival:
music (at) armageddonfestival.ru

On matters related to the setting, fire show, freak show, video art:
show (at) armageddonfestival.ru

On matters related to retail arrangements, fairs, catering services, tea and coffee:
shop (at) armageddonfestival.ru

If you are reliable and trustworthy and want to work for the festival:
people (at) armageddonfestival.ru
phone:

+ 7 (926) 342-79-79 Konstantin
+ 7 (962) 973-02-66 Alexey
icq:

5-880-101 Konstantin
225-416-525 Alexey
Location
The festival venue is located on a river bank, so close to the water that its southern limit is part of the waterfront. A fantastic view opening from this location is a primary consideration for our choice. You will see a place of stunning beauty: a pine forest surrounding meadows of greenery, mirror-like water surface with water-lilies and blue serene skies above nothing can be better! All other things, including catering and amenities) will be provided by the organizers to make your time at Armageddon Festival this summer an unforgettable experience for you and all your friends!
The map showing routes of approach to the Armageddon Festival venue will be posted on 19 June at
[armageddonfestival.ru]
Dates and schedule for Festival bus service:
19 June, Friday, - 15:00
19 June, Friday, - 21:00
20 June, Saturday, - 15:00
20 June, Saturday, - 21:00
To make a guaranteed bus seat booking for a specified departure time, please email prior booking requests to
bustravel@armageddonfestival.ru
Indicate your first name, family name and departure time in your personal booking request.
Busses will depart from Vladykino metro station, last train car if you go from the center, exit towards the Vostok hotel.
Date and schedule for return bus service:
21 June, Sunday
Fair
Bar, Restaurant, Sushi Bar, Shashlik-House, Veg Restaurant, Hookah-House, Tea-shop, Clothing Shops and many more!
Flea Market will be represented at the festival by Uneroid branded outlet, which marks its 10th anniversary this year.
Entry
On Sale worldwide:
[wirikuta.at]
(merchandise section)
Price : 30 EUR
On Sale in Moscow:
Line Up Store (Smolenskaya Metro Station, Karmanitsky Per., 3A. str.4)
Acid Wear Store (Tulskaya Metro Station, Holodilniy Per., 3, "Roll Holl", room 83)
Uneroid Store (Sokol Metro Station , 2nd Peshanaya street, 5)
Impulsar Store (Arbatskaya Metro Station, Nikitskiy bulvar, 9)
Ethno Shop Store (Tverskaya Metro Station, Spiridonievskiy Per. , 8 str.8)
"ALLFORDJ.RU" Store (Suharevskaya Metro Station, Sretenka street 36/2) + 3.5% percent to the ticket price
You can also order ticket delivery at
[allfordj.ru]
, Courier price : 200 RUR
Price : 1000 RUR
On Sale in St. Petersburg:
Dolina Bartanga Store (Gostiny Dvor, Krylova Per., 22)
Price : 1000 RUR
On Sale in Kazan:
Hotline icq:
338-922-356
Price : 1000 RUR
On the day of the show being held the entrance fee is RUR 1,500.
Organizer
Organizer
Technical Freaks, Insomnia Records