Archipelago Art Dance Festival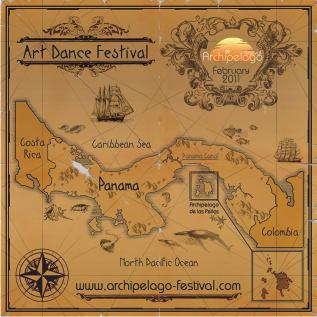 Chillout Vibrations live acts:
Blue Lunar Monkey (Mexico)
Dymons (England)
Javier Medina (Panama)
Flooting Grooves (Scotland)
Silicate (USA)
[myspace.com]
Synergy (Austria)
[myspace.com]
SoulBlaster (Costa Rica)
[myspace.com]
Tocanda Madera (Panama)
more to be announce
--------------
Chillout Vibrations Dj's:
Dagas (Panama)
[myspace.com]
E.l.f Arrow (USA)
[metameme.org]
Giss Oro (Panama)
Kelt (Russia)
[myspace.com]
Komarchiki (Russia)
Laurent (France)
Manuel Zilahi (Spain/Israel)
[myspace.com]
Mind Pulse (Panama)
Murli Daswani (Panama)
Tsin Loon (Russia)
more to be announce
Deco
Art-installations, deco and exhibition :
Carey Thompson (USA) - oraganical art-installation + art-works + live-painting
[galactivation.com]
Re:Aliens (Russia) - art-installations and deco of all the venues
[myspace.com]
Synops Effect (Russia) - art-installations and deco of all the venues
[myspace.com]
Quantum Tribe (Russia) - art-installations and deco of all the venues
[myspace.com]
more to be announce
--------------------------
Visuals:
CampAttack Visuals (Netherlands)
[campattack.com]
Otkun (Canada)
[myspace.com]
Taxon (Austria)
[taxon.tv]
more to be announce
-----------------------------
Healing Area, Performances, Workshops :
Hatha yoga, Juggling, Fire, Air Acrobatic workshop and performance, Sacred Theatre worshop, contact.
more to be announce
-----------------------------
Info
We are going to create a place with art-installations, an exposition center, a healing-center, a kindergarten, ethnic and esoteric shops, cafes and restaurants in the territory of the festival. The festival's concept will also be implemented in the main scene and in the chill-out on the basis of Visionary, Spiritual, Magic and Tribal Art.
If you are a creative or spiritual personality and you are interested in participating in our festival, please, send your works, performance records or portfolios with the following e-mail:
info@archipelago-festival.com
We want to inform everybody, including DJ's, Musicans, Artists that you are allowed to stay on the site of festival ONLY from 16th of February. Unauthoriszed persons are not allowed till 16 of february. Construction is in process and you will interfer the working process.
We are awaiting everybody on 16th of February on the pier.
Please pay attention to this information very carefully and respectfully.
Schedule of the boats
Duration of the trip is approximately 1 hour and a half.
Price: $30.00 one way ticket. Available on the boat only.
Tickets to festival is also available on the boat.
Departure: Panama City, Amador, Causeway, Brisas de Amador (second island)
(the only one pier on the second island, and the only one boat on this pier)
see map here:
[tinyurl.com]
February 16, 17 ,18 and 19:
Panama City- Saboga
1 st trip 07:30 am
2 nd trip 12:30 am
3 rd trip 04:30 pm
Saboga- Panama city
1 st trip 10:00 am
2 nd trip 02:30 pm
Time table for back on February 20:
Saboga – Panama city
Departure Arrival
1 st trip 07:30 am 09:00 am
2 nd trip 11:30 am 01:00 pm
3 rd trip 03:30 pm 03:30 pm
Peace and Love!
Location
Location
Love and freedom, spirituality and creativity will come together in harmony as one, to give birth to the Sacred atmosphere, on one of the most beautiful Panama islands of Saboga, Las Perlas Archipelago, which has been renowned throughout history for serving as home base of famous Caribbean pirates and bravest discoverers of the sea.
Our deepest intention is to bring together those longing to know and desiring to show their eternal respect for our Mother Earth and our Father Sky through dance, music, art and eternal love. To become aware that it is possible to live in harmony with nature and world that surrounds us, to activate and resonate with our innate creative and spiritual abilities, to see and feel the love in everything, similar to our ancient ancestors, who could understand and connect to the mystical levels of our existence, by the virtue of being in harmony with themselves and the world.
Time of our gathering falls on a full moon, that will come on February 17th. For that night, we have prepared a special program, that will allow you to feel and understand, with all your senses, the multi-faceted mystical nature of our planet and cosmos.
And let us not forget, that any space travel requires a safe return. We wish you a successful journey and a pleasant descend in a mystical and beautiful Archipelago.
We are open to any kind of creative cooperation. For any further questions and suggestions, please, contact us via mail:
info@archipelago-festival.com
Entry fee
Archipelago-Art-Dance-Festival 2011 may be expected to have 1500 people on site, including organizers, artists, volunteers and attendees.
Therefore, we are placing a limit on the number of tickets to be sold to 1200 individual tickets.
We are focusing our attention on every aspect of this event and doing everything in our power to ensure that your experience is comfortable and is of superior quality.
If anyone has questions relating to the festival or travel to the location, please feel free to contact us! We are glad to answer them!
You are offered to chek Rrefound page
[archipelago-festival.com]
Presale price is 125$ untill 10th of February 2011 and further growing
[archipelago-festival.com]
the cost pn the gates : 150$.
Peace and Love
Organizer
Organizer
Archipelago Family
Hotline
info [at] archipelago-festival [dot] com
Added

9y 9m

· Update

8y 11m

· 4 Parties ·

/ 10