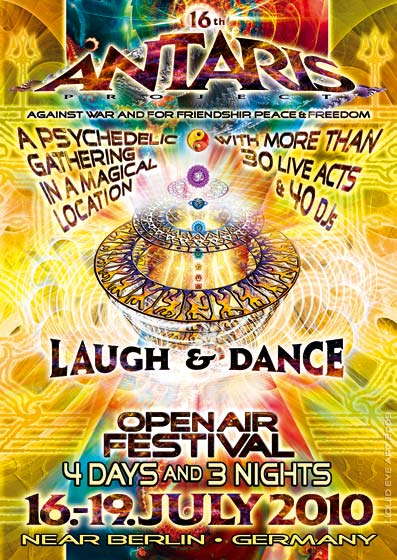 Line Up
DAS WARTEN HAT EIN ENDE!!!!!!

Die heissersehnte und immer wieder verschobene Veröffentlichúng von

"ANTARIS-DER FILM" ,

directed by Uwe Und Basti Psynema,

steht kurz bevor und die ersten paar Tausend Gäste der Antaris bekommen Ihn als

kleines Willkommensgeschenk am Eingang überreicht.

----Special Guest---- HILIGHT TRIBE -------

Ajja (CH)

Audiomatic (Ger)

Bombax (Ger)

Braincell (CH)

Day Din (Ger)

Dejavoo (UK)

Ectima (Serbia)

EVP (UK)

Filteria (SW)

Flegma (Serbia)

Flugbegleiter (Ger)

Genepool (Ire)

Goasia (Serbia)

Green Nuns of the Revolution (UK)

Hyper Frequencies (FR)

Ianuaria (Austria)

Illegal Machines (FR)

Irgum Burgum (HUNG)

Jahbo (Denm)

Kindzadza (Rus)

M-Theory (UK)

Opsy (Serbia)

Perfect Stranger (Isr)

Protonica (GER)

Quantize (Isr)

Rastaliens (CH)

Reality Grid (UK)

Rev (NL)

Sheff (Isr)

Southwild (Ger/Ch)

Tristan (UK)

Zen Mechanics (NL)

Zyce (Serbia)
Alice D Joanna (Ger)

Aliye (Ger)

Andreas Pfeiffer (Ger)

Antaro (Thai/Ger)

Buzz T (Port/Ger)

Claus Baldauf (Ger)

Dickster (UK)

Domino (UK)

Gandalf (Ger)

Govinda (It)

Jackomo (CH)

Jeffrey Baumeister (Ger)

Jonas (Ger)

Koszki (Ger)

Krisae (Ger)

Louis Ley (Ger)

Melburn (Ger)

Mike Mc Guire (UK)

Mirko (Ger)

Namaskar (Ger)

Naveen (Ger)

Nigel (UK)

Perfect Stranger (Isr)

Pissenisse (Ger)

Shane Gobi (UK)

Shawnodese (NL)

Shore Bar Axel (Ire)

Sven Looping (Ger)

Tentola (Ger)

Trevor Pixie (UK)

Zimon (Ire)



TIME TABLE MAIN FLOOR

Friday 16.07

22:00-00:30 Shane Gobi

Saturday 17.07

00:30–01:30 Rastaliens live
01:30-04:00 Antaro
04:00–05:00 Southwild live
05:00-07:30 Zimon
07:30–08:30 Hyper Frequencies live
08:30-09:30 Braincell live
09:30–12:00 BuzzT
12:00-13:30 Goasia
13:30-15:00 Filteria live
15:00-16:00 Green nuns of the Revolution
16:00-18:00 Dickster
18:00:20:30 Shore Bar Axel

Break

22:00-22:30 Opening
22:30–00:00 Tristan live

Sunday 18.07

00:00- 01:00 Zen Mechanics live
01:00–02:00 Dejavoo live
02:00–03:30 M-Theory live
03:30–06:00 Nigel Shiva Valley
06:00–08:30 Naveen
08:30–10:00 Flegma live
10:00-12:30 Protonica live/dj
12:30-15:30 Quantize live/dj
15:30-18:00 Gandalf
18:00–20:30 Melburn

20:30-21:30 Break
21:30–23:00 Hilight Tribe live

Monday 19.07

23:00–00:30 Ajja live
00:30-01:30 EVP live
01:30–02:30 Rev live
02:30-04:00 Kindzadza live
04:00–05:00 Jahbo live
05:00-06:00 Irgum Burgum live
06:00–08:30 Trevor Pixie
08:30-11:00 Syncron
11:00-12:00 Day Din live
12:00–14:30 Perfect Stranger live/dj
14:30-17:00 Domino
17:00-19:30 Mike Mc Guire

end


TIME TABLE Alternative FLOOR

Friday 16.07.

12:00-14:30 Jonas
14:30-17:00 Heribert u Jaaved
17:00-19:30 Djane Alice d Joanna
19:30-22:00 Mirko
22:00–23:00 Audiomatic live
23:00–00:30 Audiomatic dj

Saturday 17.07.

00:30–02:00 Opsy live
02:00–03:00 Zyce live
03:00–04:00 Ectima live
04:00-06:30 Pissenisse
06:30-07:30 Flugbegleiter live
07:30-10:00 Louis Ley
10:00-12:30 Djane Aliye
12:30-15:00 Jackomo
15:00-17:30 Namaskar
17:30-20:00 Sid Gautama

20:00-22:30 Break
22:30–01:00 Govinda

Sunday 18.07
01:00-02:00 Genepool live
02:00- 03:00 Illegal Machines live
03:00–05:30 Sven Looping
05:30–06:30 Bombax live
06:30–09:00 Shawnodese
09:00-11:30 Djane Baha
11:30–13:00 Ianuaria live
13:00–15:30 Chriss
15:30-16:30 Reality Grid
16:30-19:00 Krisae
19:00–20:30 Surprise

20:30-21:30 Break
21:30-00:00 Koszki

Monday 19.07
00:00-01:00 Sheff live
01:30–04:00 Andreas Pfeiffer
04:00–06:30 Jeffrey Baumeister
06:30-09:00 Claudio Baldauf

end
Info
Diese galaktische Stimmung die Ihr,unser Publikum, verbreitet habt ist schon etwas ganz Besonderes …
Ihr habt das kleine Wunder vollbracht, uns davon zu überzeugen,
die Antaris im Party-Universum noch einmal glitzern und leuchten zu lassen!
Wir rufen deswegen alle Antarisianer vom 16. bis 19. Juli 2010
zurück zum Flugplatz Otto Lilienthal,
Außenzentrale des Anti-Kriegs-Planeten Antaris.

Achtung, BITTE helft mit!!
Das Partygelände ist kein Müllplatz, sondern ein Flugplatz und Weideplatz für Schafe.
Für die Piloten und die Schafe besteht Lebensgefahr wenn die Vorgaben nicht eingehalten werden!
Deswegen:
- Müllsäcke nur bis zur Hälfte füllen und zuknoten (Regenwasser / Gewicht->Ticketpreise) und bitte zum nächsten Container bringen. (Weitere Müllsäcke erhaltet Ihr an den Bars, Toiletten oder an der Kasse.)
- allen Müll, auch Plastikkleinteile, Kronkorken, Kippen und Metallreste aufsammeln (für uns ein enormer Zeit- und Personalaufwand, der sich letztendlich auf den Ticketpreis auswirkt!)
- Löcher graben ist strengstens verboten, es kann für die Flieger tödliche Folgen haben!! Falls ihr Löcher entdeckt, diese bitte der Crew melden bzw. nach Sand in der Backstage oder an der Bar fragen.
- keinen Sperrmüll hinterlassen!
FÜR TIERE, PARTYPEOPLE UND PILOTEN – HELFT UNS BITTE MIT!!!

Attention, PLEASE Help!!
The party area is not a rubbish dump, but a sailing airfield and green pasture for sheep.
For the pilots and sheep there can be grave danger if you don´t stick to these rules!
Therefore:
- Digging holes is strictly forbidden , it can have deadly consequences for the pilots!! If you discover holes,please inform the crew or if you want to help and fix it yourself ask for sand in backstage or at the bar.
- Please only fill garbage bags up to half and then close them (rain water/weight < ticket prices) and bring them to the next container. (You can get new garbage bags at the bar,toilets or at the cashpoint)
- Keep your camp clean,so please collect all garbage, also small plastic articles, bottletops and cigarette butts. (for us its enormous time and personnel expenditure wich finally affects the ticket price !)

-Please leave your funiture at home,or take it with you again when you go!

FOR ANIMALS, PARTYPEOPLE AND PILOTS - HELP US !!!

Laugh and Dance! It´s for your eyes,your ears and your heart!!!
Location
Location
Otto-Lilienthal-Airport Stölln
Organizer
Organizer
Antaris-Project
Added

11y 11m

· Update

11y 11d

· 8 Parties ·

/ 540