Backend
AndravaerldenFamily presents "Andra halvan"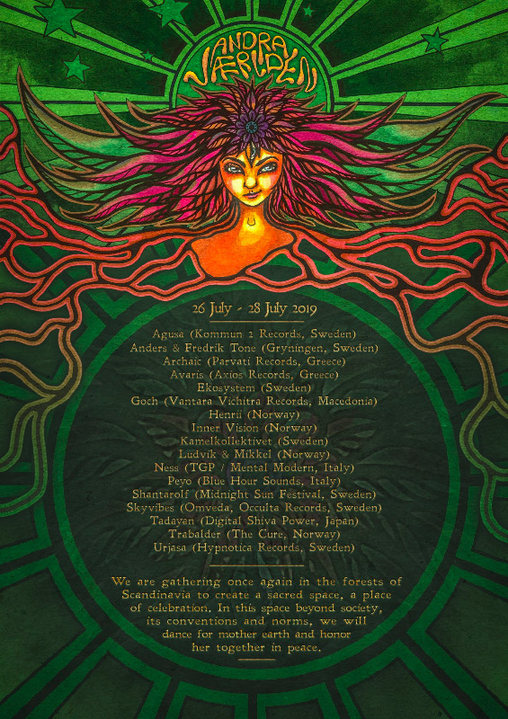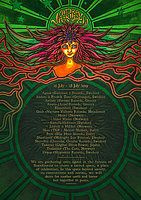 Line Up
tickets:
[guestli.st]
~ ANDRA HALVAN ~
by Andra Vaerlden family
_..- Taking place in the deep forests of Sweden / Norway -.._
Dear friends and family. We are truly honoured to once again be able to invite you to another creation of ours. with 48 hours of music, somewhere in the woods between Sweden and Norway. Welcome to Andra Halvan.
_..- A part of it all, apart from from it all-.._
As before, our intention is to bring you a transcendental experience beyond society, beyond its conventions and norms – beyond yourself. Where music, dancing, nature and togetherness will be at the heart of the experience. Leave your pretensions at the door. Let there be only you, only us. This is a sacred space, this is a place of celebration. A place to let loose, to fall apart and to feel whole again. Going to pieces without falling apart. This is a space where we dance for mother earth, and honor her together in peace.
~ ~
Line-up
- AGUSA (Kommun 2 Records, Sweden)
[bandcamp.com]
- ARCHAIC (Parvati Records, Greece)
soundcloud
- EKOSYSTEM (Sweden)
soundcloud
- GOCH (Vantara Vichitra Records, Macedonia)
soundcloud
- HENRII (Norway)
soundcloud
- INNER VISION (Visionary Shamanics, Norway)
soundcloud
- KAMELKOLLEKTIVET (Sweden)
soundcloud
- LUDVIK & MIKKEL (Norway)
soundcloud
- NESS (TGP / Mental Modern, Italy)
soundcloud
- PEYO (Blue Hour Sounds, Italy)
soundcloud
- SHANTAROLF (Midnight Sun Festival, Sweden)
soundcloud
- SKYVIBES (Occulta / Omveda Records, Iran / Sweden)
soundcloud
- TADAYAN (Digital Shiva Power, Japan)
[bandcamp.com]
- TRABALDER (The Cure, Norway)
[click here]
[bandcamp.com]
- URJASA (Hypnotica Records, Sweden)
soundcloud
More to be announced
~ ~
More information and more artist updates will pop-up shortly
~ ~
TICKETS:
[guestli.st]
~ ~
And yes, we'll catch you on the flipside
Blessings,
Your Andra Vaerlden family
♥
~ ~
Previous Parties:
Andra Vaerlden Gathering 2017
Andra Vaerlden Gathering 20…

29 Jun - 3 Jul '17 · Festival · Värmland, Sweden

Line Up:

For tickets:🔗 …::: Andra Vaerlden Gathering 2017 :::... 29 june - 3 july _..- Taking place deep in the forest of Sweden…


Info:

For tickets:🔗


Location:

In the deep forests of Värmland, 3 hours from Oslo and Gothe…
Over:

5y 2m

·

10,839

· Added by Jollebitar
Andra Vaerlden with Blue Hour Sounds 2015
Andra Vaerlden (with BlueHo…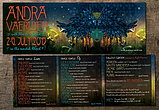 2 - 6 Jul '15 · Festival · Forest, Sweden

Info:

ANDRA VAERLDEN - a part of it, apart from it. A world within the world. {Taking place deep in the forest of Sweden, from…
Over:

7y 2m

·

7,931

· Added by shantarolf
Andra Vaerlden A Sacred Spaca gathering 2013
Andra Vaer(l)den - Sacred s…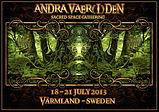 18 - 19 Jul '13 · Open Air · Four hours driving from Göteborg / Oslo, Sweden

Line Up:

Live: DIRTY SAFFI (presenting their DEBUT FULL LENGTH ALBUM!) (Bom Shanka rec, UK) 🔗 🔗 BRAINDROP (presenting their DEBUT…


Info:

~ Andra Vaer(l)den ~ Sacred space gathering 2013-07-18 ~~~ 2013-07-21 UPDATED INFO: We will open the gates to Andra Vaer…


Location:

Andra Vaerlden will take place deep in the forest, closest t…
Over:

9y 2m

·

4,584

· Added by shantarolf
En Annan vaerld (Un Otro Mundo)
En Annan Værld (Un Utro Mun…

23 - 26 Aug '12 · Festival · Region ~ Oslo / Karlstad / Gøteborg ~, Sweden

Line Up:

Trance-Ingvars (Troll n Roll rec) TJP (Scanditrance rec) Ellis Thomas (Glitchy.Tonic.rec, UK) Mark Day (Blue Hour Sounds…


Info:

* The party will open it gates thursday 18.00. * From thursday evening it will be pre party in the chill out area. * Dan…
Over:

10y 1m

·

3,397

· Added by shantarolf
andravaerlden@gmail.com
Deco
-- Andra Vaerlden Family --
Info
Info
Deep forest camping, Organic food, Wild game meat, Full power coffee, sweets and treats,
Location
In the deep forests of Norway/Sweden, close to the border.
3 hours from Oslo / 3 Hours from Karlstad.
Closest airport is Oslo. Exact location will be announced
Organizer
Organizer
-- Andra Vaerlden Family --
From
AndraVaerldenFamily ·
1,977
Added

3y 3m

· Update

3y 3m

· 1