Backend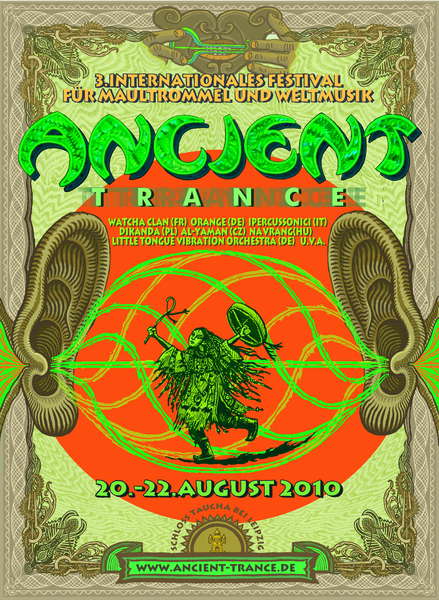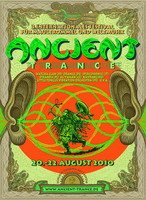 Line Up
WATCHA CLAN (Fr)
tribal worldbeatz / arabic-gypsy-d'n'bass
[myspace.com]
DIKANDA (Pl)
[dikanda.com]
JENS ZYGAR ( STAR SOUNDS ORCHESTRA) - Opening of the Festival
LITTLE TONGUE VIBRATION ORCHESTRA
[ltvo.de]
(fusion trance worldbeatz DE/ CZ)
ORANGE
[myspace.com]
(DE, Allgäu - Tribal Percussion & Ancient trance )
AL-YAMAN
[al-yaman.cz]
( CZ, YE, IL - worldbeatsfusion - arabic traditionell & elektronic beats )
VRATA
(reggae - DE / MX / UK)
THE ART OF FUSION
[theartoffusion.com]
(fusion meditation beats from all over the world experimental with hang - DE, CL)
IPERCUSSONICI
[ipercussonici.it]
EtnaGroove, Folcadelic EthnoCore vs. AcousTecno - (Italy)
NAVRANG
[navrang.hu]
electronic worldmusic from hungary
und viele mehr...
and many more...
vistit
[ancient-trance.de]
Chill
andiareas & vati morgana ( tribal beats from all over the world roots & elektronic)
[blog.de]
el loco (dub / ambient ) najuku ev
bert - the juggler (ambient / experimental) -
[myspace.com]
rene thiele (sehstörung - leipzigs psytrance urgestein mit einem chillset)
speedy gonzales (rootsreggae,...)
r.i.z.l.a. soundsytem (rootsreggae) -
[myspace.com]
Info
English below...
Bitte schickt uns keine Bookinganfragen mehr!!!
VOM 20.-22. AUGUST 2010 wird das ANCIENT TRANCE FESTIVAL,
das dritte INTERNATIONALE MAULTROMMEL- UND WELTMUSIKFESTIVAL
AUF SCHLOSS TAUCHA BEI LEIPZIG stattfinden.
! ANCIENT TRANCE !
Fühlt Euch herzlich eingeladen, in diese Welt einzutauchen!
FREUNDE,
Kommt herbei, von nah und fern und werdet Teil des
ANCIENT TRANCE FESTIVALS!
Die Wurzeln liegen im Spiele der Maultrommel und im Wachsen verbinden
sich ihre Klänge mit anderer wunderbarer Musik aus aller Welt.
ANCIENT TRANCE FESTIVAL heißt:
3 Tage und 3 Nächte Ancient Trance aus aller Welt...
grenzenlos....
auf zwei Bühnen!
Wir freuen uns auf Musiker aus allen Himmelsrichtungen und
unterschiedlichen Kontinenten.
Wir freuen uns auf die Fusion verschiedenster Musikstile von
traditionell bis elektronisch.
Wir freuen uns auf Musikworkshops zur Maultrommel und anderen
Instrumenten, auf DJ's, Performance, Märchenerzähler, Feuerartisten,
Stelzenläufer, Kunsthandwerker, einen Instrumentenmarkt mit seltenen
Instrumenten aus aller Welt.
ANCIENT TRANCE ist eine Verschmelzung unterschiedlicher Stile, ein
musikalisches Zusammentreffen, ein Austausch, ein Miteinander.
Die Maultrommel ist unser Ideengeber und Ursprung des Festivals...
Auch in diesem Jahr zeigen wir, dass dieses Instrument in der
heutigen Zeit den ANCIENT TRANCE in alle Herzen tragen kann...
Alle Informationen zum Ticketverkauf bekommt ihr auf
[ANCIENT-TRANCE.DE]
LASST UNS TANZEN
zu ORANGE aus dem Allgäu mit Percussion und Obertongesang trifft Trance und Elektro, zum LITTLE TONGUE VIBRATION ORCHESTRA mit Tribal Worldbeats & natural trance & Maultrommeln, zu WATCHA CLAN aus Frankreich mit einer Fusion aus arabischen Tunes, Gypsyklängen, Drum n Bass, Reggae und Tribalworldbeats, zu DIKANDA aus Polen mit herzergreifender Folkmusik, zu AL-YAMAN aus Tschechien und Jemen mit einem Mix aus traditioneller arabischer Musik, Rock & Elektro und Reggae, zu IPERCUSSONICI aus Sizilien mit Maultrommel infiziertem EtnaGroove vs. Acousstic Trance, zu NAVRANG aus Ungarn mit Maultrommel infiziertem EasteuropeElektroworldbeats
DIE MAULTROMMEL steht auch im Vordergrund bei:
MIKE HENTZ dem Master der Sessions, der MAUL UND TROMMELSEUCHE (schräge Maultrommelmusik und Lautmalerei aus Österreich) dem World Ambient Projekt ANAMANEH (Österreich) und TRAN QUANG HAI (Vietnam) mit traditioneller Maultrommelmusik.
Zweimal MUSIK MIT HANG: Staunen und schwelgen wir bei
THE ART OF FUSION (aus Chile und Europa) mit meditativer experimental Live Fusion und HANGUITO (Ensemble um Erik Wisniewski, der hier Hang spielt)
FREUEN WIR UNS AUF
COMEDIA MUSICA mit Swing / Gypsy / East European Folk,
auf Songwriter YOPI von Consenso aus der Rainbowfamily mit Folk,
Reggae, Loops
NICHT VERPASSEN solltet Ihr SAKSIN ein neues Projekt aus Indien / Iran / Deutschland.
PARTY ist angesagt bei VRATA einer Reggae / Dubband mit 3MC's aus Deutschland, England und Mexiko.
Mehr zu diesen Bands erfahrt ihr auf
[ancient-trance.de]
SO DENN, WERDET TEIL DES ANCIENT TRANCE FESTIVALS 2010...
...wir freuen uns auf Euch!
YIPPIE...
ANCIENT TRANCE WIRD UNSER ALLER FESTIVAL !!!
________________________________
!!! there is no free space for djs and liveacts, so please dont send us you bookingstuff !!!
Dear friends,
This year, the 3rdAncient Trance Festival, an international Jew's harp and world music festival, is going to take place from 20th to 22nd August 2010 at the Taucha Castle near Leipzig / Germany.
! ANCIENT TRANCE !
You are warmly invited to join and take a deep breath of the ancient trance world.
Friends,
Come together from near and far to become part of the ANCIENT TRANCE FESTIVAL!
The roots of the festival lie in the Jew's harp and we will witness it's growth as it's sound mingles together with wonderful music from all across the world.
The Ancient Trance Festival will consist of:
3 days and 3 nights of Ancient Trance from all over the world...
An experience without borders
On two stages!
We're looking forward to musicians from all over the earth.
We're looking forward to a fusion of various music styles – from traditional to electronic.
We're looking forward to music workshops for the Jew's harp and other instruments, DJ's, performances, story-tellers, fire-jugglers, stilt-walkers, handicraft stalls and a market presenting rare instruments from all over the earth.
ANCIENT TRANCE is a fusion of different styles, a meeting point, a musical gathering, an exchange, a happening.
The Jew's harp is our inspiration and again this year we will experience how this instrument carries ANCIENT TRANCE to every heart.
You'll get all information concering tickets at:
[ancient-trance.de]
So let's dance to ORANGE coming from Allgäu, where percussion and over tune singing meets trance and electro, to LITTLE TONGUE VIBRATION ORCHESTRA with tribal worldbeats, natural trance & Jew's harps, to WATCHA CLAN from France with a mixture between arabic tunes, gypsystyle, drum n bass, reggae and tribal worldbeats, to DIKANDA from POLAND with an unforgeatble heartful folkexperience, o AL-YAMAN from Czech Republic and Yemen with a mixture of traditional Arabian music, rock, electro and reggae, to IPERcusSONICI from Sicily with a Jew's harp influenced EtnaGroove vs. Accoustic Tekknno, with NAVRANG from Hungary with jews harp inclusive EasteuropeanElektroworldbeats
The spirit of the Jew's harp will rise in the music of MIKE HENTZ the master of sessions, in MAUL UND TROMMELSEUCHE (bizarre jew's harp music and echoism from Austria), in Bernhard`s Mikusovics World Ambient project SOUNDSCAPES OF ANAMANEH and TRAN QUANG HAI (Vietnam) with traditional a Jew's harp sound.
Let's look forward to COMEDIA MUSICA with swing / gypsy / east european folk, to the song writer YOPI from the band consenso from the rainbow family with folk, reggae and loops.
We'll present two artists playing the hang-
Let`s be played into amazement by:
THE ART OF FUSION (Chile, Europe) with meditative experimental live fusion and HANGUITO (Ensemble with Erik Wisniewski playing the hang)
Don't miss SAKSHIN a new project with members and influences from India, Iran and Germany.
And last but not least let's party with VRATA a reggae dub band with 3MC's from Germany, England and Mexico.
You can find more information and links to the bands at:
[ancient-trance.de]
So come and gather to become part of the ANCIENT TRANCE FESTIVAL 2010...
We're looking forward to have you with us!
Location
SCHLOSS TAUCHA und
Park an den Schöpfenteichen
Entry
Entry
not more than 2000 Tickets

till / bis zum 16.08. für 30 Euro
at the gate / abendkasse: 35 Euro

Tickets für je 15 Euro / for 20 Euro / for 25 Euro each are sold out / sind ausverkauft
Added

12y 11m

· Update

12y 2m

· 1