AFTERSUN FREAK PARTY CHAPTER 2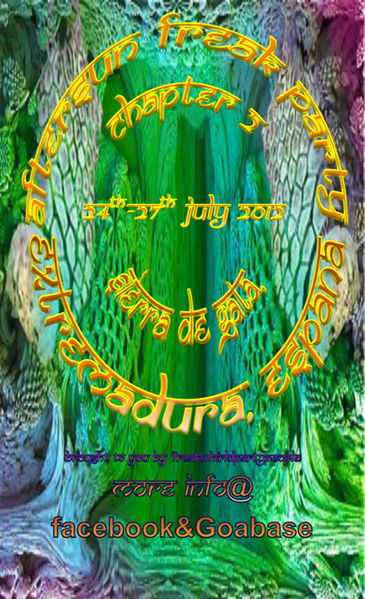 After the success of our last event, and due to popular demand, we are back again to present our Second, non-profit Chapter.
We have located and reserved a NEW venue for this year's event, going "DEEPER INSIDE" the MOUNTAINS of the "SIERRA DE GATA", once again blessed with a RIVERSIDE LOCATION, complete with beach area, and beautiful NATURAL POOLS to cool you down, MATURE shade trees, and beautifully GREEN, grassed areas.
The atmosphere we aim to return to is the warm and friendly, "FAMILY VIBE" we generated at our last event...This is a party organised by people from the "Freak Whirld" for "Freaks" and "Psychonaughts"...Please "NO COCAINE", " NO EGO ATITUDE", "ONLY RESPECT ! " on our party.
We will have a small market area for all your festival essentials, and plenty of space for camping...THIS IS AN "OFF ROAD" LOCATION, and there will be "ABSOLUTLEY NO VEHICLES" on site...BRING TENTS.!.!.This is a "FULL NATURE EXPERIENCE", PLEASE COME WITH AN OPENESS TO THE "ONENESS OF ALL", AND LEAVE ONLY GOOD VIBES...
DJ's/Live Acts...
Workshops...
Markets...
Performers...
Artists...
Collaborators...
All remotely related enquiries...
contact us directly at
aftersun23@gmail.com
Peace, Love, Baum Bholenath
.JAI NATRAJ BHAGWAN
Tras el éxito de nuestro evento pasado, y debido a la demanda popular, estamos de vuelta para presentar nuevamente nuestro segundo capítulo, sin ánimo de lucro.
Hemos localizado y reservado un NUEVO sitio para este año, "ADENTRÁNDONOS MÁS" en las MONTAÑAS de la "SIERRA DE GATA", una vez más agraciados con una ubicación junto al río, con una zona playera, hermosas PISCINAS NATURALES para refrescarse, sombras de árboles hechos y derechos, y zonas de césped maravillosamente verde.
Pretendemos volver a la atmósfera cálida y amistosa de "BUENROLLO FAMILIAR" que generamos en nuestra anterior edición ... Esta es una fiesta organizada por la gente de "Freak Whirld" para "Freaks" y "Psiconaughts" ... Por favor, "NO COCAÍNA", "NO EGO ACTITUD", "SÓLO RESPETO!".
Tendremos una pequeña área de mercado para lo esencial del festival, y un montón de espacio para acampar... Esto es un "SITIO ALEJADO DE LA CARRETERA", "NO HABRÁN VEHÍCULOS" en el sitio ... TRAED TIENDAS!! Esta es una "EXPERIENCIA EN PLENA NATURALEZA", POR FAVOR VEN CON UNA APERTURA A LA "UNIDAD DE TODOS", Y DEJA sólo BUEN ROLLO...
DJ's/Live Acts...
Talleres...
Mercados...
Artistas ...
Colaboradores...
Para cualquier consulta contactad con nosotros directamente en
aftersun23@gmail.com
Paz, amor, Baum Bholenath
.JAI NATRAJ BHAGWAN
WE ARE BETWEEN "SOL" (CANCELLED!!) AND "BOOM" 2012 BOTH IN SPACE AND IN TIME...CHECK THE MAP

This is an OFF-ROAD location with NO onsite access for vehicles...Bring Tents...STRICTLY " NO FIRES " EITHER ON-SITE OR IN THE WHOLE OF THE SIERRA DE GATA... PLEASE RESPECT THIS ONLY RULE...

Closest Airport - Madrid

Closest Train - Plasencia / Connect with Bus for "Sierra de Gata"

Closest Bus Station - Moraleja

Madrid Airport / Moraleja by Bus...Metro from Airport to "Neuvo Ministerio," change line and go to "Mendez Alvaro"...Bus to Caceres / Plasencia...change for "Sierrea de Gata / Moraleja"

When traveling by Train + Bus it is best to change at Navamoral de la Mata where train- and busstation are right next to each other

~ ~ ~ CHECK THE LOCAL PUBLIC TRANSPORT TIMES BEFORE YOU " LEAVE " ~ ~ ~


.NOS ENCONTRAMOS ENTRE EL "SOL" Y EL "BOOM" 2012, EN ESPACIO Y TIEMPO... ECHAD UN VISTAZO AL MAPA.

Se trata de un lugar alejado de la carretera SIN acceso para vehículos... Traed tiendas... ESTÁ ESTRICTAMENTE "PROHIBIDO HACER FUEGO", TANTO IN SITU COMO EN LA TOTALIDAD DE LA SIERRA DE GATA... POR FAVOR RESPETAD ESTA ÚNICA REGLA...

Aeropuerto más cercano - Madrid

Tren más cercano - Plasencia / Enlazad con autobús hacia "Sierra de Gata"

Estación de autobuses más cercana - Moraleja

Madrid / Moraleja en autobús ... Metro desde el aeropuerto hasta "Nuevos Ministerios", cambiad de línea y dirigiros a "Méndez Álvaro" ... Autobús hacia Cáceres / Plasencia ... Cambiad hacia "Sierrea de Gata / Moraleja"

~ ~ ~ COMPROBAD LOS HORARIOS DEL TRANSPORTE PÚBLICO LOCAL ANTES DE " SALIR " ~ ~ ~
Organizer
Freak Whirld Party People