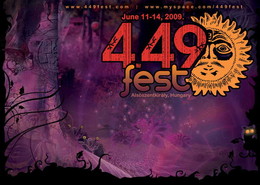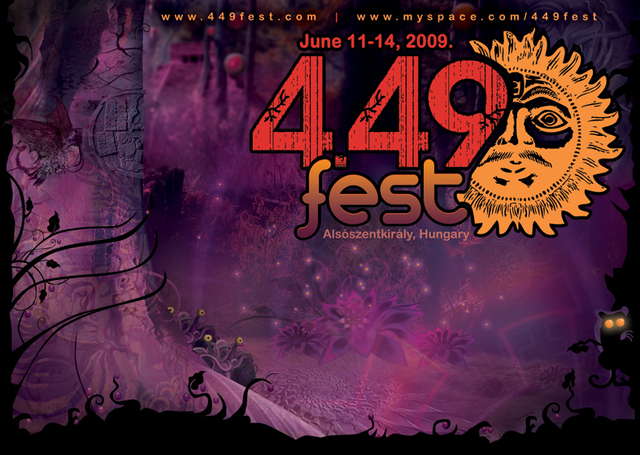 Line Up
Ghreg On Earth (USA)
[myspace.com]
Olien (GER)
[myspace.com]
MALICE IN WONDERLAND (AT)
[myspace.com]
Acid Goblins (HUN)
Btom (HUN)
Dark Side (HUN)
Haunted Castle (HUN)
Hopax (HUN)
Kalumet (HUN)
Madrabit vs Rootshaper (HUN)
Mindflow (HUN)
Ork Monk (HUN)
Shanti Monkey (HUN)
Snag (HUN)
Trippy Hippies (HUN)
Zegotha (HUN)
Marco (IT)
Czellux (HUN)
Funghi (HUN)
Jadviga (HUN)
Kemo (HUN)
NasCa (HUN)
Steiner (HUN)
Szamy & Adam (HUN)
Tsubi (HUN)
Woltron (HUN)
Chill-out - Live sets (HUN):

Big & Bacterials
Kalumet In Dub
Tiristor Theory
Wattaka Mattaka

Chill-out - Dj sets (HUN):

Borob
DTP
Fox & Syl
Ger
Jadviga
Longhi
Narny
NasCalitO
NINth
Pálmester
Pondesz
Snag
Steiner
Sziadam
Thomato
Tribulus Terrestris
Tsubi
Deco
4.49 crew, napszövetség, buddhasmile
Info
3+1 days long open air psytrance festival set in the unique and authentic rural area of Hungary.
Tags: Palinka (hungarian psychedelic water), dogs, cats, ranch, coed showers for the wild, forest, cheap food and drink, psytrance, culture, and much much more...
- day zero filled with funny, and exciting programs
- music is around 70% dark and 30% other
- cultural programs
- warm food, vegetarian food
PARTY BUS SHUTTLES
There will be bus shuttles from Kecskemet to the festival, on wednesday and friday afternoon between 16:30 and 20:30
Trains from Budapest - Nyugati trainstation for the bus: 15:53, 16:53, 17:53, 18:53
The bus ticket will be 500 HUF (2 euro)
Here are some pics from last year:
[fotoalbum.hu]
[deviantart.com]
Catch us on facebook:
[facebook.com]
Location
Komlosi ranch, Alsoszentkiraly (Near to Kecskemet), Hungary

GPS: +46° 57' 12.89", +19° 51' 30.71"

To get there:

Take the highway M5 from Budapest in the direction of Kecskemét. Take exit 44 and follow road 54 till the roundabout. At the roundabout take road 44 in the direction of Bekéscsaba and follow it till to a conspicuous orange colored table whith a text "Horgásztó", and turn left as the table say. Go straight some kilometers to the table which say " Little D' Ranch" and turn left and go straight to the point when the road is decouple and turn left.

The crossings will be signed.
Entry fee
Entry fee
pre-sale: 20 euro (for ordering infos please visit our website)
at the gate: 30 euro
Added

13y 9m

· Update

13y 7m

·