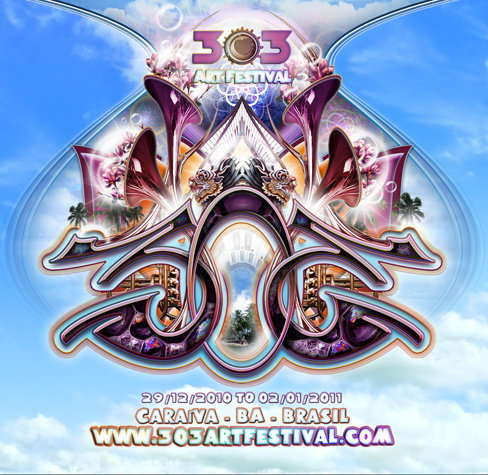 Line Up
:: Main Stage ::
28 (Vagalume/Alchemy,Brasil*Mexico)
2012 (Respect,Brasil)
Abstract Sunrise (Plusquam,Brasil)
Ajja (Peak/Syncronize,Switzerland)
Allaby (Nano,Uk)
Altruism (Vagalume,Brasil)
Analog Drink (Vagalume/Iono,Brasil)
Aphid Moon (Aphid Records,UK)
Avalon (Nano,UK)
Barak (Hadra,Mexico)
Bash (Dead Tree,Brasil)
Brasa (Vooar,Brasil)
Burn in Noise (Alchemy,Brasil)
Circuit Breakers (Nano,UK*BR)
Daydin (Spintwist,Germany)
Demonizz (Dead Tree,Brasil)
Dickster (Nano,UK)
Dimitri Nakov (Solstice/Neurobiotic,UK)
D.N.I (Ultravision,Portugal)
Ecliptic (Nano/Undergroove,Mexico)
Etnica (Solstice/Etnica net,Spain)
Filteria (Suntrip,Sweden)
Haldolium (Plusquam,Germany)
Hamelin (Spintwist/SOE,Mexico)
Headroom (Nano,South Africa)
Hyperflex (Planet Ben,Brasil)
Interactive Noise (Spintwist,Mexico)
Ital (Antu,Chile)
Jibber Jabber (Insomnia,Greece)
Joti Sidhu (Neurobiotic,UK)
Labirinto (Vagalume,Brasil)
Liquid Soul (Iboga,Switzerland)
Logica (Vagalume,Brasil)
Magma Ohm (Shaman films,Brasil)
Materia (24/7,Austria)
Mental Broadcast (24/7,Brasil)
Nevermind (Vagalume,Brasil)
Ocelot (Zaikadelic/Avatar,Portugal)
Onionbrain (Mind Twikers,Brasil)
Perfect Stranger (Iboga,Israel)
Pleiadians (Etnicanet,Spain)
Proagressivo (Brasil)
Psychowave (Trance Juice,Brasil)
Rinkadink (Alchemy,South Africa)
Ritree (IONO,Israel)
Ritmo (IONO,Israel)
Screenagers (Neurobiotic,UK*Italy)
Shove (Alchemy,Mexico)
Sonic Species (Alchemy,UK)
Strange Doctors (Brasil)
Swarup's Brain (Vagalume,Brasil)
Sychotria (Bhooteshwara,Brasil)
Terahert (IONO,Mexico)
The First Stone (Vagalume,Brasil)
Total Eclipse (Mandala,France)
Tristan (Nano,UK)
Whiplash (Alchemy,South Africa)
Xpiral (Vagalume,Brasil)
Zen Mechanics (Neurobiotic/Iboga,Netherlands)
Zik (Insomnia,Greece)
Dimitri Nakov (Emfire/Tronic,UK)
Edoardo (Neurobiotic,Italy)
Shane Gobi (Alchemy,South Africa)
Fabio (Plusquam,Germany)
Vazik (Sounds of Earth,Mexico)
Martin (Mikrokosmos,Switzerland)
Liquid Ross (Liquid, UK)
Swarup (Vagalume,Brasil)
Shove (Alchemy/SOE,Mexico)
Pedrao (Vagalume,Brasil)
Rica (XXXperience,Brasil)
Feio (Groove,Brasil)
Ekanta (Vagalume,Brasil)
Kali (SOE,Brasil)
Thatha (Vagalume,Brasil)
Vinnix (Antu,Brasil)
Chicodelico (3d vision,Brasil)
Dende (Catalyst,Mexico)
Xama (Vagalume,Brasil)
Disc Junkey (Grasshopper,Japan)
Markus (Switzerland)
Hadji (Oslo)
Dre (Unsigned,Brasil)
Caramaschi (Fiction,Brasil)
Janczur (Noise Poison,Brasil)
Paula (Noise Poison,Brasil)
Max Grillo (Vagalume,Brasil)
Azys (Vagalume/Brasil)
Digoa (Digital Hive,Brasil)
Gui (Hadra,Brasil)
Marta DLM (Alchemy,Brasil)
Jp (TIP/Medusa,Brasil)
Fabio Leal (Zenon,Brasil)
Sutemi (Unsigned,Brasil)
Pateta (Vagalume,Brasil)
Sarto (Vagalume,Brasil)
Rosa Ventura (Harmonia,Brasil)
Xcamas (Soonomoon,Brasil)
Matt (Rudraksh,Brasil)
Boteon (Antimateria,Brasil)
Pin (Planet Ben,Brasil)

:: Alternative Stage ::
2Little
Alan D
Allan Villar
Alok LIVE
Amnesia
Ana Leevia
André Araujo
Aninha
Bezoar LIVE
Breno Santeria
Bruno Abrantes
Chico Aquino
Daniel Avellar
Daniel Costa
Daniel Marques
Danilo Araujo
Diego Coelho
Dimitri DKN
Dizzy
Eclectic LIVE
Edoardo
Elastick
Eli Iwasa
Flow & Zeo
Gabi Lima
Gabriel Boni
Gabriel Castro
Gromma
Gui Correa
Jamie Blonde
Jotta
Juliano Maia
Loghan
Los Mendes
Luthier LIVE
Mari Perelli
Marko
Matera
Mau
Mauricio Lopes
Mustax
Neto
Niquim
Nuno Deconto
Paul Manzon
Pedro Pereira
Pepa
Phantazma LIVE
Phara
Pow Low Zurich
Ricardo Estrella
Rizoma
Rodrigo Carreira
Rodrigo Nickel
Rodrigo Nickel
Simon Baring LIVE
V Falabela
Vazik
Vivi Seixas
William Henry
Surka
Claudinho Brasil LIVE

:: Chill Out ::
Total Eclipse Ambient
Ajja Ambient
Lunar Sound Ambient
Electrypnose Ambient
Janu Dub
Mixel Alquimix Breaks/Funk
Zel Breaks/Funk
Soneca/Trotter Breaks/Funk
pedro gouveia funk/jazz
Schasko Funky/Nu Jazz
Simon Baring Ambient

and more...
Info
303 Art Festival is the newest brazilian festival !!!
5 days of celebration in one of the most beautifull beaches in Brasil located between Trancoso and Caraiva.
The union between Universo Paralello Crew and EcoArt is working to recover the quality of magical ideias of our world,to remember the good old times with harmony, peace and consciousness. It's a calling to all the people that really knows what we are talking .
303 invite to the real lovers of this amazing psychedelic trip to celebrate with us the arrival of this new era.
Be welcome to 303 Art Festival.

The Venue

The venue location of our event is situated on a truly blessed beach, what some may call a dream like scenario. If not one of the most enchanting beaches of the south of Bahia, between the streams of the local rivers & ocean, surrounded by native "Mata Atlântica" & coconut gooves. It`s a private property, that is very well conserved, situated on the extreme south of Bahia, in the district of Caraiva.
The farm is right between Trancoso & Caraiva, about 20 km form each town and 12 km from Itaporanga.

A intimate cove, that joins crystal blue waters that form natural swimming pools, lively green areas and a mind blowing view of the surrounding beaches. An isolated area, a car free-zone, with a camping area that nicely shaded that includes a nearby parking area.

The region where the festival is situated in is surrounded by various fresh water rivers that allows our visitors to bathe and refresh themselves with fresh water and salt water.
Location
HOW TO GET THERE ?
Air excursions
Flight intineraries from: São Paulo / Festival / São Paulo
Rio de Janeiro / Festival / Rio de Janeiro
Porto Alegre / Festival / Porto Alegre
Curitiba / Festival / Curitiba
Florianópolis / Festival / Florianópolis
Brasília / Festival / Brasília
Belo Horizonte / Festival / Belo Horizonte
BR Oriente
Telephone: (55)11-41297666

E-mail:
303@br-oriente.com.br
Website:
[com.br]
By car: if you are coming from the NORTH side of the state of Bahia
(Salvador, Ilhéus, Itacaré, Itabuna), follow the BR-101 till Eunápolis (Km 772). Go left at the bifurcation via BR-367 on the route to Porto Seguro.
If you are coming from the SOUTH side of the state of Bahia thru BR-101 (Km 772), follow the right side on the bifurcation of Eunápolis thryu BR-367 on route to Porto Seguro.
On Km 32, after Vera Cruz, there will be the junction (Arraial d'Ajuda - Trancoso - Praia do Espelho - Caraíva) follow on the right side continue till
Vale verde. From there on, one more bifurcation (Arraial d'Ajuda around 11 km or Porto Seguro by ferry around 14 km), follow another 20 km till the bifurcation of Caraíva & Trancoso where there is a Moto-Táxi point, follow right in the direction of Caraíva till you arrive at Itaporanga, where there shall be an information desk and a snack bar. At this desk you will be able to inform yourselves of the exact location of the event.
By bus:
From the bus terminal of Porto Seguro, go to the ferry service either by taxi, moto taxi or Bus. At the ferry docks, get a ferry to cross the Rio Buranhéim.
On the corner of Arraial d'Ajuda there is a bus or van that goes to Trancoso every half hour
TIP: There are buses that go from Porto Seguro and stop at Eunápolis where one can catch a bus of the Águia Azul company to Trancoso via Arraial d'Ajuda.
CONTACT :
info@303artfestival.com
[303artfestival.com]
Stay tuned!!!
Entry fee
Entry fee
PRICES AND CONDITIONS
For foreigners the price will be unique.
R$ 290 REAIS

You just need to present your passport at the entrance of the festival.
And we will make this special price for you.
Organizer
Organizer
303 Art Festival