THE SOUND REVOLUTION - 1°time - MinD OscillatioN LivE !!!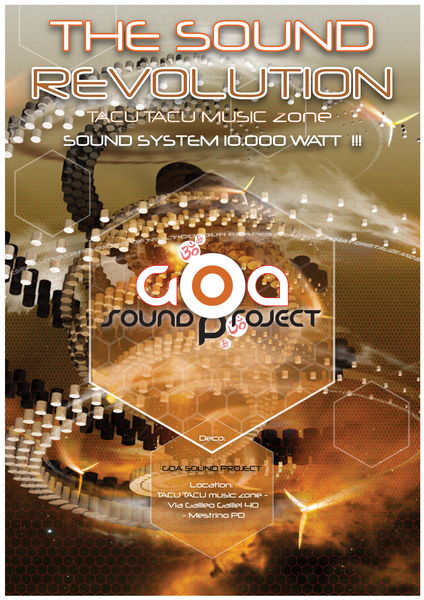 Line Up
FROM GREECE FIRTS TIME IN ITALY
MIND OSCILLATION - (Active Meditation Music/Ohm Ganesh Pro).
[myspace.com]
soundcloud
[reverbnation.com]
[mindoscillation.com]
Biography:
Panagiotis Karampalasis, known as Mind Oscillation, was born in Thessaloniki, Greece in 1988. He infected by electronic music in 2006, during his studies in Greece, on music technology and Sound engineer. Panos has been involved in a number of projects, with different kinds of music, producing: Hip Hop, Trip-hop, Drum and bass, Ebm and Experimental music before he coming across into Psychedelic Trance scene. His passion for music technology and psychedelic culture did make him to create the project ''Mind Oscillation'' a project focused on Technical Psychedelic Experimental music.
His first release as Mind Oscillation came in early 2010 where his track "Revolution begin" featured on the Cosmogenesis records compilation "Twenty full moons". Soon after that he continued to release a lot of tracks on various compilations like: Active Meditation Music (''Spiritual Science''), Cosmic Eclipse & Logic Vision Records (''Cosmic Vision''), Ohm Ganesh Pro (''Forest Freqs''), Fish 'n Trips Records (''Twisted Mysteries 1.5''), Helicon Sound System Records (''Odyssey Project''), Cosmic Eclipse Records (''Behind The Mirror''), Climactic records (''Solar Storm''), Cosmogenesis records (''High grow'' in collaboration with Hannebu), Cosmic Eclipse Records (''Mental Home'' in collaboration with Hannebu ) and ZikWorld (''Asymmetric Reality'' in collaboration with Zik).
At this time Mind Oscillation is producing his first solo album: '' Life is Oscillatory''. He is available to travel and play his music Live in all over the world..!
NICO (Goa Sound Project)
[myspace.com]
.
***** DruM & BasS INTRO BY *****
K-IRA b2b DEATHBERRY - (s.d.s/Co2 Conspiracy)
soundcloud
[facebook.com]
Co2 Conspiracy è un progetto che nasce nel marzo 2008 col nome di Collettivo Onda Quadra, dalla voglia di alcuni altopianesi vicentini, con l'intento di cambiare qualcosa nella situazione "feste", dando vita ad "un movimento culturale"... raggruppando una parte drum'n'bass ad una parte techno/minimal, la crew da vita a una serie di feste a doppio sound che continueranno fino al 2009, dando molte soddisfazioni al gruppo. Nel 2009 la situazione techno/minimal del gruppo si distacca, mettendo un punto di partenza a questa crewDnB/ NEUROFUNK/TECHNOID/​DARCKSTEP/DUB STEP/GABBA chiamata Co2 CONSPIRACY, fondata ora su un movimento "club culture", e inoltre accompagnamo le nostre serate drum 'n' bass con video stile manga
_____________________________
***** PsY TrancE Dj'S *****
POSITRON (Solteri Crew/Electrimoon Records Uk)
soundcloud
SPEC3 (Monkeysexplosion Tm).
[myspace.com]
soundcloud
SHAKTI'S DJANE (Goa Sound Project)
[myspace.com]
soundcloud
MAURI PSY (Goa Sound Project)
[facebook.com]
***** Timetable *****
22.00/23.00 K-ira Vs Deathberry
23.00/00.00 Deathberry Vs K-ira
00.00/01.00 Spec3
01.00/02.00 Mauri Psy
02.00/03.00 Shakty's Djane
03.00/04.00 Positron
04.00/06.00 MIND OSCILLATION (LIVE)
06.00/07.00 Nico (Live)
_____________________________
.
Info
Info
SOUND SYSTEM 10.000 WATT !!!
______________________________
Location
Location
TACU TACU music zone - Via Galileo Galilei 40 - Mestrino (PADOVA)
Entry fee
Entry fee
10 euro + Tessera A.I.C.S (Da settembre la tessera sarà valida per tutto il 2011/12)

PER I NUOVI TESSERATI 1 CONSUMAZIONE IN OMAGGIO !!!

______________________________