The CHANGELING O.A. Trance Festival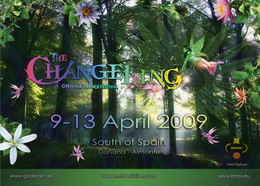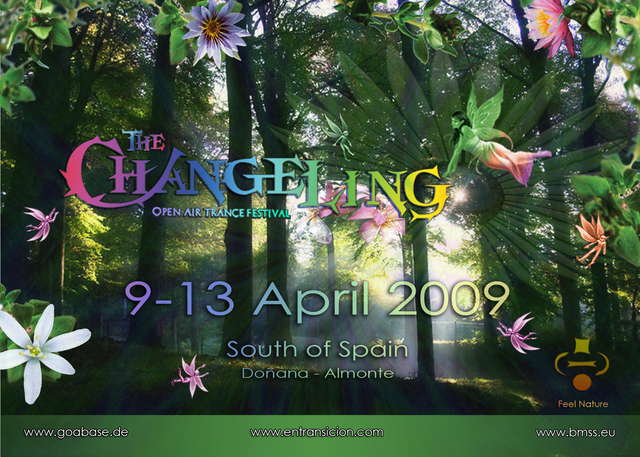 Line Up
*** TRISTAN *** (Nano Rcs, England)
[myspace.com]
Tristan is one of the most talented musicians for morning psychedelics. He started to be interested in Psytrance culture about 1989, when he went to travel around. Back to UK, he bought a pair of turntables and started to promote parties in the countryside, factories, hangars... And some time later he became the resident DJ of Q Club (Birmingham). He started to produce electronic music in 1995 and recorded in labels like Matsuri, TIP, Transient, Flying Rhino y Twisted Records, this last one has been his house for the next 10 years. Since then, he has released three albums and has settled down in London. He is an international famous Psy-Trance artist whose sound comes from melodies and hard basses, and will drive you to dance along a beautiful morning... His last album is called CHEMISPHERE, being released by Nano Records at the beginning of 2007.
*** PARA HALU *** (Psylife Music, Hungary)
[myspace.com]
[parahalu.com]
The producer behind Para Halu project is Adam Hohmann from Hungary. After years of experimenting instrumental music and producing different kinds of electronics from ambient to breaks, he founded the psychedelic trance project in 2002 and has since then performed at the biggest festivals and parties all over the world from Brazil to Japan, like Universo Paralello, Full Moon or Soulclipse. After self-released album 'NO PARA FULL HALU' in 2003 and the groundbreaking'THE WORLD OF PEACE' at Parvati Records in 2005, two albums followed at the israeli label Zaikadelic: 'SPACE ROCK' in 2007 and 'WIDE RANGE' - a collaboration with The Path - in 2008. Meanwhile Adam Hohmann founded his own label, Psylife Music for releasing futuristic psychedelic sounds and started to work on a progressive psytrance alterego. The newest full length Para Halu album 'THE FUTURE SOUND OF PARA HALU' is coming up on Psylife in January 2009. Also tend to show up in the morning hours, Para Halu plays deep and twisted, powerful but melodic, storytelling yet highly danceable psychedelic trance which takes you to a journey whenever you listen to it.
*** PROTONICA *** (AP Records, Germany)
[myspace.com]
Protonica are Piet Kaempfer and Ralf Dietze from Berlin, Germany. With Piet's intuition for harmonies as a skilled pianist and certified sound designer Ralf's feeling for propulsive grooves, Protonica deliver you their very own positive pulsing sound - a blend of psychedelic and progressive trance. Following their well received debut album "Search" (2007) Protonica have released tracks on several labels. With their energetic live sets Protonica have already contributed to making parties a sucess all over Europe, amongst others the Aurora Festival (Greece), Fullmoon Festival (Germany), Spirit Base Festival (Austria), Timegate (Switzerland) and Al-Andalus Festival (Spain). Ralf (Ralle Aus Halle) and Piet share extensive experience in DJing for more than a decade, too. Together they have also formed the progressive house side project KAEMPFER & DIETZE.
*** ZARAUS *** (Swing Music Agency / Sonic Traveler, Portugal)
[myspace.com]
Zaraus project started in 1999 with Pedro Oliveira and Sergio Loren, when they left Skambalhota, a Ska band where Sergio was the vocalist and Pedro the drummer. Then they started to produce Psytrance with synthetizers and analog machines, but in 2001 the group was divided and only Pedro continued with the project. At the end of the year Sub Atomic was interested in his work, an English promoter which has made him travel around Scotland, France, England, Netherlands, Spain, and Brazil, playing in very important festivals like Universo Paralelo and Boom Festival. His sound is based on Goa melodies combined with vast energy in low frequences faster than 140 bpm...
*** ASTRAL GNOMIX *** (BMSS, Switzerland)
[myspace.com]
Astral Gnomix does not play common-style music, he has his own groove, born from a mixture of various electronic genres and goa, ranging from old-style to modern, inspired by acts like Hallucinogen, Oziric Tentacles, Cosmosis, Pink Floyd and more... He presents a new style at each Live Act, and often brings along many of his original instruments, making each act impressingly particular. Now he spends as much time as possible playing his instruments and composing new groovy stuff. Astral Gnomix is certainly not a common artist he loves psychedelic tunes, and does not follow the common wave... For him psychedelia has no limits.
*** KIMI.OX *** (Manta Ray, Italy-Spain)
[myspace.com]
Cosma Nuzzolo is the person behind KIMI.OX project. He concerns music "from mind to body" and is one of the most talented musicians as regard Psy Trance here in Spain. He is one of the formers of Manta Ray tribe (Barcelona, Spain) and his style mixes the Goa elements with an original vision of Progressive/Minimal Trance. He will give the audience the opportunity to be introduce into the true trance dance experience. His live set will include all his new tracks and others specially dedicated to the moment.
*** CLEAN TRIP *** (Bosc Eléctric, Spain)
[myspace.com]
Clean Trip is the groundbreaking project of Juan Manuel Serna, born in 1983. His contact with electronic music production started around 2002, creating some kind of progressive tech-trance. In 2004 he decided to study sound engineering at SAE Barcelona in order to develop his production and audio engineering skills. The music he started producing and the psychedelic experience in Byron Bay led him, by the beginnings of 2006, to produce psychedelic trance. He played at some great parties in the forests. He creates a balance between light and darkness, serious and interesting psychedelia, learning and developing it everyday towards the infinite... Besides that, he is part of the Bosc Elèctric crew together with his brother and mates in order to spread the positive side of life and parties through psychedelic trance events. Hope u have a nice clean trip!!
*** MULTIMAN *** (Maledictis/Transition, Spain)
[myspace.com]
Julian is the only needed element to bring your mind "here and now". His wide knowledge about electronic equipments, has made with this person a curious symbiosis between humankind and machine. Always acommpanied by his Roland MC-909, he does the true Psychedelic sound, full of tech basses and acids from the paralell universe. In this 2008, Multiman has played in Portugal and now he is living in England, acquiring culture and knowledge.
*** SUM SINDHU *** (A.I.A.M. Project, Spain)
[aiamproject.com]
Alberto del Barrio a.k.a Sum Sindhu became a reference of the national trance scene when released his first album "Sumkadelic", including great and brilliant tracks. His style mixes melodies and wide basses, specially selected for the morning or early night. He has been living in Ibiza and San Francisco (USA), being influenced by well known artists like Biodegradable / CPU, Waterjuice, and KodeIV. Sum Sindhu comes from the influence of Indian culture and all psychedelic trance elements. He has played in big festivals with artists like Neuromotor, Raja Ram, Skazi, Ultra Voice, or CPU, among the most important ones.
*** MECCANO *** (Crystal Matrix, Portugal)
[myspace.com]
MECCANO is a solo project from Bruno Silva aka Neigh3our aka Space Designers, a Portuguese guy. MECCANO is a electronic music lover since a very young age, having studied music at a conservatory, 1st Piano and then Guitar. After spending 10 years as a DJ he decided to make his own music, MECCANO is the name, music is the game. And he is prepared to make history, keep in touch!
*** NEW PROGRAM *** (Transition, Spain)
[myspace.com]
With the reliability that contributes to an education in Goa and rave culture, you can trust in this idea with the following result: to move your dancing to the darkest side of trance, synonymous in his case of synthesizer, secuencer, and a sampler. Welcome home bro!
** PARA HALU ** (Psylife Music, Hungary)
[myspace.com]
[parahalu.com]
** RALLE AUS HALLE ** (Oxygen Records, Germany)
[myspace.com]
** PIET KAEMPFER ** (Synergetic Records, Germany)
[myspace.com]
** BOOM SHANKAR ** (BMSS/FreakTime/Aerobics/Transition, Germany)
[myspace.com]
** ALEXSOPH ** (BMSS/Transition, Germany)
[myspace.com]
** KHELBEN ** (BMSS, Germany)
[bmss.eu]
** MAXIMUS ** (BMSS/Transition, Germany)
[bmss.eu]
** FOHAT ** (BMSS/AmarisRecs, Germany)
[myspace.com]
** ANAM FIO ** (BMSS/Meditation, Germany)
[myspace.com]
** PSYSMAEL ** (BMSS/FreakTimeProd, Switzerland)
[myspace.com]
** YAN GECKO ** (BMSS/Space Frogz, Germany)
[myspace.com]
** VINYLTREIBERN ** (Transition, Germany)
[myspace.com]
** FRAGGLE ** (BMSS, Germany)
[bmss.eu]
** RYAN MCKENNA ** (Independent, Scotland)
[myspace.com]
** SPIRITUAL FINGERS ** (Nostradamus, Portugal)
[myspace.com]
** PSYFINGER ** (Nostradamus, Portugal)
[myspace.com]
** FLUO ELF ** (SekretlabRecs, Spain)
[myspace.com]
** YARZA ** (Kinki Aliens/DinshaPranaRcs, Spain)
[myspace.com]
** HELL BLAU ** (BMSS/Transition, Spain)
[myspace.com]
** MR.RC ** (SelectaBreaksRcs, Spain)
[myspace.com]
** JULIO ROGER ** (Transition, Spain)
[myspace.com]
** DOCTOR ZUZIO ** (Transition, Spain)
[entransicion.com]
** KÜHN SOZZ ** (Transition, Spain)
[entransicion.com]
** LULL ** (Psylocibe, Spain)
[myspace.com]
** TRANSLÚCIDA ** (KinkiAliens, Spain)
--- Line Up "Dancefloor" Closed ----
............ THANK YOU ............
SPACE DESIGNERS Live Set (Crystal Matrix, Portugal)
[myspace.com]
CULTURE CRUISERS Live Set (Blue House Studio, Portugal)
[myspace.com]
NEIGH3OUR (Crystal Matrix, Portugal)
[myspace.com]
CHILLMAEL (BMSS/FreakTimeProd, Switzerland)
[myspace.com]
MINIMUS (BMSS/Transition, Germany)
[bmss.eu]
SHANKY (BMSS/FreakTime/Aerobics/Transition, Germany)
[bmss.eu]
ANAM KARA (BMSS/Meditation, Germany)
[myspace.com]
DEO (TK Recs, Portugal)
[myspace.com]
JESUS BLAU (Transition)
[myspace.com]
BURDEOSCOOL Live Set (Independent, Spain)
[myspace.com]
LOS MONKYS (Live Experimental, Italy)
[myspace.com]
REVOLULU BAND (Live Funk/Acid Jazz, Spain)
[myspace.com]
NAMBOULE (Live African Percussion, Spain)
ABS (BMSS/Transition, Germany)
ANTIGUA (TkRcs, Portugal)
YEYO DI MORO (EclecticaSaun, Spain)
MISSY KARMA (Spain)
MOFU (MantaRay, Spain)
XETI (Independent, Spain)
KOKO (Independent, Spain)
TALEK (Transition)
MOONWATCHER (Transition)
KUHN SOZZ (Transition)
TELODJ (Transition)
DIEGO R. (Transition)
EL MONG (Transition)
JULLS H. (Transition)
--- Line Up "Chill Zone" Closed ---
............ THANK YOU ............
* DEO TK Project * (Trance Karma Rcs, Portugal)
[myspace.com]
Deo, born in Portugal the 3rd June 1977 and founding member of Trance Karma and creator of TK Records, is connected to the Psychedelic electronic movement from the 90's. In the year 2000, he started to sort out some free parties with the help of friends with the main purpose of sharing the taste for music and good atmosphere. Deo's contact with producers gave him the opportunity to learn and share ideas, putting him only a step away from seeing what was happening in the rest of the world, particularly in Europe, Brazil and Africa. His group of deco artists have worked decorating well known big festivals in Portugal and Europe, such us Good Mood, Boom Festival ´02 and ´04, Holographic Reality Fusion, Rhythms of Peace (Morocco), three editions of Freaks Blast Festival, Sonica festival ´06 (Italy), Freedom Festival ´07, or Green Tripping Camp ´08 (Azores). Besides, he has released his first compilation for the most recent Portuguese editor, TK Records...
* JAMAS * (BMSS, Germany)
[bmss.eu]
They are a group of deco artists who decorate parties in Germany and nowadays also in foreign countries at places like:
Trannsylvania Calling ´03 and ´07 (Romania), BMSS the Awakening, Save the Freaks 2 (Switzerland), Magic Castle of Mesocco (Switzerland), Gathering of the Southern Systems, ...and many more...! The decorations are put together by different styles and several materials used for construction. Felix & Michi concentrate on string-arts and 3-D-objects.
They use to make the strings-arts out of wool und usually wood for an objects construction. Jenny & Carsten build all kinds of dreamcatchers. To make the ring, whether they use copper or tubes out of plastic. The net is tied out of wool as well. Furthermore, Carsten scatches and paints self created backdrops in uv-colours.......
* WENDY TRIP COLOURS * (Independent, Spain
[myspace.com]
Wendy started out as a graffiti artist out in the streets of Alcorcón (Madrid) in 1992. She would also hit the streets of Barcelona, New York, Miami and Amsterdam with her sprays... Later on she would get interested in aerographics, street theater, perfomance arts and recycling, untill after a mistical experience, she came up with Wendy Trip Colours:
"The Colours of Wendy's Trips" and eversince she extends the fields of expression into sculpture, theater wardrobes, clowning, decoration, make-ups, tattoo-ing and so on and uniting it all into the creation of complete interactive enviroments in which she would incorporate theatrical elements, pictorials, musicals and visuals, creating magical psichedelic atmospheres with ultraviolet lights. Finally she got influenced by the psychedelic art scene and eversince her experiences in Psychedelic Trance would bring her own critics to a instututed system with lack of spirituality, harmony and respect for Mother Earth, a grey world to which she sould bring coulours into!
* NEONOVY * (BMSS, Germany)
[bmss.eu]
Neonovy is Tibor Novy, born 1984 in southern Germany. His first contact with the Psy Trance scene occurred in the year 2003 on a Colodia e.V. party in the South of Germany. He was so fascinated by this experience that he immediately became good friends with the organizers. From this moment on they started to throw events regularely and succesfully together as a team in Germany. But Neo Novy wanted to add something more to the parties and festivals but organization work. So he started to become a deco artist for the Colodia events. His unique string art style became more and more popular, so Neonovy moved on decorating parties of other crews as well. His art could be seen at events and regular venues like the Gotec, the Villa Nachttanz, or on parties & festivals all around Switzerland. In 2006 he joined the BMSS forces in order to move another step forward... And he did: decorating many festivals allready all around Europe gave him a great response from the audience and pushing him forward to reach new levels in designing psychedelic artwork. Please click HERE for a Photo Album of Neo Novy`s different kind of Artworks on various parties and festivals all around Europe.
* TANGENT ELEMENTS * (Transition, Spain)
[entransicion.com]
* TRANZ VISUALS * (Transition - BMSS, Germany)
[entransicion.com]
**** PERFOMANCES ****
* LUNITECNIA * (Spain)
[lunitecnia.com]
This project comes from the couple Elena and Jesus, whose main purpose is the creation of a multidisciplinary spectacle. The main characteristic of it has been the free creative ability of the two artists by means of contemporary dance and acrobatic movements. Their show is based on a fusion of technology and art, where lights, colours, juggling, and synchronization of the objects create a new concept of entertainment.
* FIRE JUGGLERS *
Those ancestral fire figures cannot miss our ritual! It will be a pleasure to dance along the darkness and be lighten by those jugglers coming from the universe...
* THEATRE PERFORMANCE *
The audience will be entertained during the day with these people whose mission is to make you laughing! They are preparing great surprises!!
* LASER SHOWS *
Green lasers will draw different figures into the pine forest... showing one of the most beautifull images of darkness. This will be the representation and fussion between nature and human technology, so another reason for not sleeping during the nights! ;)
**** VISUALS ****
SUPER 8 (Transition, Spain)
KOMA (Independent, Spain)
BELTRANZ (Transition, Spain)
KIKOMIX (EclecticaSaun, Spain)
...and more!!
Info
...::: DANCE FLOOR :::...
In this place you will hear the last pumping Psychedelic, Full On, Progressive & Minimal tracks, proyected by a stunning sound system. Transition focuses on sound quality more than the power of it, so you can expect the most crystal clear sound, amplified by the lovely nature around us. Spring will be born, and Gaia will drive her elements to the Equilibrium through 4 amazing parties with more than 40 artists which will guide you through the psychedelic paths of your mind...
...::: CHILL ZONE :::...
This confortable place will be perfect for chatting, listening to some Psy Ambient during the day, partying slow rhythms during the nights, or being part of an amazing workshop. This will be the perfect place for your body, your mind, and your soul.
...::: INFO POINT :::...
Look for the Transition tent to get information about our association and future projects. Here also you will find crucial information about last changes in the line up, a map of the location, information about the National Park of Doñana, etc... Come on board with your transition!
...::: WORKSHOPS :::...
There will be programmed different workshops taking place in the Chill Zone.
Friday & Saturday Afternoon: MASSAGE WORKSHOP
-------------------------------------------------------------------------------
Dont loose the opportunity to be lightened by this special workshop. If you are in the right moment in the right place you will learn how to be inmersed into a peaceful state of mind, the perfect atmosphere to chill out after a long dancing night. Two proffesional massagists will show the secrets of this ancient technique.
Friday & Saturday Evening: FREESOUL WORKSHOP
-----------------------------------------------------------------------------
Be free, feel free, free yourself! Become your own alchemist; experiment, see & experience for yourself… As an active consciousness researcher and living alchemist, she will integrate and analyze "spiritual teachings" in a scientific approach. She will do two different sessions on friday and saturday so stay tuned and don´t loose what she needs to tell us!! Boooomm!! Read more about her >>
[bmss.eu]
Sunday Afternoon: DECO WORKSHOP
--------------------------------------------------------
DECO WORKSHOP: Jamas, one of the special deco tribes, will show how the party objects are created from inner thoughts and feelings. You will be able to learn which are the bases for String Art and 3D figures.
...::: AUTOEXISTEN MARKET :::...
This independent living entity will be the best place for your body, trying some special organic menu, a delicious breakfast, or an amazing veggy burger done with love. You will also find here a wide variety of objets to deco yourself ! Do not forget to have a walk around... !
There are NO Vacancies left for the market!!!
Thanks to everybody!!!!!!!!
...::: oThEr iNfO :::...
... The main purpose of this gathering is to unite the international family in these beautiful lands, around the National Park of Doñana, and dance altogether. After the first rains of March, the countryside looks like paradise itself, surrounded by special colours and smells, so that you can expect to feel the spirits of nature around the place. The festival will be held by the Planetary full moon process so we all will have the opportunity to declare our inner thoughts and desires: "Love and Peace for the whole world".
Day and night will have the same duration... and the families will gather in the heart of Pacha Mama, to celebrate love, life, and the miracle of music. This idea comes from the creativity of some young people and individuals from diverse cultures and european countries like Portugal, Germany, and Spain. The main purpose is to create a microworld where we can share our love under a sky full of stars, exchanging the ideas for a better world. The festival will have four different parties, which will cross different spiritual and physical states with the help of music, light effects, colours, and decoration.
Enjoy music, energy, and life!!
Love & Light!
BooOOooOoOoooOmmMmm
* Camping Area (from thursday 9 am)
* Free Parking (Cars-Caravans)
* Free entrance for children under 12
* Energycontrol
* First Aid
* Showers & WC
>>>Spanish Version<<<
>>>
[entransicion.com]
<<<
Location
The festival is located in a beautifull outdoor place in the National Park of Doñana (4 kms far from Almonte, A-483). When you arrive to Almonte, go to Cabezudos Road (HU-4200) and drive 4 kms. When you arrive to the first round take the first right. You will find paradise in about 1500 meters.... If you are coming by bus there will be a party bus waiting for you right here
[google.es]
You can see the location of the festival clicking in the following link:
Entry fee
Entry fee
28 € (+ 2 € garbage deposit)

Every guest will be given the distintive of the festival and an empty rubbish bag which will have to be delivered again in the entrance to get the deposit back. Advanced booking is already closed.
Organizer
Organizer
Transition (Spain) - BMSS (Germany)
Added

14y 8m

· Update

13y 10m

·

/ 102