RAVESTATION
Alajar, Aracena, Huelva ·
Spain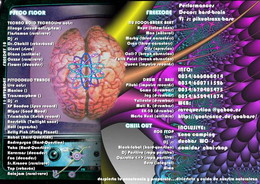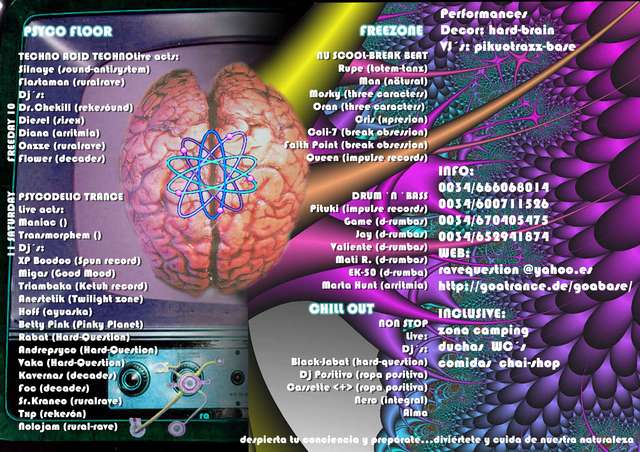 Live
Line Up
Proyecto Hiroshima,
Maledictis,
Flastaman,
Maniac,
Silnaye,
Transmorphem,
Diesel,
PSycko Annulments,
Onzze (ruralrave),
Triambaka (ketuh rec),
Anestetik (twilight zone),
Rabat (Hard Question),
SR. Kraneo (ruralrave),
Nolojam(ruralrave),
Hoff (ayuaska),
XP
Coli7 (break obsession),
Flower (decades),
Diana (arritmia),
Mosky (three caracters),
Oran (three caracters),
Faith Point (break Obsession),
Mati R. ,
Valiente(d-rumbass),
EK 50,
xtasiao(darkfactory/SE)
Marta Hunt (arritmia),
Pituki (impulse rec),
Queen (impulse rec.),
Cris (x-pression),
pepino(darkfactory/SE)
Game (d-rumbas),
Dj positivo (ropa positiva),
Alma,
Nero (integral),
Cassette,
Javier Valenzuela (Gr)
Zulu (U.k),
CHANGO (Cass Net).

and more
Chill
BlackRabbat (hardquestion), Dj positivo (ropa positiva), Alma, Nero (integral), Flastaman & Nolojam (ruralrave)
Deco
Decor: HardBrain,

Visuals:
d_fram3 Vdjs
Picúo Trazbase,

Performances:
Mario & Friends
Info
Info
There are bath zones and WCs,a foodpoint and camping zone. Keep the party clean and be respectfull with the nature.
Location
Between Portugal and Sevilla In the Sierra de Aracena, You come at Aracena, and must take the Street A-470 when you past Alájar , look at the Km 15, 7 THERE IS THE CAMPING "LA PALANCA"... Have a nice trip!!!
Entry fee
Entry fee
15€uros for 3 days
Organizer
Organizer
Hard-Question, RuralRave
Web
manolofotografia.iespana.es
Added

18y 6m

· Update

5m 21d

·