¨°º¤ø"¸¸"ø°2012Time Change°ø"¸¸"ø¤º°¨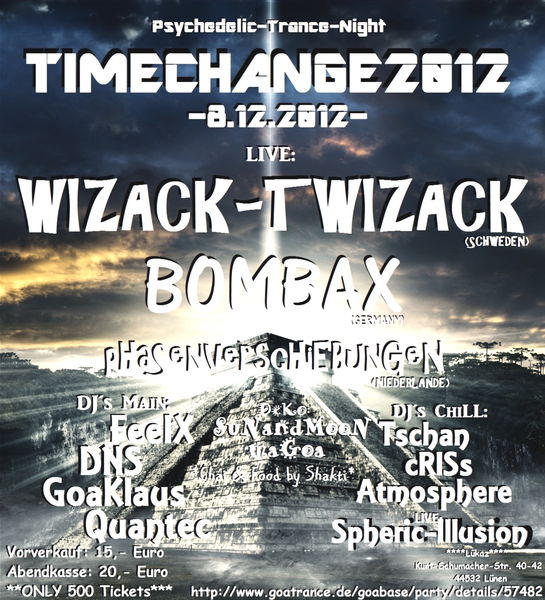 Line Up
¨°º¤ø"¸¸"ø°~~~~~~~ Constructor ~~~~~~~°ø"¸¸"ø¤º°¨
¨°º¤ø"¸¸"ø°~~~~~~~~ BOMBAX ~~~~~~~~°ø"¸¸"ø¤º°¨
soundcloud
.
¨°º¤ø"¸¸"ø°~~ pHaSenVerscHiEBunGeN ~~°ø"¸¸"ø¤º°¨
soundcloud
.
.
¨°º¤ø"¸¸"ø°~~~~~~~~~~ FeelX ~~~~~~~~~°ø"¸¸"ø¤º°¨
soundcloud
.
¨°º¤ø"¸¸"ø°~~~~~~~~~~ DNS ~~~~~~~~~~°ø"¸¸"ø¤º°¨
soundcloud
.
¨°º¤ø"¸¸"ø°~~~~~~~~ GoaKlaus ~~~~~~~~°ø"¸¸"ø¤º°¨
[zippyshare.com]
.
¨°º¤ø"¸¸"ø°~~~~~~~~~ Quantec ~~~~~~~~°ø"¸¸"ø¤º°¨
[click here]
.
¨°º¤ø"¸¸"ø°~~~~ Silverster(erdlichter)~~~~°ø"¸¸"ø¤º°¨
¨°º¤ø"¸¸"ø°~~~~~~~~~ Tschan ~~~~~~~~~°ø"¸¸"ø¤º°¨
soundcloud
.
¨°º¤ø"¸¸"ø°~~~~~~~~~ cRISs ~~~~~~~~~~°ø"¸¸"ø¤º°¨
.
¨°º¤ø"¸¸"ø°~~~~~~~~ Atmosphere ~~~~~~~°ø"¸¸"ø¤º°¨
.
LIVE:
¨°º¤ø"¸¸"ø°~~~~~~ Spheric-Illusion ~~~~~~°ø"¸¸"ø¤º°¨
soundcloud
.
Deco
With technical class and coloured elements.
-----------------------------------------------------------
Mit technischer Klasse und Bunten Elementen.

Special Deko Team:

***Sun and Moon***

***maGoa***


***Chai & Food by Shakti***
Wir haben für euch einen sorgfältig zubereiteten Chai und eine Auswahl an Tee & Kaffee dabei. Dazu bekommt ihr bei uns natürlich zubereitete Energieversorger, süße Leckereien und Vitaminkicks. Wir freuen uns auf euch!
Info
Liebe Partygäste, es ist bald soweit.....
Die Party rückt immer näher, so dass wir den Ticketvorverkauf endlich starten können.
Es werden 500 Tickets im Einzelpreis zu 15.- angeboten.
Setze dich über diese E-Mail mit uns in Verbindung wenn du zur TimeChange2012 kommen magst.
**
timechange2012@hotmail.de
***
Bitte schreibe uns mit Angabe deines Vor.- u. Nachnamens und Ticketanzahl.
(Vorlage deines Ausweises ist am Eingang notwendig für den Einlass!!!)
Dann bekommst du die Informationen die du brauchst um dein Ticket bei uns zu erwerben.
Wenn alles geklappt hat, bekommst du eine Bestätigung, dass du herzlich auf des Fest eingeladen bist!
________________________________________________
Dear Partyfreaks,
The party is coming soon, so that we can finally start the ticket presale.
We have an amount of 500 tickets costing 15,- Euro a piece.
Please contact us if you want to come to the Timechange2012 using this E-Mail:
**
timechange2012@hotmail.de
***
We need your first and last name and how many tickets needed.
(Ticket buyers ID verification is needed at the entrance.)
After that, you will get the information needed to purchase the ticket.
As soon as we have receipt of payment, you will become a affirmation via E-Email welcoming
you and your friends to our gathering!
********************************************************************
Endzeit und Neuanfang
Der 21. Dez. 2012 ist nach dem Langzeitkalender der Maya das Ende dieser menschlichen Zivilisation. Die Menschen werden in eine gänzlich neue Zivilisation eintreten, die von der gegenwärtigen völlig unabhängig ist. Den Grund erwähnten die Maya nicht. Eine Sache ist klar: der letzte Tag bedeutet nicht den Eintritt irgendeines großen Unglücks. Stattdessen beinhaltet es ein vollständig neues kosmisches Bewußtsein und einen spirituellen Übergang zur neuen Zivilisation hin. Das müssen wir gebürtig Feiern.
________________________________________________
End time and new beginning................
The 21st Dec., 2012 is following the long time calendar of Maya, the end of this human civilisation. The people will enter into a totally new civilisation which is absolutely independent of the present one. The reason was not mentioned by the Maya. One thing is clear: the last day does not signify the entry of any big misfortune. Instead, it contains a completely new cosmic consciousness and a spiritual crossing to a new civilisation. Nevertheless, let us celebrate this happening in joy.
light & harmony
GoaKlaus
Location
Location
****Lükaz****
Lüner Kultur- und Aktionszentrum
Kurt-Schumacher-Str. 40-42
44532 Lünen
[luekaz.de]
Zu Fuss vom Lüner HBF in ca.10min an der Location
[google.de]
Entry fee
Entry fee
Vorverkauf: 15,- Euro
Abendkasse: 20,- Euro

***Vvk endet am 15/11/2012***
***Presale ticket until 15/11/2012***