Follow The White Rabbit - Sangoma Records Night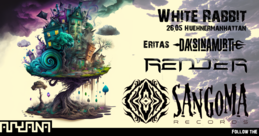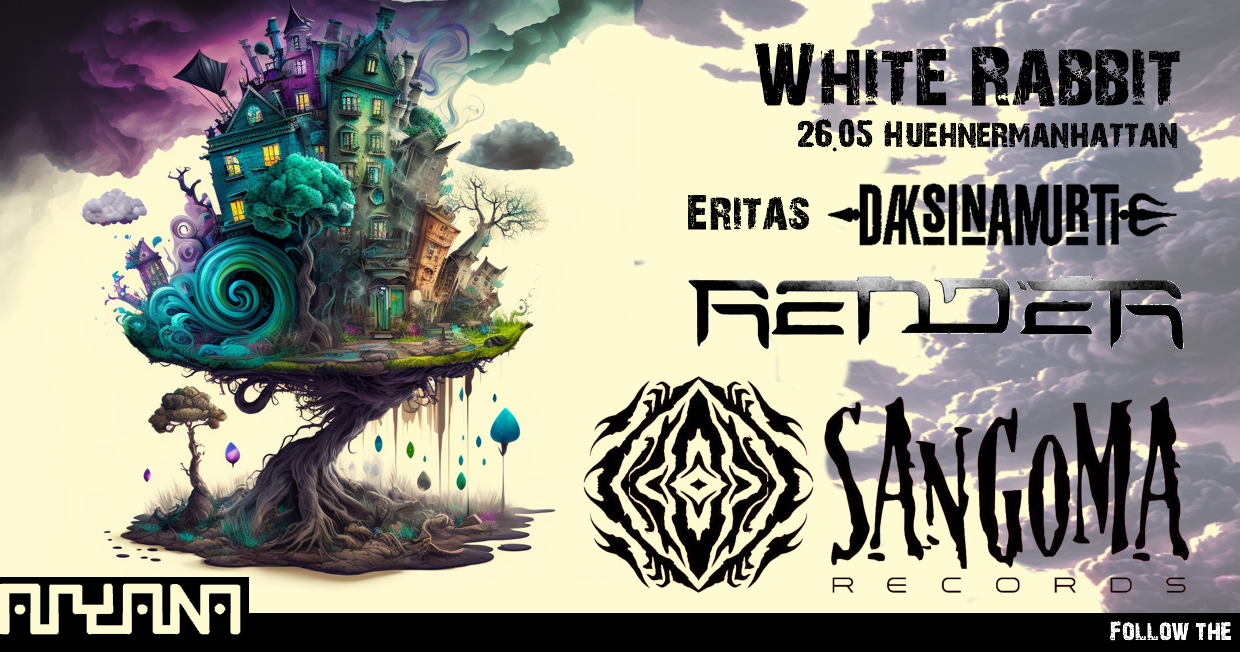 Line Up
Organic medicine for your ears. A Psytrance label founded in 2011.
Sangoma Records is the brainchild of Daksinamurti and Emiel, who founded the label in 2011, without ever meeting in person (until 2013) and which grew to an iconic label for the Psychedelic Trance music culture in the following years. Emiel, a multifaceted fine art graduate from India, born and based in Doha, Qatar, and Till (Daksinamurti) a cultural anthropologist based in Germany shared similar visions and tastes in both music and art while both being DJ's for many years.
Being from different countries, cultures, and time zones were no burden for their friendship and creativity. It all started with a phone call Till received in 2009 while in Cape Town, South Africa. They got introduced through a common friend and soon they found each other compiling a release on Timecode Records titled Tokoloshe Tales. Through that, they enjoyed working together in synergy and soon decided to create a label, which was highly influenced by their love for both Africa and Till's main academic topic: Shamanism.
In Southern Africa, the Sangoma is an intermediary for the ancestors, and sacred spirits, a wanderer between the worlds, the practitioner of herbal medicine; a healing shaman, or for some a feared witch doctor.
In its early days, the label hosted many friends, companions, and local talent but soon grew into a creative hub for some of the most talented and reputed artists in the scene, which helped to shape the unique and diverse "Sangomesque" sound. Driving music with the smell of the jungle and taste of the earth. Another strong focus of the label is Art – working with established visionary artists and new talents. The release's artwork tells a story by itself and blends in with the music. To date, the label had a steady output with over 100 releases, and their artists are regulars at Sangoma label night events and major festivals worldwide without losing the connection to our roots and the scene's underground.
[sangomarecords.com]
[bandcamp.com]
•٠٠••٠٠••٠٠••٠٠••٠٠••٠٠••٠٠•٠٠••٠٠•
🔮 PsyTrance Nightpsy Forest 🔮🌛
•٠٠••٠٠••٠٠••٠٠••٠٠••٠٠••٠٠•٠٠••٠٠•
𝗥𝗲𝗻𝗱𝗲𝗿 🌻𝚂𝚊𝚗𝚐𝚘𝚖𝚊 𝚁𝚎𝚌𝚘𝚛𝚍𝚜 - Spain
♫
soundcloud
𝗗𝗮𝗸𝘀𝗶𝗻𝗮𝗺𝘂𝗿𝘁𝗶 🐾 𝚂𝚊𝚗𝚐𝚘𝚖𝚊 𝚁𝚎𝚌𝚘𝚛𝚍𝚜 - Marburg
♫
soundcloud
𝗘𝗿𝗶𝘁𝗮𝘀 🍄 𝚂𝚊𝚗𝚐𝚘𝚖𝚊 𝚁𝚎𝚌𝚘𝚛𝚍𝚜 - Gießen
♫
soundcloud
𝗬𝗼𝗻𝗱𝗼 𝗔𝗻𝗱 𝗟𝗼𝗿𝗰𝗮 ✨ 𝙷𝚞𝚗𝚊𝚋 𝙺𝚞 𝚁𝚎𝚌𝚘𝚛𝚍𝚜
♫
soundcloud
𝗖𝗵𝗶𝗻𝗴𝘂𝗮𝗴𝗮 🐾 Berlin
♫
soundcloud
•٠٠••٠٠••٠٠••٠٠••٠٠••٠٠••٠•٠٠••٠٠•
🐘 Psytechno Zenon Downtempo 🐘🪐
•٠٠••٠٠••٠٠••٠٠••٠٠••٠٠••٠•٠٠••٠٠•
𝗥𝗵𝗮𝗯𝗶𝗮 🌻 𝚄𝚗𝚒𝚟𝚎𝚛𝚜𝚊𝚕 𝚃𝚛𝚒𝚋𝚎 𝚁𝚎𝚌𝚘𝚛𝚍𝚜 - Portugal, Koblenz
♫
soundcloud
𝗫𝘂𝗹𝘂𝗫 🍄 𝚀𝚞𝚒𝚗𝚝𝚎𝚜𝚜𝚎𝚗𝚌𝚎 𝚁𝚎𝚌 - Berlin
♫
soundcloud
𝗚𝗼𝗮𝗴𝗿𝗮𝗳 𝗯𝟮𝗯 𝗣𝘀𝗶𝗱𝗲𝗹𝗶𝗰𝗮𝘁 🍄🐾 𝙱𝚞𝚜𝚌𝚑 𝙱𝚎𝚊𝚝𝚣, 𝙶𝚊𝚐𝚐𝚊𝚕𝚊𝚌𝚔𝚊 - Leipzig
♫
soundcloud
♫
[psidelic.at]
𝗘𝘀𝗺𝗮𝗶𝗹 ✨
♫
soundcloud
🍃♫🐾♫
▀▀▀▀▀▀▀▀▀▀▀▀▀▀▀▀▀▀▀▀▀▀▀▀▀▀▀▀▀▀▀▀▀▀▀▀▀▀
➥ DECORATION BY 𝗗𝗮𝗻𝗶𝗲𝗹 𝗛𝗮𝗮𝘀𝗻𝗼𝗼𝘁, 𝗔𝗶𝘆𝗮𝗻𝗮
[instagram.com]
[instagram.com]
➥ VISUALS BY 𝗙𝗿𝗮𝗰𝘁𝗮𝗹𝗗𝗮𝘁𝗮𝗩𝗝
[instagram.com]
➥ VOID BY 𝗦.𝗢.𝗦 - 𝗦𝗼𝘂𝗻𝗱𝘀𝘆𝘁𝗲𝗺
[instagram.com]
➥ CHAIBAR BY 𝘁𝗵𝗲 𝗰𝗵𝗮𝗶𝗰𝘆𝗰𝗹𝗲
[instagram.com]
➥ FLYER BY 𝗬𝗼𝗻𝗱𝗼 𝗧𝗿𝗮𝘃𝗲𝗹𝗺𝗮𝗴𝗶𝗰
[instagram.com]
<><><><><><><><><><><><><><><><><><><><><><>
ॐ ☼ ♪♪♪♪
A world of enchantment, where anything is possible and the impossible becomes reality.
Magical creatures, fantastical landscapes, good versus evil, love and sacrifice. Fairytales provide a way for us to explore our deepest fears and desires, and they allow us to escape reality and enter a world of pure imagination. They can help us make sense of the world around us and provide a framework for understanding our own lives and the challenges we face.
A place of wonder and possibility, where anything can happen and where we can find hope, inspiration, and the courage to overcome even the greatest obstacles.
The table was set, but no tea to drink,
Was this the place I'd hoped to find,
Or just a world gone mad, left behind?
In Wonderland, I'll find my way,
the Hatter's is insane, In his madness, there's a hidden treasure.
Aiyana
[t.me]
▲No sexism, No racism, No fascism, No homophobia▲▲▲P18▲▲▲
Location
Hühnermanhattan Klub
Hordorfer Str. 4
6112 Halle (Saale)
Added

2m 25d

· Update

3d 5h

·