EQUILIBRIO SOLAR
Planet Gaia (Huelva) ·
Spain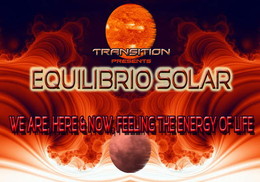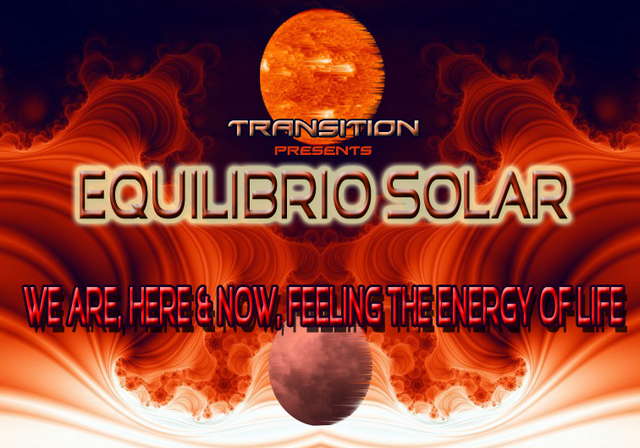 Live
Line Up
MULTIMAN
NEW PROGRAM
::::::::::MAIN FLOOR::::::::::
FRIDAY 21: TRANSITION FULL MOON PARTY
--------------------------------------------------------------------------
22:00-23:30 .........MEDITATION.........
23:30-02:00 JESÚS BLAU···············Minimal_Transition
[freewebs.com]
02:00-04:00 JULIO ROGER···············Techno_Transition
04:00-06:00 TALEK·························Drum&Bass_Transition
[myspace.com]
06:00-08:00 PELHUK-ON················HardPsy_Transition (Madrid)
08:00-09:30 TRANCELUCY··············FullOn_KinkiAliens (Madrid)
09:30-10:30 NEW PROGRAM live!···Goa_Transition (Sevilla)
10:30-12:00 LULL····························Trance_Psylocibe (Sevilla)
SATURDAY & SUNDAY: THE TRANSFORMATION
--------------------------------------------------------------------------
12:00-13:30 TELODJ·······················Progressive_Transition
13:30-15:00 PEDRO RAMOS···········Progressive_Transition
15:00-16:30 MONGODONGO···········Downtempo_Transition (GR)
16:30-18:00 JULIO RODRIGUEZ·······Minimal_Transition
18:00-19:30 PHOTOCLICK···············Minimal_Flumo (Sevilla)
[flumo.com]
19:30-21:00 HELL BLAU··················Progressive_Transition
[freewebs.com]
21:00-22:30 FLUOELF·····················Psy (Barcelona)
[myspace.com]
22:30-01:30 DOCTOR ZUZIO············DarkPsy_Transition
01:30-03:00 MULTIMAN live!············DarkPsy_Maledictis (Málaga)
[maledictis.com]
03:00-04:30 PSYSMAEL·················Psychedelic_FreakTimeProd (SWT)
[myspace.com]
[bmss.eu]
04:30-06:00 AVALOKITESHVARA ··Psychedelic (PT)
06:00-08:00 BOOM SHANKAR········Psy-FullOn_BMSS (GR)
[myspace.com]
[bmss.eu]
08:00-09:30 VINYLTRIBER··············FullOn (GR)
09:30-11:00 ALEXSOPH··················Psy_BMSS (GR)
[myspace.com]
[bmss.eu]
11:00-12:30 SPIRITUAL FINGERS····Psy_Astral-Infl./Nostradamus (PT)
[myspace.com]
12:30-14:00 YARZA························Trance_TribeOfFrog_KinkiAliens (Madrid)
[myspace.com]
14:00-15:30 KÜHN SOZZ·················PsyProgressive_Transition (Madrid)
15:30-17:30 MR.RC·························Minimal_AnotherDimension (Huelva)
17:30-19:00 CECI GARCÍA··············Minimal_Cielo&Attika (Huelva)
19:00-20:00 DJ.DEFAE···················ChillOut_Transition
Chill
::::::::CHILL OUT AREA::::::::::

This place will invite to relax and chat, ideal moment to share thoughts or a sweet dream. People will enjoy ethnic, ambient, chill, reagea, funk.... Slow rhythms for moments of peace. There will be in this are a free cabin for those people who wants to share their music with the rest of participants.

This area will be the meeting point of the party, a place where you could get all type of drinks, beers, juices, tea... or something to eat. This zone will also be the perfect place to eat, after a long dancing working day. Vegetables, rices, and pastas will give you enough energy to enjoy the complete experience.

In this party there will be imposible to find normal glasses. Buy your Solar Glass by 50 cents. When you finish your drink Transition will give you the money back. We have discovered that this way reduces considerably the amounts of rubbish.
Transition Crew will decorate the whole area with moonwalkers from India and Bali, and many elementes which will invite to the exploration of the senses.
Nostradamus Productions (Algarve, Portugal) will participate in Transition Anniversary with djs and deco handmade. Pay special attention to the way they are designed!!
Wamba from Seville will also colaborate with estructures and 3D objects...
Visuals have a very important role in parties. Video animations will mix in tune with music, representing the artistic expression of the moment. Decoration, animations, and music will create an homogeneus unity and will transport the dancer to the boundaries of his consciusness.
Super 8 VJ (Sevilla)
VJ Kowalski (Sevilla)
Raul (Valencia)
Laser Shows will be present with red and green lights. Dancing, music and light effects transform our conciousness, belonging to an inner state between Earth, Sky, and Mind. Enjoy the Autoexistent Laser, it´s a unique experience!
Craftwork basically refers to artwork handmade, representing decorative objetcs of common use. Each piece is different from other, original and singular. Many people think craftwork stands between design and art, for other people it is the next step regarding traditional duties. For the first time in our events, we will have the oportunity to enjoy this kind of work, made by Migramah (Tavira, Portugal).
[artesaos.com]
Perfomances:
Capitán Transition
The Blue Dragón
Info
There will be a little camping zone where you can create your own area with your friends. Please keep as clean as posible your area, the party belongs to everyone. This area must be IN the pine wood. Follow directions when arriving.

ADVICES

* This will be an Open Air party. Please try to leave your dog at home, we have realised that for their benefit, they are much better there. People, loud music, and the presence of wild animals could end up in fights and finally the dog tied up. This situation ends with dog´s freedom and it is not fair for them.

* Please try to keep the area clean from rubbish, we must love Nature and respect it. Transition Crew will have a special area for rubbish with separate containers for plastic and glass. Please help us to recycle, it is everyone's business.

* It will be impossible to get normal glasses at the bar. You will have the opportunity to buy your Solar Glass by 0.50€. You will get the deposit back when you finish your drink.

* Open fires at countryside are forbidden due to the high risk of fire in that time of the year. If you smoke, assure you to drop out the end of your cigarette in ashtrays, which will be around the area.

* If you don't know the person behind you, introduce yourself! The relationships among people create nets of exchange in the community and we will be like a big family.

* You will get a program with detailed information about the party and these advices. Now just take into account this little list:

Sleeping Bag
Torch
Rubish bags
Enough clothes to change
Warm clothes for the night
Portable ashtrays
Water
Anti-insects
Happiness

::::::ENJOY THE SILENCE::::::

It will be the Vernal Equinox, when day and night have the same duration. It will be in that precise moment, when the diving Sun will return from South to North. This instant means the power of rays under Pacha Mama. It will be the moon of the intention, when we should ask ourselves how to achieve our main purposes.

The Equinox day of the fifteenth day of the Solar Moon (March, 21th) has very special connotations related to the photons belt. During this day, the Earth is placed in her most interior position, thus, in the most enlightened position for this new Era, in the present Solar year.

The diving Sun, getting ahead with strength and harmony, initiates a new cicle, a new beginning marked by the cosmic equilibrium of Vernal Equinox.

"When I contemplate the strenght and power of Vernal Equinox, many images come to my mind. I can imagine a small plant which stretches and stretches until she escapes from the humidity and darkness of the land, and shows a small and green shy leaf, which opens itself to the sun rays and the enormity of the forest. I can imagine that crucial moment, full of power, when mother and son unite their hearts and souls in the instant of childbirth, and freedom is achieved. I can imagine the lovers, with two auras becoming only one due to the orgasm, which delivers energy to the stars…

We will be in front of an energy that marks the beginning, exploting in life and love filling the Universe. This will sign a new cycle which gives ourselves the opportunity to say I AM, HERE & NOW, feeling the energy of LIFE in our bodies. It will be the moment of being. And then, through feeling our essense, we would look outside, see and say YOU, and then understand that I AM another YOU. It is incredible to feel how the cycle begins from energy centred in childbirth, in a full identification with our individual, what makes us to think that all transformations start from the individual, in our interior, where the enlightened centre is placed. Then, we will keep going transforming the entire Universe, delivering Light, Life, and Love to the rest of hearts."

Day and night have the same duration in the Vernal Equinox, there is an equilibrium, but the beginning of human beings is also developed.

Good luck in your search.

TRANCE BECAUSE OF DANCE, NOT BECAUSE OF DRUGS

HOTLINES:
0034 655 667 992
0034 657 438 522
Location
A beautiful place located between Huelva and Seville. The closest airports are Seville, Jerez and Faro (Portugal). Drive by the A-49 and take the road A-483 Bollullos Par del Condado / Almonte / P.N. de Doñana). Drive to Almonte (8 kms) and take the first exit to the city centre. Once in Almonte turn right at the second traffic light passed the petrol station. Now you are in Cabezudos Road (HV-4400), which you will drive about 4 kms. When arrive to the first round
[google.es]
just follow the moons...
Welcome to the Equilibrium.
Entry fee
Entry fee
A Free Mind

In this non-commercial gathering, all artists and people involved will show their particular vision of electronic culture for free and without economic interests, becoming part of this new flower. Also it will be good for you to know that this party is not a festival, it is a public solar celebration of Transition and all goabase brothers. If you want to come, you are invited.
Organizer
Organizer
Transition Crew
Added

15y 3m

· Update

14y 10m

·

/ 102