Transylvania Calling 2009 - Welcome to Wonderland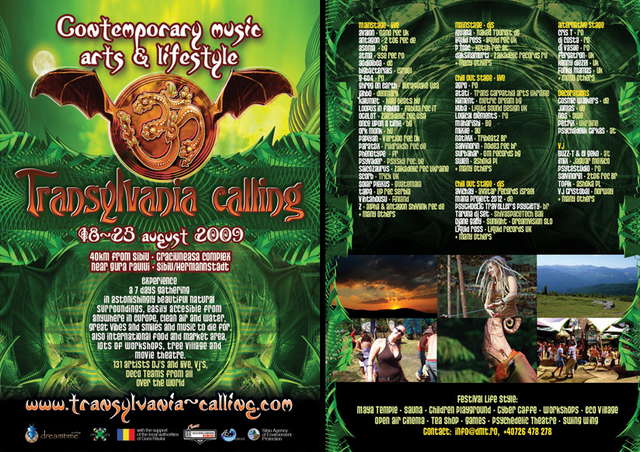 dj set:
11i
The Alsterelfe from Hamburg first appeared as fire performance with the beginning of the new millennium. She is still hot and because of her own manifold music experience she has found much psychedelic sounds aside from her beloved psytrance. "Psychedelic" in her understanding is any sound that can give you that very special feeling of astonishment - regardless of it's genre. She is specialized in experimenting with sounds and vibes and is mixing different styles.
[myspace.com]
Dr. HD Hand
One of the pseudonyms of Hamburg based DJ and journalist Liese born there in 1968. Since the early 90's he is influenced by the psychedelic trance and collecting mainly chilly stuff from that genre. In 1999 he also joyned the mushroom magazine, where he was the head of the editorial team. In summer 2008 he left this position and is just consulting the magazin in spiritual matters. He is also known as "die linken Hände" or "Delay Liese" and prefers to play long chill out sets.
[freakplanet.org]
Nemeton
Patrick is the master of disaster at radio psyciety in Göttingen. Since mid of the nineties he is infected with psytrance. With the new millennium he also felt forced to DJ on various events and in 2008 he released his first track on Liquid Crystal Music. Originally he is a master of "dark" and twilight sounds but for the gathering he prepared something special in Dub Step & Chillout. His name is celtic and means a holy space where magic works.
[myspace.com]
PsyPirate
Wolf from Minden in Germany has been producing music since the end of the 90..s. After his early live performances from 2002-2003 his first station as resident DJ was at the Interzone Inc. Crew from Bielefeld, Germany. Together with Patrick he is responsible for Radio Psyciety, a combination of very different psychedelic sounds. His style could best be described as dark & uplifting beats in connection with positive sounds and for the gathering he promised surprising carpets of sound.
[myspace.com]
Stimpskov
Sören from Göttingen, the center of Germany. His "Roots" are in the Hip Hop / Graffiti movement of the early 90`s. and after painting for some years, he moved to Psytrance after the eclipse of ´99 in Ozora. After partying for some years, he studied grafic design and worked beside some own projects for mushroom magazine and Trancer's Guide To The Galaxy. Together with Liese he now is doing the Psychedelic Traveller magazine.
[myspace.com]
Sünger Dürük
Delay Dirk from Hamburg Germany was born in 1973 and got infected with the Psy Virus in the early nineties on the very first Parties in his hometown. Since then he is spinning psy and got also involved into organization of countless events. Since the beginning he is also part and founding member of the team "die linken Hände" and together with Liese he is responsible for Hamburgs family entertainment.
[myspace.com]
Avichay - Avatar Records (Israel)
[avatar-music.com]
Baba Red - Mushroom/Chaishop (Germany)
[hamburg.de]
Cosm // Dreamtime // Romania //
[myspace.com]
Cosmic Serpent // Divine Music Tribe // Sweden //
[myspace.com]
Chaikovsky // dreamtime // (RO)
Cosmic // Macedonia //
[myspace.com]
Djane Gaby-Sunlight // Dreamvision // Slovenia //
[myspace.com]
Djane Juh // Karkeija Crew/Kaveirinha Crew // Portugal //
[myspace.com]
Die Linken Hände (Liese) // Mushroom/ChaiShop/Psychedelic Traveller // Hamburg //
[hamburg.de]
Gero // BuddhaSmile // Hungary //
[buddhasmile.hu]
Harihara // Slovakia
[myspace.com]
Infinity - dreamtime (Romania) //www.myspace.com/infinityonline
K-MIZO- dreamtime (Germany)
KaRaKoNdZuLa (Serbia)
[myspace.com]
Krishan – Omfamna (Sweden)
[myspace.com]
Liquid Ross - Liquid Records (UK)
[myspace.com]
Marion (Ashoka) Poland
[com.pl]
Matt With an S // SunshineTribe // Sweden //
Mana Project 2012 // Germany //
[myspace.com]
Monkee Wonkey - double six (Cyprus)
Nagual (Bulgaria)
[myspace.com]
Nmsk (Croatia)
[myspace.com]
Salvinorin - Node3 Rec./Mind Tweakers Rec. (Brazil)
[node3-records.com]
Silmaril // SwampTales // Lithuania //
[myspace.com]
&
[swamptales.org]
Taruna Dj set -
[lastfm.de]
Live :
AodioiboA (Germany)
[myspace.com]
Agro - (Romania)
[myspace.com]
ATATI // Trans Carpathia Arts // Ukraine //
[myspace.com]
Bigbacterials - Cosmic Flower Rec. (Israel/Hungary)
[myspace.com]
KALUMET in DUB // Psylife Music // Hungary/Ireland //
[myspace.com]
KLIMENT // Eletric Dream // Bulgaria //
[myspace.com]
KUBA - Kuba Records, Liquid Sound Design, Chillcode (UK)
[myspace.com]
Logical Elements (Romania)
[myspace.com]
Maharishi (Bulgaria)
[myspace.com]
miXile (Australia/Ireland)
[myspace.com]
Nativix - Tribeatz (Brazil)
[myspace.com]
oCeLoT // Dropout Prod./Zaikadelic Rec. // USA //
[psymatix.com]
&
[myspace.com]
&
[ocelotmusicshop.com]
Salvinorin - Mind Tweakers / Node3 Rec.(Brazil)
[myspace.com]
Surbahar - Om Records (Bulgaria)
[beattunes.net]
Swen (dzoncy) strOOp (Ashoka) Poland
[com.pl]
.........................................more tba (more to be announced)
Info
Looking for that magical dream getaway?
Then prepare yourself for a journey which goes beyond the sense of sight, hear, smell, taste, touch.
A new dimension, a new experience...
The date for the next Tribal Gathering has already been set. The 2009 TC Experience will be a new "Gathering of the Tribes" and we hope many of you will find your way to us to celebrate the 4th Transylvania Calling event.
Transylvania Calling 2009 will take place as usual in a magical place in the isolated wild mountains of Transylvania near Gura Riului (Sibiu) between August 18th and 25th, however the event program will be six days (from August 19th to 24th) allowing one day before and after for arrivals and departures.
Gates will open on the 18th at precisely 11:11 am. The festival itself will start the following day, on the 19th in the Ambient Forest with an opening ceremony, performances and World Music.
The Ambient Forest Stage will run continuously until the end of the festival with a variety of sounds from World Music, Downbeat, Upbeat, Dub, Ambient and Experimental sounds provided by international Bands, Live acts and DJ´s.
The first 2 days (19th & 20th) of the festival will be focused on conferences, workshops, games, movies, and social and cultural interaction between the Tribes.
In total there will be 4 days and 4 nights (20th - 24th) of music on the Main/Dance stage with a flowing musical journey throughout the world of intelligent electronic music.
All cultural attractions, art, music concerts, DJ sets, performances, conferences and workshops will finish on August 24, at precisely 11:11 pm.
At sunset on the following day, August 25, the gates will be closed.
What can you expect from TC 2009?
You'll get into all the magic that has been produced at the edge of mainstream entertainment. Be delighted by the overwhelming cooperative and non-commercial feeling present, and be a part of a creative rebellion against normalized minds, through ancestral knowledge and visionary arts. You will enjoy the Magical Landscapes of Transylvania together with beautiful people from more then 65 Nations.
This year Transylvania Calling has decided to take a refreshing turn in our collective path to boldly go where no one has gone before...or rather where many has gone before, but it was quite some time since we did so.
Circumstances and experiences from our past tribal gatherings in the beautiful mountains and natural forests of the Transylvania region of Romania has taught us what really matters and also what does not matter so much for the essence of the experience that we desire to create in this years gathering.
The focus this year will not lie on us trying to follow the main stream festival trends – i.e. to attract a huge audience by sporting a line up that contains as many high-profile acts as possible, and leaving culture and community as something of a backwater.
We have chosen to bypass the financial politics of psy trance business and instead focus on what should really matter most – Us! The recognition and alignment with collective culture and our emerging global (sub)continent of unity-consciousness is what we find most important, not that we can proudly present the hottest names in trance!
Remembering the magic of the first Transylvania Calling festival, quality over quantity is what really works. And lets face it - there are many top quality lesser known emerging artists that despite a lower profile are able to rock our collective socks.We appreciate the growing numbers of festivals that are introducing great numbers of new people to new possible lifestyles (trance festivals are an excellent way to discover these new worlds) but these people also should understand that there is more to this amazing movement than what is perceived on the surface.
Our sub-culture is essentially rooted in music. This year we are returning to the very roots to build a new paradigm where the core experience on offer is OF COURSE a world class DJ's and Live acts for you to go crazy to, but the experience of re-connecting to Source, empowering ourselves, harnessing those energies and channeling them into a group vision of a future of OUR design. It is about accessing the part of you that knows that together, We can make a difference!!
When dancing together under the stars we subconsciously download and share new ideas on how to live in ways that our planet and all of its inhabitants can co-exist sustainably. All lifeforms in all kingdoms are affected by our collapsing / unstable ecosystems. With our hearts in a collective embrace, the transformation that occurs fulfils our individual destiny as we "bring down the light" and play our role in ushering in the new era of peace on Earth. This is the prime Aquaria n impulse - the energy is available NOW. This is what we are here for - we ARE the Trance-formation. We are writing new possible futures into the pages of our history.
We can make a difference and we believe that in these times, the experience of the reality instead of just fantasies on websites and you-tube videos is something intangible but extremely valuable.
In order for this event to happen and for us to bring it all together, the number one ingredient that we will need is : Your Help!
We can not do this alone, and we invite any talented artists to apply to contribute to this special dream gateway, but at this stage we have little money to offer in return! However, we can promise a magical setting and an unforgettable experience! With our new insights and direction, we are steering away from the commercial line up. We require stable finances for our future projects and if things go well this time around, we will assume that you too enjoy our new vision, and all surplus generated will go to an even more refined experience for you in 2010!
We will have to work hard to provide the platform and basics of it all and therefore we also want anyone who is interested in contributing to the whole – in any way! - to immediately contact us and let us know what you can provide and what you would need to do your work.
We sincerely hope you grasp the potentially transformative opportunities and events that could occur at Transylvania Calling 2009, and that you will find it in your heart to be with us and aid in manifesting "The Vision" - to partake in a conscious shift towards a truly free and harmonious human family.
Keep in touch.
Transylvania Calling 2009 Crew
TC 2009 Festival Website:
[transylvania-calling.com]
soon full new website coming up with all missing infos!
DMT URL:
[dreamtime.ro]
TC MySpace:
[myspace.com]
TC Tribe:
[tribe.net]
TC Facebook Group:
[facebook.com]
TC HI5:
[hi5.com]
MY MySpace:
[myspace.com]
MY Tribe:
[tribe.net]
if you are on one of those sites please support us by adding yourself and inviting your friends to do so too!
Location
Location
Complex Craciuneasa
Gura Riului
40 km from Sibiu/Hermannstadt
Entry
For the full realization of the event we need all the participants' support in the form of arrangement fee – please take it most consciously. Financial participation of everyone has great influence on the event's preparations.
you can buy all tickets at
[bilet.ro]
you can also donate the toal amount to by paypal to
artlabs@dmt.ro
or directly trough the donation button from our websites frontpage.. specify in an separate email to
artlabs@dmt.ro
what it was for. you dont need a paypal account for doing this. just a credit card or debitcard.
32 € Pre sale (limited 303 tickets) SOLD OUT
43 € Pre sale 2nd stage till 30 July
64 € Gate
this year all Bulgarian Citizens with and BG ID get free access (ID = no pasport)
Ozora to Transylvania Calling bus available at 52 €
Sibiu - TC - Sibiu Shuttle available for 12 €
approx Drink Prices in € @ Festival:
1.50 € Beer (0.5l)
0.75 € Soft Drinks (0.5l)
1,50 € Juice (0.5l)
1,00 € Masala Chai (0.3l)
0.00 € Fresh Spring Water for free
International & Traditional Food: approx 3-5 € per meal
Organizer
Organizer
*.artlabs & dreamtime
Added

13y 11m

· Update

12y 1m

· 92 Parties ·

/ 279