CONNECTION 2012
Priego de Cordoba ·
Spain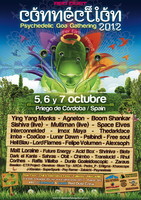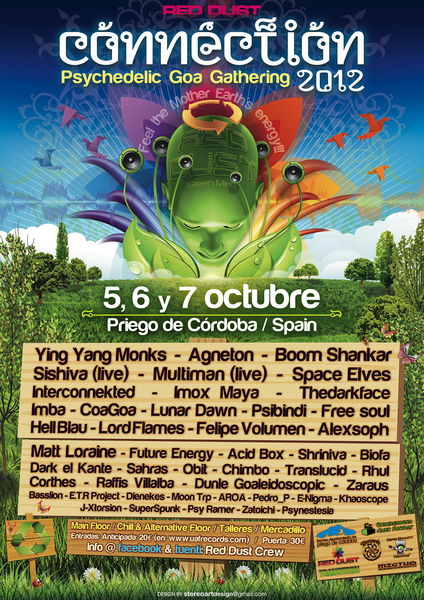 Line Up
- Ying Yang Monks (Maharetta Records/Full Mongui) Spain
- Agneton (Sita Records) Belgium
- Sishiva (Zero Gravity Records) Greece
- Multiman Live (Mahareta Records/TransitioN) Spain
- Space Elves (Dimensional/Suntrip Records) Serbia
- Interconnekted (BMSS Records) Malta
- Imox Maya (Ananda Tribe) Guatemala
- Zaraus (One Foot Records) Portugal
- Acid Box (Maharetta Records/Full Mongui) Spain
- Thedarkface (Dropland records/Zero Gravity Records) Spain
- Imba (UAF Records/Suntrip records) Serbia
- CoaGoa (UAF Recs/Phototropic Recs) Bosnia
- Future Energy (Zero Gravity Records) Spain
- Lunar Dawn (UAF Records) Croacia
- E.T.R Project (Red Dust) Spain
- Boom Shankar (BMSS Records/Transition) Germany
- Psibindi (Red Dust/Aphid Records) United Kingdom
- Free soul (Transition) Germany
- Felipe Volumen ( Isla Bonita Miami Records) Spain
- Hell Blau (BMSS Records/Transition) Spain
- Lord Flames ( UAF Records/Transition/ Red Dust) Spain
- Matt Loraine (Psyco) United Kingdom
- Alexsoph (BMSS Records/Transition) Germany
- Shriniva (Sumeria) Ibiza/Holland
- Biofa (Sindar Productions/NWO) Brasil
- Dark el kante (Random Rec./6D-Sound) Spain
- Basslion (Sumeria) Spain
-Sharas (Amaya Productionz) Spain
- AroA (Hippyflip/Ravespirit) Spain
- Obit (Red Dust/Zero Gravity Records) Spain
- Chimbo (Maharetta Records/ Full Mongui) Spain
- Translucid (Zero Gravity Records) Spain
- Ruhl (Fractal Records) Spain
- Corthes (Red Dust) Spain
- Raffis Villalba (Industrial Beat) Spain
- E-Nigma (Psyara) Spain
- Khaoscope (Zero Gravity Records) Spain
- Dunle Goaleidoscopic (UAF Records/Red Dust/MIGTUO/NWO) Spain
- Dienekes aka Crystall Meta (Ultravision Records/NWO) Spain
- Moon Trip (Transition) Spain
- Pedro-P (Red Dust) Spain
- J-Xtorsion (Dropland Rec./Ultravision Rec./Skizodelic Mind) Spain
- SuperSpunk (Red Dust) Spain
- Psy Ramer (Red Dust) Spain
-Zatoichi (Psylocibe) Spain
- Psynestesia (NWO) Spain
- Sutrajam (Spain)
- Bernardo Hangar (Spain)
- Iñaky Bensusan (Badajoz)
- Alic (Digital Diamonds/ Horns And Hoofs) Germany
- D.E.K. vs Djane Bribri (Random Rec.) Spain/Colombia
- Dj Psyweone (Spain)
- Coagoa (UAF Records) Bosnia
- Imba (UAF Records/ Suntrip records) Serbia
- Dunle Goaleidoscopic (UAF Records/Red Dust/NWO/MIGTUO)Spain
- Jigme (Spiral Spectrum) NL
- Yana Parkhomenko (Psyco) United Kingdon
- JIGME (Spiral Spectrum), NL
- Dj Danyel (Switzerland)
- Obit (Red Dust) Spain
- BeNBaSS (Psyara/0204,España Network)Spain
- TreboRpSy(Ecuador)
- Toxic boy (Trilokos) Spain
- Biofa (Sindar Productions/NOW)Brasil
- Dubgeridoo (El Mundo al Revés) Spain
- Gerard Leon (The Reunnion Club Party) Spain
- Angelo apple ( nomodee& clubbing )Spain
- David power ( bordeline) Spain
- Joelong ( nomodeea& clubbing ) Spain
- DR. Usak (Spain)
- HC Series (Psynesthetic 2.0) Spain
- Lonchasdelic (Mad Trance) Spain
- Julio Roger (Transition) Spain
- Long Bomb Clap (Spain)
- Lu-Krazy (Spain)
- Mr.Leftman (Red Dust) Spain
- Javi-R (Spain)
- Dj Norbak (Spain)
- Ogre (Gueto Blaster) Spain
- Dj Saiko (Gueto Blaster) Spain
- Translucid(Zero Gravity) Spain
- Francis+ Mute (Gueto Blaster) Spain
- Lord Flames (UAF Records) Spain
- Corthes (Rerd Dust) Spain
Sumeria Productions (Ibiza)
Andrea Psylife (Red Dust) Spain
Tribe of Frogz (Uk)
Barbie Fluor (Trilokos) Spain
Cels(Spain)
Lagartaprosillas(FullMongui)Spain
UltraViolet Moonlight (Spain)

Visuals::

Be Reverde(Red Dust) Berlin.
Info
Here there are the warriors who will become possible the Connection:
Welcome to CONNECTION 2012
Psychedelic Vibe Goa Gathering
:::::::::::::::::::::::::::::::::::::::::::::::::::::
Red Dust has been involved since the last two years in a project in which we are thrown into the dream of music and the union of all souls who can reach to gather at the same point, hypnotized under the influence of the psychedelic culture. We love and support psychedelic trance, trance, Goa trance and psygressive, without losing contact with other dimensions of the same culture, like darkpsy, psybreaks or hitech.
With all our experiences through these past two years, Connection is born. The first Red Dust´s open air festival. A festival dedicated to the two greatest feelings that make the world go round: love and music. Merging bodies and souls through the sounds you love. These magical encounters make us to live a thousand adventures and experimenting infinity of feelings that will remain in our memories forever … Meet people from different places in the world and enjoy your music in a deep connection. WE WILL BE ONE dancing, surrounded by nature in an incomparable landscape over more than two days.
Music, respect, peace, nature and connection are our pillars. Our guides will be djs and musicians from all Andalusia, the rest of Spain and several points of Europe, supporting our love and admiration for trance music and setting free our minds and spirits. We will say good bye to summer and give our welcome to autumn with an unforgettable meeting.
Workshops, visuals, chill-out, main floor and a wide range of activities will be performed through these magical days of connection. Share your ideas and become a part of this adventure, your adventure, because all the people who love this music and the way to feel it: WE ARE ONE.
Participants:
You are an essential part in order to achieve the connection in this magical gathering. Remember that all is organized and conceived for your enjoyment, that´s why we would be grateful if you respect and take care of the elements that are part of the festival: decoration, animals, nature, throwing up rubbish in the bins, taking care of the other participants, being careful with the toilets and other facilities.
Organization: Red Dust
It was born in Seville as a collective in November of 2010 with the intention of spreading psychedelic trance and Goa trance in its artistic and musical dimension.
Nowadays, Red Dust has their own musicians and djs from Seville, Madrid, Barcelona, Badajoz, London as well as decorators involved in the collective. Red Dust is a Cultural Association which expects to make known our artistic, social and philosophical work. We want to create awareness of our events in Andalusia, the rest of Spain and London. Our name Red Dust, it´s a tribute to the land we are standing on, which protects and sustains us.
Workshops and flea market:
We are opened to any suggestion if you are interested in setting up your stand, send us an email to explain us your activity, the products you would like to sell and an approximate measurement of your stand.
If you impart any knowledge, and you would like to share it with the audience in an altruistic way, send us an email and write us about that. The audience will be grateful and it will be a beautiful experience!!
* Por nuestro bien y el de ellos, las mascotas que nos acompañen no deben entrar al recinto.
* No está permitido hacer fuego en esta época del año.
* Cuidemos el entorno: Usemos las bolsas de basura que se nos entregarán en la entrada y las papeleras repartidas por el recinto.
/// /// /// /// /// /// /// /// /// /// /// /// /// /// /// /// /// /// /// /// /// /// /// /// ///
LET'S MAKE A CONNECTION 2012 RESPONSIBLE ...
* The bracelet is your distinctive Connection 2012.
* For our sake and theirs, pets join us should not enter the enclosure.
* It is not allowed to fire at this time of year.
* Take care of the environment: Let's use the garbage bags that we presented at the input and the bins scattered around the grounds.
Let's connect the world!!!!!!!!!!
.::CONTACT::..
red.dust.crew@gmail.com
.:: LINKS ::..
Red Dust crew :
[facebook.com]
Transition Crew:
[transitioncrew.org]
UAF Records:
[uafrecords.com]
Sumeria Productios:
[sumeriaproductions.com]
=================ஜ۩۞۩ஜ===============
Red Dust lleva 2 años años con un proyecto volcado en la ilusión, la música y la unión de todas las almas que pueden llegar a congregarse en un mismo punto, hipnotizados bajo el influjo de la cultura psicodélica. Amamos y apoyamos el psychedelic trance, el trance, Goa trance y psygressive sin dejar de mirar hacia otras vertientes como el darkpsy, psybreaks o el hitech.
Con todas nuestras experiencias vividas en estos 2 años, nace Connection. El primer festival open air de Red Dust. Dedicado a los 2 sentimientos más grandes que mueven el mundo: el amor y la música. Fundiendo cuerpos y espíritus, a través de los sonidos que amas. Estos mágicos encuentros, hacen que vivamos mil aventuras y experimentas infinidad de sentimientos que quedarán en nuestros recuerdos para siempre....conocer gente de distintos puntos de la tierra y disfrutar y disfrutar tu música en plena conexión. SEREMOS UNO bailando en plena naturaleza en un paraje inigualable durante mas de 2 días.
La música, el respeto, la paz, la naturaleza y la conexión son nuestros pilares. Nuestros guías serán dj´s y músicos venidos de toda Andalucía, el resto de España y diversos puntos de Europa apoyando nuestro amor y admiración por la música trance y liberando nuestras mentes y espíritus. Diremos adiós al verano y daremos la bienvenida al otoño con un encuentro q será inolvidable.
Talleres, visuales, chill_out, mainfloor y diversas actividades se llevarán a cabo en estos mágicos días de conexión. Aporta tus ideas y forma parte de esta aventura, tu aventura, porque todos los q amamos esta música y la forma de sentirla SOMOS UNO.
Localizacion:
El punto de conexión se llevará a cabo en la preciosa sierra de Córdoba, un camping-posada rodeada de montañas e intensos verdes y dotada de zona de acampada, duchas, piscina, parking, chill-out, bar, etc..
El Parque Natural Sierra Subbética, está enclavado en el sector suroriental de la provincia de Córdoba, jalonando el río Guadalquivir. Es un espacio de de excepcional interés paisajístico y ecológico. Pertenece a las cordilleras Béticas de naturaleza caliza.(Pronto + Info)
Djs y live acts:
Pronto +info, pero será un killer line up!! Con artistas ya consagrados dentro de la escena Psy internacional, la artillería del polvo rojo al completo y dj´s de distintos colectivos de Andalucía y resto de España que al igual que nosotros aman, apoyan y difunden el concepto Psychedelic.Tambien gracias a UAF Records contaremos con artistas de la escena internacional de Goa Trance
Chill out: varios artistas (pronto+info)
Participantes:
Eres una parte esencial para que la conexion se consiga en esta magica reunion . Recuerda que todo está organizado y pensado para tu disfrute, por lo que agradecemos el respeto y especial cuidado hacia los elementos que lo coponen: decoración, animales, compañeros, basura, naturaleza, servicios.
Organiza :Red Dust
Nace en Sevilla como colectivo en noviembre de 2010, con la intención de difundir el psychedelic trance y goatrance en su vertiente musical y artística.
Ahora mismo, Red Dust cuenta con músicos y djs propios de Sevilla, Madrid, Barcelona, Badajoz y Londres así como decoradores involucrados en el colectivo. Red Dust es una Asociación Cultural que pretende dar a conocer nuestra labor artística, filosófica y social. Queremos seguir dando a conocer nuestros eventos en Andalucía, resto de España y Londres . Nuestro nombre Red Dust, significa tierra o polvo rojo en honor a la tierra que pisamos, nos sostiene y protege.
Talleres y mercadillos:
Estamos abiertos a cualquier propuesta si estas interesado en montar tu stand mándanos un correo explicándonos tu actividad, productos de venta, y dimensión aproximada del stand .
Si impartes algún conocimiento y quieres compartirlo de forma totalmente altruista con los asistentes ponte en contacto con nosotros vía email y cuéntanos, el publico te lo agradecerá y será una bonita experiencia!! .
.:: CONTACTO::..
red.dust.crew@gmail.com
Location
The point of connection will be in the precious mountains of Cordoba, in a camping- rural house surrounded by green mountains and equipped with camping area, showers, parking, chill-out bar… The natural reserve of Sierra Subbética is located in the southeastern area of the province of Cordoba on the banks of the Guadalquivir River. This is an exceptional place because of its ecological and scenic value. Located between the Bética mountain range, made up of limestone.
Entry fee
Entry fee
20 € Advance
30 € At he gate
/////////////////////////////////////////////////////////////
***C O N N E C T I O N 2 0 1 2
A D V A N C E D T I C K E T S***
[uafrecords.com]
Added

10y 10m

· Update

10y 4m

·

/ 15