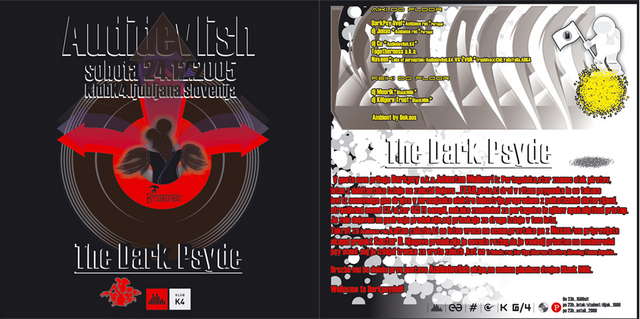 Live
Line Up
DARKPSY (Acidance records / Trishula records .PORTUGAL)
DJs
Jonathan (Acidance Records.PT)
Togethernes AKA Zvuk Ahimze Vs Naveen (AudioDevlisH , LabsOfPerceptioN)
[talija.com]
Cu (AudioDevlisH , K4)
Chill
Dj Kilgore Trout (Blackmilk,SLO)
Dj Mnorik (Blackmilk, SLO)
Info
Info
Darkpsy is Jonathan Molinari a French guy living in Portuga.l
DarkPsy production is characterised with solid dark kicks, hard basslines and some amazing percussion games all toped with cosmic dimensional leads, reefs and melodies. All processed thru creepy effects!
The guarantee is of a cocktail of sounds that will bring you into a psichotrip voyage.

DarkPsy is nowadays one of the most renowned Portuguese bands. Very active in the Portuguese scene and slowly but surely getting involved into the international scene. DarkPsy as also released an album on dejavu records , and lots of more track on compilation that are allready out , and some outher still waitinng to be out ,
darkpsy is now working on is 2 album for acidance records , and working with n3xu5 on they debut album as well as Sector D .
...WELCOME!
Entry fee
Entry fee
1600 Sit / 8 EUR
Organizer
Organizer
AUDIODEVLISH & klubK4