@"" AIR SPRING RELOADED""@ _International Artist_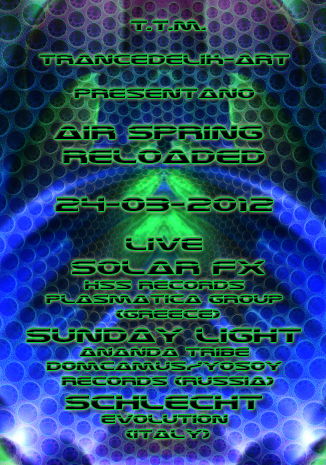 Line Up
_▂▅▇:LIVE:▇▅▂_
۞ SOLAR FX [Hss Records / Plasmatica Group] (Greece) FIRST TIME IN ITALY
soundcloud
[myspace.com]
[plasmaticagroup.com]
-Solar Fx are EMULATOR-X a.k.a.DARKMAN TELIS & ABSOLUT ZERO from Thessaloniki/Greece, They started producing music at the beginning of this century. they produced many tracks that AbsolutZero was playing at his dj sets. At 16 April 2003 they performed their first live act at Cabana club/Thessaloniki/Greece, Ppl liked their music so they kept producing tracks till their next live act at Aridea/Greece 1 May 2004. and 28 August 2004 at Edessa/Greece Till then they didn't make any release because they didn't feel ready yet. At 14 April 2007 they played live at Ydrogeios/Thessaloniki, they had big success and know they are ready to make their first releases,,, they played many lives with big names such as ASTRIX---PSY-SEX---PARANORMAL ATTACK---DALI---U RECKEN----TALAMASCA----X.S.I.----G.M.S.---- ASTRAL PROJECTION----TIMELOCK----- ASHER SWISSA and B-BASS(SKAZI)---DELIRIOUS..... and many more... The music style is psychedelic trance groovy full on...and they are ready to trance you....
۞ SUNDAY LIGHT [Ananda tribe/domcamus/yosoy records] (Russia)
soundcloud
[myspace.com]
-Sunday Light is the morning full on project from Alexander Alexandrov, russian producer grown and based in Milan (Italy).
After few years of djing (about 150 parties today) on the Italian scene since may 2005, he gets a degree as audio engineer
at SAE institute in half 2007, starting to craft his own sound…playing for the first time live project in november 2010, at a party
from his label at that time, Anunaki records. In 2011 he release his first artist EP "Take the future", receiving immediately a very
positive feedback from psytrance community and getting booked in festivals and clubs in Swiss, Germany, Brazil, Chile and Argentina. In the same year, he passes from Anunaki to Ananda Tribe records, international label based in Berlin (Germany). He's also
signed in Domcamus records (Brazil) and Yosoy records (Argentina). Free releases from Yosoy are available on Ektoplasm portal.
Sunday Light first full length album is going to be released in the first part of 2012 by Ananda Tribe records…stay tuned and expect more from this talented produced !
۞ SCHLECHT [Evolution] (Italy)
soundcloud
-Alberto Corsi aka DjSchlectht was born in 1980 in Florence, his career as a musician began soon, when he was only 7 years old. First he started learning drums and went on for 10 years about, a passion who drove him playing music with bands of several kind (rock, metal) and held shows on the stage of the most famous italian clubs.
At the same time, in 1991 he decided to experience dj equipments and so, within 4 years he imposed himself as a dj (a mix of Technodetroit and trance only played on Vinyl.
Afterwards he embraced more underground music (ebm and industrial); In 2002 purchased the first goatrance records and recognized this was the music he had ever loved, especially the full-on.
In 2006, tired of being forced to play music of others, revealed himself as a musician again, by creating his own "tracks".
After several years of hard work, finally, we can listen to his results, a full-on sometimes more aggressive, sometimes more energetic that never forgets to be psychedelic just right.
____________________________________________________________________________
_▂ ▃ ▅ ▆ ▇ :DJ SET:▇ ▆ ▅ ▄ ▂_
_♫.♪ ABSOLUTZERO [Hss Records / Plasmatica Group / Miditown] (Greece) FIRST TIME IN ITALY
[facebook.com]
[myspace.com]
_♫.♪ SOLID STATE [Evolution Family]
soundcloud
_♫.♪ KRISTIAN [F.r.e.a.k.a.d.e.l.i.k. crew/Free spirit foundation/Mmh rec.]
[myspace.com]
_♫.♪ KENON [T.T.M./Evolution Family]
soundcloud
_♫.♪ OMICRONTAURI [Psygangotri]
soundcloud
______________________________________________________________________________
Deco
Deco
- ૐ DECO:
_TRANCEDELIK-ART , T.T.M. and MAGNETIC SPIRIT
- ૐ VISUAL:
_AIRONE
[facebook.com]
Info
Info
___________________________________________________________________
@@___:::: HAPPY BIRTHDAY FUNNY RAVER ::::___@@



_PARTY FOR FULL ON MORNING LOVERS_
Location
Location
_A.S.D. KING A.C.S.I. CLUB

_VIA PROVINCIALE PISANA 639/A, Livorno, Italy
Entry fee
Entry fee
_
__10 EURO (ingresso riservato ai soci)
Organizer
Organizer
T.T.M. and TRANCEDELIK-ART