ॐ Trance for Nations 2017 ॐ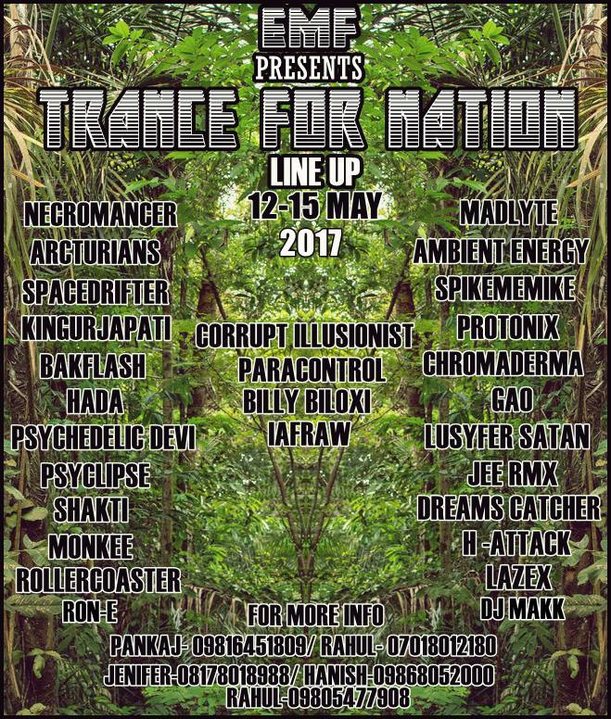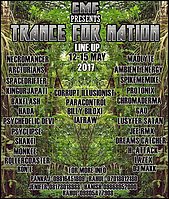 Info
Royal, Abhishek en 23 andere vrienden gaan
Delen
Details
IN the
arms of himalayas the tirthan valley a psychedelic trance gathering
TRANCE FOR NATIONS 2017
It is said when human takes ample time in creating something then one of the most beautiful creation comes into existence one of the such creation is psychedelic trance music.We trance for a short while because there are no problem in my world or yours , the dance floor becomes a paradise where all are welcomed and none are judged, we trance because it allows to see the world the way it could be .

We trance in nature because she reminds us to take a moment to play, to be free , and connect with each other and her .This is the power of music which connect us as a HUMANS, different countries , race, universe, cosmos , galaxies and speaks one universal language connecting themselves under
TRANCE FOR NATIONS 2017

With great success in open air psytrance festivals back to back for 5 years, DREAMLAND Productions Events & Entertainment continues their tradition. TRANCE FOR NATION VOL 2 , a three day open air festival staging the well known artists from the world of Psytrance. So get ready for pyscultural appetite in middle of forest in the lap of himalayas ,Asias biggest wildlife sanctury* The Great Himalayan National park*

DREAMLAND Productions Events & Entertainment is delighted to bring to you a mesmerising cocktails of the best progressive , morning , fullon, ambient and chillout live craziest forest music from around the world trance for nations 2017
Location
Location
Tirthan Valley
Tirthan Valley , Himachal Pradesh
Entry fee
PRESALES PASSES
#1st March 2017------------ 20 March2017 = 1500 INR
#20thMarch2017----------- 25th March2017 = 1800 INR
#25thMarch2017------------ 10 th April2017 = 2000 INR
#10th APRIL 2017----------- 09TH MAY 2017 = 2500 INR
#10th MAY 2017--------------15 MAY 2017 = 3000 INR
☆☆☆☆☆☆☆☆☆☆☆☆☆☆☆☆☆☆☆☆☆☆☆☆☆☆☆☆☆☆☆☆☆☆
★ ACCOMODATION (TWIN SHARING)
★CAMPING WITH OWN GEARS : 1000 PER DAY / CAMPING
★WITHOUT GEARS : PER TENT = 2000 PER DAY/ (2 PAX )
★ EXECUTIVE DELUXE : 1500 INR PER DAY (TWIN SHARING )
★ SUPERIOR DELUXE : 2000 INR PER DAY(TWIN SHARING)
★ SUITE ROOM : 2500 INR PER DAY ( TWIN SHARING
★ ★ ★★★★★★★★PRESALE BOOKINGS ★★★★★★★★★
■ A/C PAYEE :
PANKAJ THAKUR
KANGRA BANK
50065465710
IFSC CODE : KACE0000010
■ ONLINE : 20 % EXTRA TAX AND SURCHARGE /PRESALE
■ WALKIN = 3000 INR / 3 DAYS
☆☆☆☆☆☆☆☆☆☆☆☆☆☆☆☆☆☆☆☆☆☆☆☆☆☆☆☆☆☆☆☆☆☆☆
hotline numbers
☆KASOL -PANKAZ : 09816451809 :
☆TIRTHAN VALLEY: RAHUL : 07018012180
☆DELHII : JENIFER : 08178018988
☆NCR : HANISH : 098680 52000
☆ MANALI : RAHUL 09805477988
☆☆☆☆☆☆☆☆☆☆☆☆☆☆☆☆☆☆☆☆
☆☆☆☆☆☆☆☆☆☆☆☆☆☆☆☆☆☆☆☆
■ RULES OF USE■
* Right of the admission is reserved with the
Organisers.
* Please carry your valid identity proof at the gates for security reasons .
* Do not carry any outside food & IMFL
drinks into the venue.
* No arms & ammunition allowed into the
Venue .
* Frisk yourself at the gates on request on
Demand .
* The organisers are not responsible for any
Theft & injuries inside the venue ,so please
take utmost care of yourself & and your
Belongings .
* Please don't Carry NDPS substance into
The venue since this is a drug free event ,
And the Organisers hold no responsibility
If anybody found
* No verbal arguments will be entertained.
* The entry prices and the pre sales are
Inclusive of all the taxes & surcharges
* Line up is subject to change without notice
* All the payments regarding the pre sales
Be done at the specified account numbers /
Online / authorised Sales associate.
* In conformance to the environment safety
Standards we request the minimum use of
Plastics & other non degradable materials
In and around the venue .
* Please carry the festival tag / card all the
Time in the venue on demand .
* Please carry adequate cash with yourself
As per your requirement since ATM
Dispensers are very far from the venue.
* No credit card/ cheques accepted .
* The presales passes once booked or the ticket
purchased will not be refunded in any case.
* the Organisers are not responsible for the
Dismissal of the event since this festival
Will be under the direct supervision of the
State authorities
* The BPM of the sound may cause hearing
Impairments and disorder for a long time
So please enter at your own risk
* Please don't forget to carry your positive energies
vibes into the festival.Smile and
the world will Smile with You .☺
☆☆☆☆☆☆☆☆☆☆☆☆☆☆☆☆☆☆☆☆
email us @ :
Info4electricmahadev@yahoo.com
info04addpa
cthospitality@gmail.com
more info coming soon
stay tuned !!!!
Peace & light
♡♡ TEAM EMF ♡♡
★ ORGANIZERS
[facebook.com]
Organizer
Organizer
ॐElectric Mahadev Festival ॐ