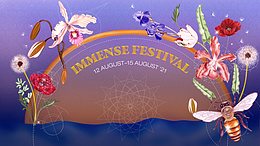 Line Up
❀ ° ❁ ° ❀ ° ❁ ° ❀ ° ❁ ° ❀ °

••● 𝐋𝐈𝐍𝐄-𝐔𝐏 ●••

° 𝐀𝐮𝐦 𝐒𝐡𝐚𝐧𝐭𝐢 🇩🇰
facebook.com/DjShanti1
soundcloud.com/andr-firoozabadi

° 𝐁𝐚𝐜𝐤 𝐭𝐨 𝐌𝐚𝐫𝐬 🇧🇷
facebook.com/djbacktomars
soundcloud.com/backtomars

° 𝐃𝐚𝐡𝐮 🇩🇪
facebook.com/dahumusic
soundcloud.com/dahumusic

° 𝐅𝐞𝐥𝐢𝐱 𝐙𝐚𝐡𝐫𝐚 🇲🇹
facebook.com/Felix-Zahra-245066859396768
soundcloud.com/felixzahra

° 𝐆𝐨𝐚 𝐉𝐨𝐧𝐚𝐬 🇩🇪
facebook.com/GoaJonas
soundcloud.com/goajonas

° 𝐊𝐥𝐞𝐲𝐬𝐤𝐲 🇩🇪
facebook.com/KleySky.music
soundcloud.com/kleysky_music

° 𝐌𝐚𝐫𝐜𝐢𝐚𝐧𝐚 🇧🇷
facebook.com/MarcianaMusic
soundcloud.com/marcianamusic

° 𝐍𝐮𝐬𝐡𝐚 🇷🇴
facebook.com/Nusha.Dj
soundcloud.com/nushaa

° 𝐎𝐥𝐢𝐯𝐞𝐫 𝐒𝐜𝐡𝐨𝐫𝐢𝐞𝐬 🇩🇪
facebook.com/OliverSchories
soundcloud.com/oliverschories

° 𝐏𝐨𝐥𝐥𝐲𝐟𝐨𝐧𝐢𝐤𝐚 🇲🇽
facebook.com/pollyfonikamusic
soundcloud.com/pollyfonika

° 𝐏𝐬𝐲𝐧𝐨𝐧𝐢𝐦𝐚 🇪🇸
facebook.com/DjanePsyNoNima
soundcloud.com/psynonima

° 𝐒𝐜𝐡𝐚𝐚𝐫𝐮𝐩 🇩🇰
facebook.com/DJSCHAARUP
soundcloud.com/schaarup

Stay connected, there a lot more TBA.

❀ ° ❁ ° ❀ ° ❁ ° ❀ ° ❁ ° ❀ °
Info
𝗜𝗠𝗠𝗘𝗡𝗦𝗘 𝗙𝗘𝗦𝗧𝗜𝗩𝗔𝗟 𝟮𝟬𝟮1
𝙀𝙡𝙚𝙘𝙩𝙧𝙤𝙣𝙞𝙘 𝙈𝙪𝙨𝙞𝙘, 𝘼𝙧𝙩 & 𝙒𝙤𝙧𝙠𝙨𝙝𝙤𝙥𝙨
This years Immense Festival will be from the 12th. - 15th. of August 2021.
Stay connected on our official social medie e.g. our Facebook site;
[facebook.com]
💗
Open Air // 2 stages // Aarhus - Denmark //
° The fundamental drive of Immense is to create a culture-promoting music festival, as well as use it to raise awareness to different causes. The purpose is to put a spotlight on taboos and stigmas that lies underneath the shadows of the surrounding communities. By doing so, it has the opportunity to grasp influence and chance perspectives. Also we aim for a strong gender equality representative!
This is why Immense promotes a greater cause.
❀ ° ❁ ° ❀ ° ❁ ° ❀ ° ❁ ° ❀ °
••● 𝐂𝐇𝐀𝐑𝐈𝐓𝐘 ●••
° Charity fundraising is a fundamental part of our concept. Every edition of Immense Festival we select a charity to support.
We believe that our support can have a greater impact when supporting NPOs and NGOs. Therefore we have chosen the union "𝐃𝐞 𝐒𝐭æ𝐫𝐤𝐞 𝐁ø𝐫𝐧" (translated into The Strong Children). This is a volunteer-based NPO and NGO association that offers vulnerable children and young people, social network, activities and anonymous contact and advice.
At Immense we believe in giving back to the community, in supporting charities, and allround helping contribute to a better world. It feels like the right thing to do for the Immense team, to take advantage of the position we've put ourselves in and give to others.
Communities thrive because of the efforts of people who work on behalf of human charity. Our mission is to facilitate charitable organisations, allowing them to maximise their work.
[destaerkeboern.org]
❀ ° ❁ ° ❀ ° ❁ ° ❀ ° ❁ ° ❀ °
Stay updated with upcoming announcements and developments by subscribing to our Facebook site, or synching with our communication platforms, which we will keep you informed as we go on.
❀ ° ❁ ° ❀ ° ❁ ° ❀ ° ❁ ° ❀ °
Requests regarding BOOKING AND STALLS, contact the Immese crew here:
booking@immensefestival.dk
❀ ° ❁ ° ❀ ° ❁ ° ❀ ° ❁ ° ❀ °
Location
Location
Eskelunden, Aarhus
Denmark
Entry fee
••● 𝐓𝐈𝐂𝐊𝐄𝐓𝐒 ●••
All participants must be 18+ of age!
˚ Early Bird Partout: 249 DKR + fee [ SOULD OUT ]
˚ Late Early Bird Partout: 349 DKR + fee [ SOLD OUT ]
˚ Regular Partout: 549 DKR + fee
° Door Price Partout: 650 DKR
Theres a limit of 500 tickets and they are available until sold out, we can't guarantee tickets at the gate!
One-day tickets will only be sold if the partout tickets don't sell out.
Buy your ticket here:
[ticketmaster.dk]
❀ ° ❁ ° ❀ ° ❁ ° ❀ ° ❁ ° ❀ °
Organizer
Organizer
Djane Asherah & DJ Lulic