Fullmoongui - The battle for the colours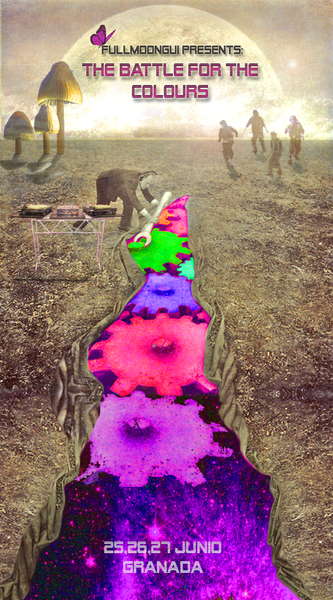 ALYEN NRG (Algariano) Val (Psychedelic)
CHIMBO (Fullmoongui) Cor (Psychedelic)
[myspace.com]
CORTHES (Made in Trance/Dekades Planet) Sev (Psyechedelic)
[myspace.com]
DRUM (No-Psylence) Bcn (Darkpsy)
[myspace.com]
J XTORSION (Skizodelik mind/Ultravision rec/Dropland rec) Mal (Hi Tech)
[myspace.com]
LULL (Psylocibe) Sev (Psychedelic&Full-on)
[myspace.com]
EL MONG (Transition) Hue (Progressive)
[entransicion.com]
NANUK (3D Vision/Dropland rec) Tgn (Hi Tech)
[myspace.com]
NOIA (Fullmoongui) Gra (Chill&World sounds)
OLIVEIRO (Carismadelic) (Moorning full-on)
P3PO (Algariano) Val (Psychedelic)
PSYFONT (Fullmoongui) Gra (Goa&Progressive)
PSYMOUSE (Skizodelic) Mal (Hi-Tech)
[myspace.com]
PSYTOTIX (Freakscircus/Dooflex rec) Bcn (Morning Full-on)
[myspace.com]
SPINAKEL (Trilokos) Sev (Night Full-on)
[myspace.com]
TELO DJ (Transition) Hue (Progressive)
[myspace.com]
TOXIC BOY (Psylocibe) Sev (Psychedelic&Full-on)
[myspace.com]
WAMBA (Psylocibe) Sev (Progress&Psychedelic)
[myspace.com]
XUPIX (Skizodelik mind) Mal (Darkpsy)
[myspace.com]
ZOE (Algariano) Val (Psyechedelic)
LINE UP CLOSED SORRY................
Deco
Deco
ART ATTACK (Transition) Hue
LAGARTRIPOSILLAS (Fullmoongui) Gra
TRANZ VISUALS (Transition) Hue
WAMBA (Psylocibe) Sev

Visuals:
FEF-FX (Fullmoongui) Cor
Info
Vivimos en un mundo desgarrado por poderosos engranajes totémicos, máquinas que irremediablemente han quedado desalmadas bajo influjos materialistas de la mano del hombre industrializado, y que desgraciadamente logran día a día arrebatarnos lo más sagrado que nos pertenece: nuestro primordial derecho a ser nosotros mismos, a vivir la vida en todo su esplendor y gozar con los 5 sentidos de todo lo que nos rodea...
Con este tipo de encuentros queremos realizar nuestra particular y minúscula batalla contra esa realidad gris construida a base de burocracias de hormigón. Eso sí, contamos a nuestro favor con la ayuda de poderosos guerreros, auténticos maestros armados de afilados grooves y poderosos beats, maestros cuyas armas sonoras lograrán devolver a las máquinas sus almas y colores perdidos. No están solos. Se les han unido artesanos visuales que venidos de tierras lejanas mostrarán sus habilidades geométricas con poderosas lanas, telas, pinturas y un sinfín de materiales explosivos para nuestras retinas delirantes, eso sí, detonados a base de clorhidrato de imaginación pura. Y por si fuera poco nuestro frente más poderoso lo formáis todos vosotros, los danzantes de la luna llena, la auténtica avanzadilla de colores, poseedora de nuestra mejor arma secreta, arma que el otro bando jamás podrá poseer: la alegría de ser, de bailar y de compartir la felicidad con el resto de participantes… Tarde o temprano conquistaremos su otro mundo…
y si no que nos quiten lo bailao...
Este es nuestro pequeño homenaje a nuestra hija Luna, de qué mejor manera que danzando bajo su luz y su magia en los fines de semana que más brille. Intentad respetar el lugar, tirando las colillas en latas vacías por ejemplo. Jugad bonito con las sustancias mágicas. Y sobre todo sed felices.
10.000 WATIOS DE SONIDO
FACEPAINTING by The Jonky Dummies
CAMPING
FOOD&DRINKS
Si deseas poner una tienda de ropa, artesania o comida, ponte en contacto con nosotr@s
Would you like to put a food, clothes or hand crafts shop? Please, contact us
fullmoongui@gmail.com
MAS INFO PROXIMAMENTE.......
Location
Location
Circuito de kars de Alhama:

Lo mejor que podeis hacer es pinchar el enlace de google maps donde se ve un circutio de karts, ese es el lugar exacto del festival.

desde Granada: autovía A-92 dirección Málaga-Sevilla. Salida Moraleda de Zafayona hasta Alhama de Granada. Pasado el pueblo coger la carretera dirección Salar (A-4155) y está a unos 3 kilómetros de Alhama.

desde Málaga-Sevilla: autovía A-92 dirección Granada, coger la salida Salar dirección Alhama de Granada (A-4155) y está a unos 15 km.

El circuito está justo en el cartelito del km 21 de la A-4155, en la entrada hay 2 cañones anunciando la batalla que se avecina, id mirando los cartelitos ya vereis como no hay pérdida!!! Buen viaje.....