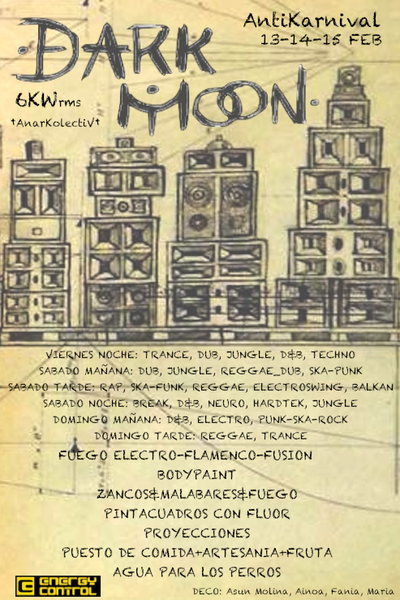 Line Up
…………………………………………………………………………………
Friday Night:
TRANCE, DUB, JUNGLE, D&B, TECHNO

Saturday Morning:
DUB, JUNGLE, REGGAE-DUB, SKA-PUNK

Saturday Evening:
RAP, SKA-FUNK, REGGAE, ELECTROSWING, BALKAN

Saturday Night:
BREAK, D&B, NEURO, HARDTEK, JUNGLE

Sunday Morning:
D&B, ELECTRO, PUNK-SKA-ROCK

Sunday Evening:
REGGAE, TRANCE
…………………………………………………………………………………

Electro-Flamenco-Fusion Fire Show
Bodypaint Show
Stilts&Juggling&Fire Show
Painting Fluor Show
Psychedelics Projections
Food+Craftwork+Fruits
Water For Dogs
Energy Control Stand
…………………………………………………………………………………
Deco
TeamTrip
WorldRecycled!!
&Peace

VJ Visuals --> Super&Lunati-K

Decorations --> Asun Molina, Ainhoa, Fania, Maria.

PaintMan --> InkGolem
___...___
Info
Info
We are happy beings of this world impregnated by the energy of the free partys in which it moves us a cheerful spirit, promoting that the people are free in some natural environment leaving fly the imagination to visualise the space where each one find to if same.
Each cycle of the moon is a new stage where enjoy of the music, feel free to share and connect with our interior in search of the peace.
Enjoy and be happy !!
Location
Location
Málaga Area!!!

================
CONTAC TO EMAIL
================