7. Okt. 13 ·
New Goabase Layout for Smartphones
Menu on top, big fonts, easy layout...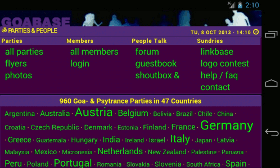 The new smartphone layout helps to get all important party info on to small screens.
To make use easyer the right colum from the desktop version is disabled. All the info is available from the menue or the front page.
All mouse-over effects are also disabled - you have to "tap" instead.
Once you login your account info is on the left hand side at the top.
You can open different sections of the site by tapping on the figures at the top of the screen.
To open the layout page and choose a layout click on the screenshot here.