14.09.16 ·
New enlarged view for the member photos
New version of the member pictures and comments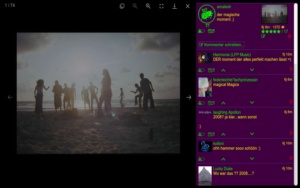 By clicking on the thumbnail the new sizing as well as related comments will show up.
Currently, this new feature will only be available for the member images. Those can be found under the heading "new member pictures" on the right, on a profile, on
Alle Member
and under
50 zufällige Memberfotos
.
You can navigate through the pictures. There is also fullscreen, zoom and download..
The top right menu provides details such as upload source, time stamp and voting.
New comments can be created immediately after uploading with newest comments on top.
Last but not least, the maximum scale of the enlarged images was increased to 1280x720.
A few more details:
The whole gallery will be displayed by clicking on the profile picture on the right. The classic view will be displayed by clicking on the small image

Several required adjustments mean that the feature isn't currently available for party pictures at the moment.

With the comments having no space, smartphones will still display the "classical" view. The fullview is implemented for 992 pixel screen widths and more.

The technique behind is [lightGallery]. The basic construction was done easily. However, the comments and the rest were supposed to be displayed dynamically. That required deeper implementation of lightGallery, an alternative technique on goabase, as well as several other changes.
Enough said, enjoy exploring!
For any questions feel free to ask here or at Forum Thema.