31. Mai 15 ·
And now: The weather forecast!
All current Festivals and Open Airs now have a weather forecast.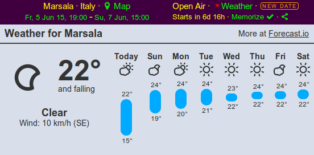 You find a map, why not get the weather?
Every Festival and Open Air beginning in the next eight days gives you the weather forecast.
We use a service from forecast.io which opens and disappears upon a click in the party details. Forecast.io can be used freely, looks good and was simple to integrate
Have fun finding the right weather of your next party!