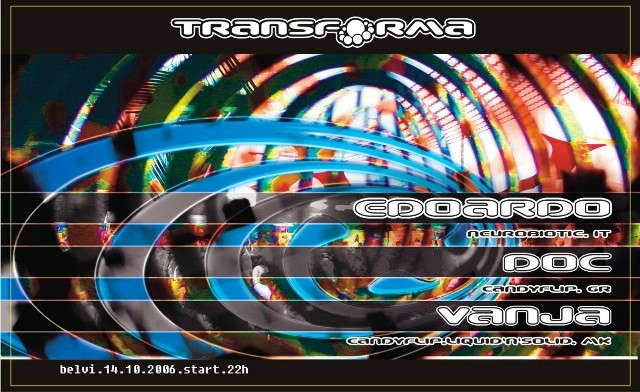 *
EDOARDO
(neurobiotic rec / it )

*
DOC
(candyflip rec / gr)

*
VANJA
( transforma, candyflip rec, liquid & solid rec / mk)
Deco
Deco
* transforma
* AFAdrenalin
* fuzz bubble fire & juggling performance
Info
*******************************
EDOARDO is the main man behind Neurobiotic Records. He started djing 12 years ago playing techno and acid stuff in parties in Rome. 3 years later, after attending his first trance party he decided to move in that direction and started playing psychedelic trance, first one in Rome.
Being one of the top djs around today, he played gigs all over Europe (Germany, Austria, Spain, Portugal, Israel, Denmark, Czech Republic, Switzerland, Italy, Serbia, Macedonia, Slovenia, Croatia, UK, France, Russia, Holland, Hungary, Greece), Brazil, United States, Canada, Mexico, Argentina, India, Morocco and Japan. From small parties to huge festivals like Samothraki Dance Festival, Voov Experience, Full Moon Festival, Shiva Moon, Solaris, Universo Paralello, Fusion Festival, Glade he is constantly touring the world spreading the Neurobiotic virus.
His style is a mix of futuristic psychedelic trance. And also he plays housey, progressive and electronic breaks and beats. Giving great importance to the mixing he creates a flowing liquid psychedelicsoundscape.
In 2004, he created Indica Music, chill/downtempo label together with dj Josko and he's one of the organizer of Sonica Festival, first trance festival in Italy, taking care of the artistic management of its trance stage.


*******************************
DOC started to sing in Punk rock bands at the age of 16. After his music interests mooved from punk to heavy and thrash metal ,where at the beggining of the 90s he started to mix metal and indie rock at small clubs and bars in Thessaloniki.
At the same time he made his first contact with the first underground rave parties
and got infected by the psychedelic sounds of trance.
After 1996 he starts to mix psy trance at illegal parties in warehouses.
At the summer of 1997 ,he has been playing every summer as a resident dj at the open air club "Mojo" at the island of Ios along with international guest djs like:Atmos ,James monro ,Anti, Synchro ,Mark Allen etc.
During the winter time (1998 - 2005) he was travelling around the world and has
played from small jungle and beach parties in Goa ,Thailand, mexico and Byron bay to big open air parties and festivals in:Japan(Bomodori2001),
Germany(Ov-silence2004-2005),Hungary(Porndance&stars2005),Australia(seismicchunk2002), Switzerland,Portugal,Cyprus,andMacedonia.
He is also the only greek dj who ve played to all Samothraki festivals(2001-02-03-05)and to all the rest big greek festivals (Butterfly, Magical forest, Cyberlight, Twillight zone).
At the beginning of 2002 he became an official dj of Candyflip records and has been promoting the label with his djsets in Greece and around the world.
These days he is playing a variety of groovy psytrance and psy progressive soundz filled with electro elements.

*******************************

With a career now entering its 11th year, VANJA is an internationally renowned and respected dj and producer. After couple of years being involved playing in a alternative band and dj-ing in clubs that kind of music, in 1994 he started the electro project called "Unique" and a year after he started performing on some of the first most significant events in his country in general such as Tribal gathering, Crossing Borders festival, etc. Also he started the multimedia projects such as "Sindy 'F Rella and the Unique" and "Biosquad" making fusions of several arts on a stage.
Actively involved in the trance scene since 1995 as a dj,producer & promoter making his own parties under several marks from which the most significant so far is Transforma.
Being recognised for the deep, groovy, tribal psychedelic and progressive sound, his mixing skills and unique charisma, Vanja has performed since years back in countries like Macedonia, Greece, Serbia,Bulgaria,Turkey,Croatia,Bosnia,Slovenia,Romania,Germany,Holland,Belgium,Austria,
Morocco, South Africa including gigs at mayor events like :
Voov-Experience festival (03,04,06), OV-Silence festival (02,03,04,05,06), Antaris Project festival (04,05), Full Moon festival (04,05,06), Soulclipse festival,Wonderland festival, Spirit base festival,Sweet Valley Festival, Ruigoord Landjuweel Festival, Butterfly dance festival,AFU festival, Transolar festival

plus hundreds of club parties and small open airs around the world.

Vanja is currently part of "Transforma" group from Macedonia, "Synergy Tribe" group, "Freequent booking" agency and "Ov-Silence" records and crew from Germany, "Liquid and Solid" records and crew from Serbia and "Candyflip" records and crew from Greece.