Backend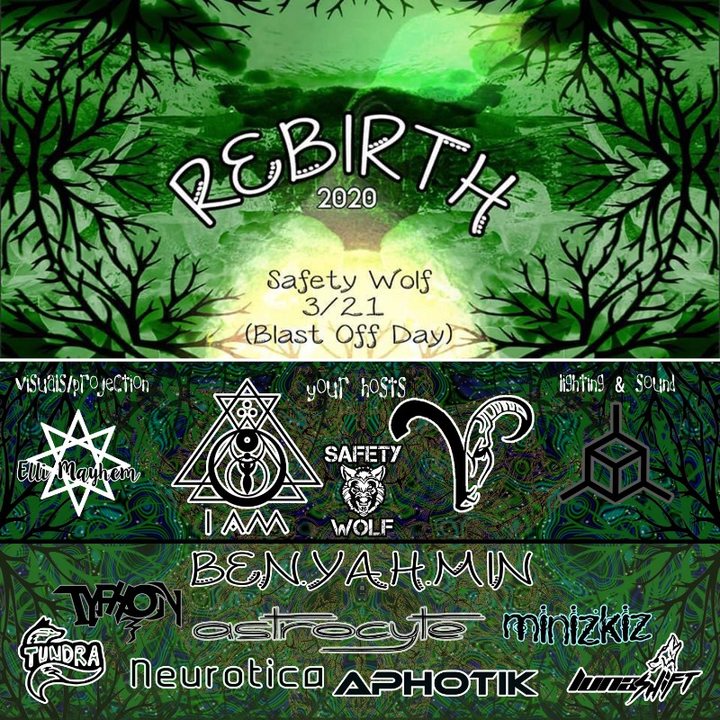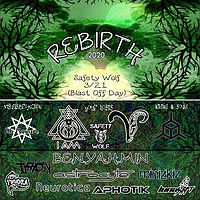 Line Up
Stargate Stage (Outdoor)

>>BEN.YAH.MiN aka Flynt (psytech/fusion)
>>Minizkiz (zenonbreaks, resident)
>>Neurotica (dark techno)
>>Tundra Nivix (techno)

***

Hyperspace Stage (Indoor)

>>Apothik (dark prog)
>>Astrocyte (twilight)
>>Lunashift (forest)
>>Typhon (dnb)
Deco
Aries Industries
VJ Elli Mayhem
Info
It's been a long winter, but we can feel the tingle of rebirth from the ground at our feet, life ready to emerge once again for a new spring. Aries Industries & Intergalactic Art Movement are delighted to present Rebirth! Come join us for something different and new this Blast Off Day (3/21) at Safety Wolf!
In celebration of the rebirth of spring, we have curated two stages of psychedelic electronic until sunrise (almost)! Featuring a diverse line-up of artists with a unique blending of styles, Rebirth aims to bring you through the full spectrum of musical soundscapes for an unforgettable journey throughout the night! Stay tuned for artist announcements and bios, coming soon.
Come out early this vernal equinox and meet up with friends new and old - we've got a long year coming up with limitless potential to kick off together! Huge thank you to our friends at Black Box Productions for their love and support AND to Safety Wolf for being such an amazing venue ♥
- 2 Stages of Music
- Art Gallery (Call for Art!)
>>
[facebook.com]
- Bar & Chill Space
- Eclectic Vending
- Fire & Flow Space
- Food Truck
- Live Painting
- Old School P.L.U.R.(R.) Vibes & Folks
- Secured Parking
Location
Safety Wolf
4215 Thurman Road
Conley, GA 30288
Entry
Entry
$10 presale available now until 3/13 via app and PayPal. If you can, please get your ticket today to help support the movement and artists - we love you!

Always FREE entry for you and your guest if your birthday is on the date of the event.
Organizer
Organizer
Aries Industries
Intergalactic Art Movement